Construction of new pier in full swing at Budapest Airport
<p style="text-align: justify;">July 31, 2017: The construction of the new, 225-meter-long pier adjoining Terminal 2B is progressing well at <a title="Budapest Airport" href="http://www.bud.hu/english" target="_blank">Budapest Airport</a>. The contractor, KÉSZ, is currently pouring the concrete floor of the departure level. The staircases supporting the boarding corridors are essentially completed.<br /><br />The capacity of Terminal 2B at Budapest […]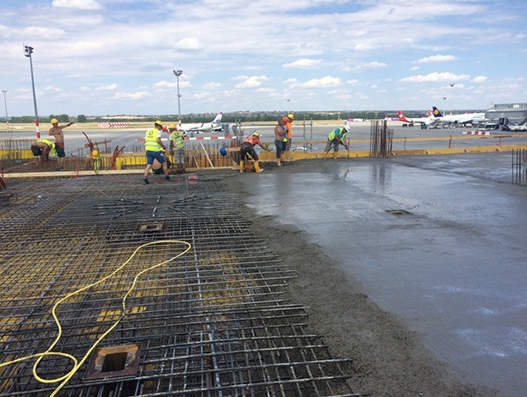 July 31, 2017: The construction of the new, 225-meter-long pier adjoining Terminal 2B is progressing well at Budapest Airport. The contractor, KÉSZ, is currently pouring the concrete floor of the departure level. The staircases supporting the boarding corridors are essentially completed.

The capacity of Terminal 2B at Budapest Airport, which primarily serves non-Schengen flights, will be enhanced with ten new boarding corridors, offering a total of 27 different direct, bussed and pedestrian boarding options. The new building section of more than 10 000 m2 is being added to this terminal first because passenger traffic has grown and is expected to continue expanding most dynamically to non-Schengen destinations. The ten new boarding corridors will enable the concurrent handling of ten narrow body, or three wide body and four narrow body aircraft.

The construction works have been planned in such a way that the outer part of the pier (furthest away from the building) should be completed first, then gradually working back towards the existing terminal. First, the utilities were laid beneath the new pier. This was followed by the construction of the foundations for the 550 reinforced concrete columns supporting the building. Work is now under way on the flooring of the departure level, whilst the structures adjoining directly to Terminal 2B are expected to be completed by the end of August.

"It is important that the roof of the new pier should be completed by the fall, so that the works of the various trades (building engineering, high and low voltage systems) can continue seamlessly in the interior, without being affected by the winter weather. The partial deadlines specified for the various work phases have been kept so far; together with the colleagues from KÉSZ, we check on a weekly basis that everything should proceed according to schedule," said Stephan Schattney, chief technical officer for Budapest Airport. Another reason why the contractor and the airport operator cannot afford any delay, he added, is that several new long haul flights will have to be served via the pier in the future summer peak seasons, such as the New York and Chicago flights by LOT Polish Airlines. In view of the future schedule, it is possible that there will be three wide body aircraft parked next to each other on the concrete at the same time.

The construction of the pier adjoining Terminal 2B is part of Budapest Airport's 5-year, 50 billion HUF (approximately 160 million EUR), completely self-financed development plan called BUD2020. The works on the pier are being carried out amidst tight safety and security measures, as the construction site, sealed hermetically with high fencing, is located within the security restricted area of the airport. Staff from Budapest Airport's Corporate Unit Security therefore check and escort every single truck entering and exiting the site, 24 hours a day, seven days a week, for more than a year.