FROM MAGAZINE: Connecting intelligently for cargo mobility
The air freight industry, which has remained traditional in its processes and business models for a very long time has seen a perceptible shift on the back of advances both in operation and information technology in the last few years. For the industry to work more efficiently, the supply chain needs to generate a constant […]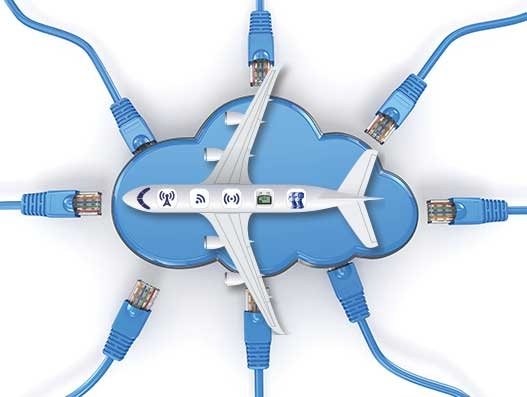 The air freight industry, which has remained traditional in its processes and business models for a very long time has seen a perceptible shift on the back of advances both in operation and information technology in the last few years. For the industry to work more efficiently, the supply chain needs to generate a constant stream of data that can be collected, analysed and used to optimise productivity.
No matter the industry, software is both, a disrupting factor and an innovation enabler. New technologies and changing demands are driving disruption in various sectors. Today, when Frankfurt Airport is operating new robotic concierge services for passengers called 'FRanny' and YAPE, the air cargo sector is leaving no stone unturned to unfold this revolution.
British technology pioneer Kevin Ashton coined the phrase 'internet of things' (IoT) in 1999, but it took at least another decade to add a level of digital intelligence to devices that would have otherwise been dumb. Effectively merging the digital and physical worlds, several other digital concepts like artificial intelligence (AI), machine learning (ML), big data, gradually came into existence enabling devices to communicate real-time data without human interference.
Working on similar lines, the cargo handling division of International Airlines Group, IAG Cargo recently joined hands with Cargo Signal to offer new cargo tracking service. Carly Morris, head of innovation, IAG Cargo, states, "Cargo Signal will provide customers with enhanced end-to-end monitoring and notification features, by using cellular networks to communicate with tracking devices on cargo. The devices transmit real-time data when in cellular range on everything, from location and light through to precise temperature and humidity readings. Accurate temperature monitoring is essential for cold chain logistics such as transporting temperature-sensitive pharmaceuticals which require precise temperature conditions in order to remain stable. Light is measured mainly for security purposes, as it can indicate intrusion into a container or a pallet being opened. Cargo Signal is a perfect complement for our premium products such as Constant Climate, Critical and Secure as it offers customers unrivalled visibility over shipments across each step of the supply chain."
For logistics to work most efficiently, the supply chain needs to generate a constant stream of data that can be collected, analysed and used to optimise productivity. Morris adds, "In a busy environment like Heathrow Airport, a huge amount of data is generated, and it can be challenging to effectively analyse all of this information to identify areas of improvement. That's why as part of last year's Hangar 51 programme, we partnered with start-up Emu Analytics whose intuitive software visualises data generated by airside vehicles. The software provides real-time insights into where airport vehicles are along cargo routes and how they're performing, helping to identify route inefficiencies. Working with Emu has allowed us to increase efficiency in our airside operations, manage our partner relationships and alert us to any potential issues quickly."
This year in Hangar 51, IAG has selected AllRead MLT that develops cost-efficient software that simplifies and optimises data extraction processes using ML. Since 2018, IAG had a dedicated cargo category for Hangar 51, where startups can pitch for spots in a joint 10-week co-working mentorship programme, where they embed themselves in IAG's business to develop their technology.
Unilode's state-of-the-art ULD digital tracking solution for LATAM Cargo
Launched in October this year, the new state-of-the-art export facility of Virgin Atlantic Cargo and Delta Cargo at London Heathrow adopts the Gatehouse concept. Rafael Figueroa, Delta Cargo's managing director of operations, says, "Here, drivers arriving at the facility no longer need to leave their vehicles to complete documentation processes. They are immediately assigned to a cargo door to offload their freight. Drivers also receive text message updates to help expedite cargo deliveries and have access to new driver welfare facilities. Real-time acceptance using the operation's door management system and hand-held technology also provides instant freight status update messages for customers to confirm their cargo is being handled and flown as planned. Screens inside the facility linked directly to the airlines' operations control centres, enable flight monitoring and the management of service level agreements."
Delta introduced Bluetooth ULD tracking in 2018 and it has grown exponentially which enhances its ability to manage the ULD fleet.
Recently, Brussels Airport's (BRU) cargo division advanced its digital and perishable capabilities with the pilot launch of 'Perishable Management App' on its open data sharing BRUCloud platform. The app is intended to simplify work for the Belgian Federal Agency for the Safety of the Food Chain (FASFC) and forwarders by offering a central, digital platform for all communication and document exchange related to the inspection process of perishables.
Speaking on the perishable app, Steven Polmans, director cargo & logistics, business development, Brussels Airport Company, observes, "The app we developed manages basically this process: from advising on the arrival of shipments, uploading documents, doing online check in the warehouses with direct input, automatically advising customs and other stakeholders, allowing FASFC taking pictures in the file, allowing them to work remotely. This reduces the process of the checks significantly and thanks to the fact the app is connected and can be easily connected with any system, there is no need for extra work do be done by staff, on the contrary."
Unilode Aviation Solution entered into the world's largest ULD digitisation contract in the airline industry with OnAsset Intelligence. Benoit Dumont, CEO, Unilode Aviation Solution, says, "We did not want to develop a solution, but rather install a 'ready-to-use' solution. We evaluated what the market had to offer, but didn't find anything suiting our requirements. Therefore, we decided to design and develop a solution together with OnAsset. OnAsset offered the must-have requirements to establish a state-of-the-art solution. The requirements include a certain period of experience on tracking solutions in the aviation market, in-depth understanding of tracking technologies and an agile development team to get a solution in place to meet our requirements. Thus, bringing our ULD management capabilities to the next level and offering value-added services to our customers with a reliable and durable solution complying with all aviation rules & regulations. We will now digitalise all our 140,000 units for over 40 airlines." Earlier this month, Unilode rolled out its state-of-the art ULD digital tracking solution for LATAM Cargo's entire ULD fleet.
In mid-October, Menzies Aviation selected Hermes Logistics Technologies to provide the cargo management system 'Hermes 5' to be rolled out at its cargo facilities from the first quarter of 2020. Yuval Baruch, CEO, Hermes Logistics Technologies, states, "Hermes 5 represents the future of cargo management solutions, its open architecture allows for full integration into cargo ecosystems, from warehouses to airports. One of the key benefits of Hermes 5 is its scalability, making it the ideal solution for a network like Menzies which includes small, medium, and large-sized operations. The standardisation and open connectivity of the platform means complete compatibility and data-sharing across their logistics facilities and services but more importantly, will allow them to drive best practice processes across all domains and across the Menzies network."
In addition to the partnership with Menzies, Hermes has launched an initiative with most of its customers to upgrade them to Hermes 5. Following the launch & go-live of Hermes NG BI with its Datalakes product, the company will soon be delivering this product to some of its customers. Recently, it has renewed the agreement with Etihad Airways and finally, Hermes Logistics has successfully completed phase 2 of the implementation for Luxair.
Last month, Kale Logistics Solutions was selected by Mitchell Cotts to digitise its Jomo Kenyatta International Airport (JKIA) operations in Nairobi, Kenya, where Kale's product GALAXY will be used. Amar More, CEO, Kale, observes, "GALAXY, our web-based airport cargo management system will enable the Cargo-IMP (interchange message procedures) exchange, which is triggered on flight arrival and departure of the airline and ground handler. During stock-check and transfer, the SCM (site configuration message) and LUC (load unit control) messages are shared with the airlines. The SCM follows a defined IATA standard, and, is transmitted in an accurate and timely manner, effectively keeping a ULD controller informed of the stock they hold at any location."
More continues, "We are now creating digital cargo communities in almost all continents including North America, Asia, the Middle East, Europe, and Africa. Our work with Mumbai Airport on the creation of GMAX is appreciated by the global air freight community. This is the supply chain integration from exporter to importer that people had always dreamt and talked about. Our digital cargo communities have the latest technologies like block chain, AI, machine learning. In addition to this, we are fervently working on creating digital corridors between airports and ports globally. We have completed the POC (proof of concept) of Mumbai and Schiphol digital corridor and the next one will be between Atlanta and Schiphol. We are also working with our partners on the one-record initiative."
Detailing on its recent commitment with POS Aviation to power terminal operations in Malaysian airports to transform its ULD management and mail operations, Ashok Rajan, senior vice president and head of cargo & logistics business, IBS Software, states, "We got together to get an ambitious digital transformation underway on the back of the iCargo platform. The first set of outcomes was to improve efficiency at key areas of the warehouse, materially cutting the waiting and lead times for both airside and landside customers. Months into the implementation, POS has cut waiting times across functions by almost 50 percent, their performance has started to get into the high 90s, and processes on the shop floor are largely digitalised with instruction sheets and paper being fully replaced by workflows and mobile devices. The next was getting ready to handle the new age ecommerce businesses and preparing processes to offer unique solutions that measure up to their needs on speed & quality."
On the other hand, shippers are also proactive to lead the digital race. Teva Pharmaceuticals has conducted a trial run on combining different types of data loggers into one and to operate from a single station globally. Ravi Kumar Tummalapalli, head logistics - APAC, Japan, China, says, "Now with new technology, the data loggers are not only meant for their core purpose of monitoring and recording of temperature information but are also providing multiple value additions. For example, tracking of shipments, humidity recording, drop and jerk sensitivity, etc. We have already started moving into the implementation phase now. As we have 75 own manufacturing locations we are targeting to complete this first phase within the next one year, and then expand the project to our contract manufacturing locations. We are training our LSPs (logistics service providers) to collaborate with them for this implementation. Initially, there might be some issues, but we are confident with the right engagement and training of everyone in the chain, we can help them in understanding the relevance of real-time data loggers and support the process."
In air freight, most lanes and networks are planned using historical data and professional expertise, although some aspects remain unpredictable. Jimmy Yeoh, chief information officer, business IT, DHL Express Asia Pacific, comments, "To enable more proactive mitigation, DHL has developed a machine learning-based tool to predict air freight transit time delays. The tool analyses 58 different parameters of internal data to predict if the average daily transit time for a given lane is expected to rise or fall, up to a week in advance. This helps air freight forwarders to better plan ahead instead of guessing when, or with which airline, their shipments should fly. DHL is also piloting various technologies including video imaging, video, and data analytics for greater efficiency in cargo processing and to enhance safety and security."
Industries like shipping have been using beacon technology widely but in air cargo, it has not gained much acceptance. Baruch notes, "Beacon technology is expensive and the air cargo industry, with wider margins and more control over the routes of movement, cannot afford to maintain the assets pertaining to such technology. Air cargo which moves faster, with much less cohesion along the chain of passage, commands a level of cooperation that is only seen at a regulatory level. This technology is also less reliable in-flight, because changes in temperature, pressure, altitude, direction, and even turbulence, can affect the accuracy of the sensors."
Agreeing to Baruch's statement, Polmans states, "Unfortunately, too much attention is going for e-AWB and e-freight and not for cargo devices. Our efforts by now should not only be focused on how we can automate our processes, but also how we can change our processes with the digital solutions and opportunities available."
Rajan observes, "It is hard to explain why technologies like beacons haven't already found greater adoption in the air freight industry. Air cargo has service delivery challenges such as missing shipments, etc. Not specifically beacons but sensors, in general, have always loosely been on the radar of the industry, RFIDs in different shapes and forms have been tried but didn't take off owing to cost and lack of support from the tech industry to support with R&D for specific needs of the air freight business."
He further adds, "The last few years, however, have seen a definite momentum in this space. An air cargo world with high penetration of sensor technologies will look very different – the ability to have real time information on not just locations, but ambient information, will change the game in terms of a step level change in service, delivery, quality, and transparency. Ability to have access to such granular information will also mean that the airport-to-airport segment of the supply chain can truly fit into the logistics process as both the carrier and the end shipper will potentially be talking about the same entity and can eventually fit into a process where a transportation need is identified, say at a manufacturing plant."
But when it comes to giving a makeover to air cargo with a digital twin concept, Baruch has an optimistic response. "This is an area Hermes is becoming very familiar with as we digitalise our products; we constantly track all events related to shipment, its dependencies (flights, ULDs) and its agency (bookings, customs, financial). As such we are creating a story mimicking in near real-time what is happening to a shipment. The makeover is threefold. First: live monitoring and standard reporting for the players across the entire supply chain. Second: the predictability of cargo flow and with that a potential change of economics. Third: the predictive and behavioural change of the industry adapting to real-time insights from predictive analytics that will change the way a shipment is carried, sent, or paid for, to maximise yield," he explains.
Echoing similar sentiments regarding replicas of ULDs in action, Dumont cites, "It is our main interest to bring the air cargo industry to the next level of digital. Digital ULD tracking and piece level tracking is our contribution to creating more efficiency and a leaner supply chain. This will be the basis for further digital developments in the air cargo industry and we are happy making a contribution to this development."
Technology trends such as AI, robotics, and automation are playing an increasingly important role in the logistics industry today by helping to streamline and optimise processes. DHL has developed a mobile and autonomous robot that uses an air-powered telescopic mast to access hard-to-reach areas as high as 15 metres and provide insights on pallet locations and conduct inventory checks at any given time, with little to no human supervision.
"DHL is working with a technology firm to look into how narrowband IoT applications at an automotive site can facilitate and streamline yard management for inbound-to-manufacturing logistics. At the DHL Express hubs, a variety of automation technologies are being used to improve connectivity and productivity. These include hardware such as automated guided vehicles (AGVs) which intelligently sense the environment around them to assist workers with tasks to move shipments, palettes of cargo & containers safely and efficiently," Yeoh mentions.
Automation provides more granular information about events that occur around cargo activities, as every part of the process is digitalised and more information points become available. This, in turn, allows for the refinement of processes, identification of pain points, and opportunities that are seldom visible today, or at least to quantify. Finally, by providing a more predictable way to handle goods, this offers a better price point for the air cargo industry.
Virgin Atlantic and Delta Cargo's new technology-inspired export facility at London Heathrow
In 2018, IAG launched the first test of a self-driving vehicle at Heathrow Airport, London in partnership with Oxbotica, a company specialising in self-driving software. Oxbotica's autonomous vehicle spent over three weeks travelling along the airside perimeter and collected 200 kilometres of data that has helped to map most of the airport. This data is used for ongoing and future trials of autonomous vehicles at Heathrow. "We recently conducted a trial at our Heathrow hub using cutting edge volumetric scanning technology to create accurate 3D images of ULDs. We are hopeful that data collected during the trial could be used to improve our flight planning process and better optimise our cargo hold capacity. We have also done a trial of automation outside the warehouse," Morris states.
IAG recently surveyed its customers for Cargo Next, a report released on cargo trends and market expectations, in which nearly 81 percent of forwarders expect technological innovations to have a positive effect on their business.
More feels that with e-commerce booming, warehouses are going through dramatic changes. "We have recently implemented drone integration for the Delhi Airport warehouse operations. Data collected from sensors, electronic documents, screening methods or oral discussions are consumed by AI-based systems to empower the human resources to be more efficient. Identifying, tracking, monitoring, interacting in the warehouse is made possible by the use of mobile and connected devices, sensors and data loggers combined with IoT. We are building technology systems that are futuristic, safe, secure, green, connected and smart," he notes.
Through the BRUCloud slot booking app, handlers can better use their assets and manpower planning, improving their service and at the same time reduce their cost. For the forwarder, they can better plan as there is hardly any waiting time or time lost, so they reduce cost and gain productivity. Polmans says, "Besides booking slots, the app can also do a digital blockchain-based delivery note between handler and forwarder, you can add security data and driver data, add checklists for dangerous goods or pharma, and all this by re-using date in the cloud and avoiding any double input. Thanks to the hand held application, you also get instant reports in one dashboard, allowing all stakeholders to see their performance and from the service provider."
As part of the DPDHL 2025 Strategy, the group will invest around EUR 2 billion on digitalisation between 2020 and 2025 to boost the digital transformation across all business units. There are also significant investments made into processing shipments, automating material handling, scanning, sortation and automatic identification and processing of cargo at customer's premises, en-route, as well as in its facilities and hubs.
Carriers are increasingly becoming transparent in pricing and offering and letting the market decide on the right price points. In the area of automation - physical handling of goods is seeing an increasing impact of technology in terms of physical storage, movement and operational efficiencies through system driven process-steering, and with technologies like beacons the visibility and quality of transport has improved. Even technology-enabled partnerships across players, whether it is between carriers or carriers and other stakeholders, are gaining importance.
While the potential of the IoT market is massive, technological companies face significant challenges as they launch products in this space. Given the amount of data coming from connected devices, companies also need to figure out how to use that information to improve the customer experience. While the market matures and consumer expectations change, companies must continuously learn on-going customer insights to remain ahead of the competition.
This feature was originally published in STAT Trade Times' November 2019 issue.