Cologne Bonn breezes past 11 million barrier
<p style="text-align: justify;">Cologne Bonn Airport has celebrated its 11,111,111th passenger, marking the highest ever number of passengers served in the airport's history. The German airport has breezed past another passenger traffic milestone having welcomed its 11 millionth passenger last week. Driven by the airport's expansion of its route network and airline partners, Cologne Bonn has […]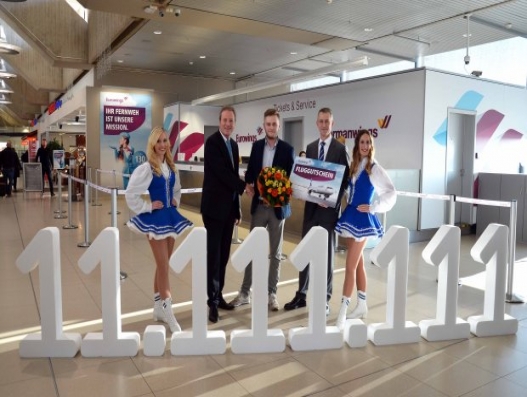 Cologne Bonn Airport has celebrated its 11,111,111th passenger, marking the highest ever number of passengers served in the airport's history. The German airport has breezed past another passenger traffic milestone having welcomed its 11 millionth passenger last week. Driven by the airport's expansion of its route network and airline partners, Cologne Bonn has experienced an impressive +16% passenger traffic through to end-November 2016.
The outstanding landmark was marked when passenger Seymen Splinter arrived on a Eurowings flight from Hamburg to Cologne Bonn, greeted by Michael Garvens, Chairman of the Management Board, Cologne Bonn Airport, and Michael Knitter, Member of Executive Board, Eurowings. "The record numbers are lined up at the airport this year like a pearl chain. The 11,111,111th passenger to arrive at our airport is a significant symbol of Cologne Bonn's growth this year," exclaims Garvens.
Cologne Bonn remains the fastest growing airport in Germany, with the arrival of Eurowings' long-haul routes and the growth of the low-cost carriers, notably Ryanair, boosting the airport's development. By the end of December, Cologne Bonn expects to smash this milestone and have welcomed 11.8 million passengers overall, a considerable +14% growth in passenger traffic.