FROM MAGAZINE: Collaboration key to pharma supply chain integrity
<p style="text-align: justify;"><strong style="font-weight: bold;">A wind of change is in the air when it comes to logistics in the pharmaceutical industry. There is rising awareness of the important role logistics plays in the pharmaceutical industry. Air cargo industry stakeholders, including shippers, are coming together to launch community initiatives to strengthen pharmaceutical supply chain integrity. Their […]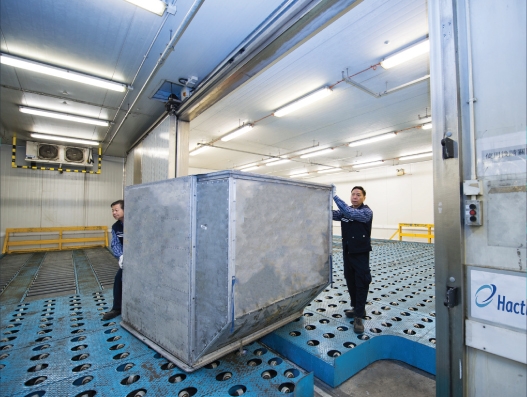 A wind of change is in the air when it comes to logistics in the pharmaceutical industry. There is rising awareness of the important role logistics plays in the pharmaceutical industry. Air cargo industry stakeholders, including shippers, are coming together to launch community initiatives to strengthen pharmaceutical supply chain integrity. Their commitment is to deliver as promised.

Reji John
Maintaining total pharmaceutical supply chain integrity is the most vital and comprehensive challenge not just of pharma manufacturing companies but also of those involved in the transport and logistics of such an important commodity. It will be pervasive and complex and will require a fundamental change in the way the industry thinks about, manages and moves inventory.

The air cargo industry is making fundamental changes in their approach to moving pharma shipments from point to point. Industry organizations like International Air Transport Association (IATA) have launched global certification programmes for air cargo industry stakeholders to ensure highest standards are followed when it comes to pharma cargo.

Working alongside aviation industry stakeholders and regulators, IATA created the Center of Excellence for Independent Validators in Pharmaceutical Logistics (CEIV Pharma), to help organizations and the entire air cargo supply chain to get on the right track to achieve pharmaceutical handling excellence. CEIV Pharma addresses industry's need for more safety, security, compliance and efficiency, by the creation of a globally consistent and recognised pharmaceutical product handling certification.

A wind of change is in the air when it comes to logistics in the pharmaceutical industry. Although most companies are still quite optimistic with regard to the current business climate, there seems to be a rising awareness of the important role logistics might play in current and future challenges such as price pressure. And new service offerings "beyond the pill" also could affect logistics substantially: The majority of industry players are currently executing focus initiatives in various fields of logistics, including organization, process and network setup. At the same time, however, there is still some room for optimization with regard to various strategic changes in logistics to further increase competitiveness.

The CEIV Pharma is a standardised global certification programme that trains and conducts consistent onsite assessments to provide the expertise needed adequately to transport cold chain pharmaceutical products across the world. It has one internationally recognised standard that harmonizes, simplifies and, where possible, reduces the number of audits. It improves compliance with standards and regulations by assessing operations against a standard check list. It trains independent validators on these standards and regulations for them to work consistently, and it identifies and recognizes the best suppliers by certifying and then registering them on a public website.

Its aim is to improve the quality of the service offered to pharmaceutical companies by reducing the losses from mishandled goods. At present annual damages to the pharma industry from spoiled goods can be up to $12 billion a year. That is an unacceptably high percentage of a $300 billion-a-year market.

Moreover, in the coming years much of the growth in temperature-sensitive pharma such as vaccines and blood plasma is expected to be in markets outside North America and Europe. This in turn creates a need for investment in up-to-date cold chain facilities. By 2018 spending on cold chain logistics is likely to be over $10 billion a year. The value of this precious investment must be maximised.

Transporting and handling pharmaceuticals present both challenges and opportunities for all cold chain industry participants. The business relies on air transport for its speed, consistency and efficiency in delivering high-value, time-sensitive, temperature-controlled products. However, aviation industry stakeholders must overcome big challenges as they strive to provide the high-quality services pharmaceutical shippers expect, such as insufficient expertise, inadequate infrastructure, ill-equipped facilities and increasing regulations. CEIV Pharma ensures that facilities, equipment, operations and staff comply with all applicable standards, regulations and guidelines expected from pharmaceutical manufacturers. The overall goal is to elevate the industry know-how and achieve global standardization.

Since its launch CEIV Pharma certification has been adopted by airports, airlines, freight forwarders and cargo handlings companies. The programme has been promoted as a compliance certification process that demands efficient coordination among every link in the air cargo supply chain. Therefore, the industry has seen airports taking leadership roles to ensure that they bring on board others to be part of this programme and all of them are CEIV Pharma certified. Such collaborative initiatives are perceived by pharma shippers as the right initiatives to build confidence in the value proposition of air cargo industry.

Brussels Airport was the first airport that was certified by IATA and was a pilot project for IATA with the aim of quickly spreading this to other airports worldwide. In fact the launch programme ensured cooperation from eleven participating companies. The participants in the "cool chain" process involved on the airport were Brussels Airlines Cargo, Finnair Cargo, Aviapartner, Swissport, WFS (on the handling side), AD Handling, BPL, Expeditors, UTI, DDV from the forwarding side and trucker Jan de Rijk.

"Brussels Airport is aiming to strengthen its position as a leading gateway for the handling and transportation of pharmaceutical freight in Europe. We hope that our leadership in being recognised as a CEIV Pharma certified community will persuade other airports to do the same," Steven Polmans, Head of Cargo at Brussels Airport Company had said way back in 2014 when the airport was certified under IATA CEIV programme.

And Brussels Airport must now be proud of the outcome of such an initiative managed to gather in a very short period of time.

Brussels Airport also led a community initiative to better streamline pharma logistics by connecting likeminded players from around the world. This led Brussels Airport along with Miami International Airport to the creation of Pharma.Aero. It claims to be a powerful cross-industry collaboration for Pharma shippers, CEIV certified cargo communities, airport operators and other air cargo industry stakeholders. It aims to be a worldwide platform to achieve excellence in reliable end-to-end air transportation for pharma shippers. Its mission is to foster collaboration between CEIV certified airport communities dedicated in developing and leading when it comes to handling pharmaceuticals.

Pharma.Aero recently added eight companies into the organization. Among them are pharmaceutical shippers Pfizer, Johnson and Johnson, Merck Sharp & Dohme, as well as other air cargo stakeholders which comprises of DHL Temperature Management Solutions, Expeditors, EuroAirport Basel, 4Advice and e-CARGOWARE. This brings the total number of companies in Pharma.Aero to sixteen members.

"Within a short span of six months, Pharma.Aero has achieved our top priority of expanding the membership base to other stakeholders in the pharmaceutical supply chain. The recent addition of the three global pharmaceuticals shippers marks a significant milestone to the organisation as we will be able to collaborate closely with the pharmaceutical shippers on projects to achieve a reliable end-to-end air transport for pharmaceutical cargo," said Nathan De Valck, Chairman, Pharma.Aero. De Valck is also the Cargo & Product Development Manager for Brussels Airport Company.

"Together with the air cargo stakeholders, we will develop global pharmaceutical trade lanes, implement best practices and share market knowledge and expertise. Pharma.Aero welcomes other IATA CEIV airport communities, shippers, airline carriers, logistics companies, and other pharmaceutical stakeholders with like-minded goals to become members," added De Valck.

Hong Kong Air Cargo Terminals Limited (Hactl) has been confirmed as complying with all the requirements of IATA CEIV Pharma. Hactl is the first handler in Hong Kong to obtain the certification. Hactl's certification is the result of an initiative sponsored by Hong Kong Airport Authority, in which all relevant industry players at the airport will undergo validation for the IATA CEIV Pharma standard.

Jimmy Nares, Section Chief Aviation Marketing, Miami International Airport, is of the firm belief that community is approach is very important to the air cargo industry particularly when it come to pharma shipments. "Our success is based on the success of our tenants. So it is incumbent upon us to make sure that our cargo community has all the tools in place ready to handle cold chain pharma," he said.

Jaisey Yip, Associate General Manager for Cargo & Logistics Development at Changi Airport Group also puts her weight for community initiative programmes to ensure the integrity of pharma shipments from end to end. "We believe community approach is very critical to be a reliable and trusted pharmaceutical handling air cargo hub. We need to speak the same language; adhere to common standards; and get together to ensure that pharma is transported safely and securely," said Jaisey Yip.

Talking about IATA CEIV certification Hactl's Chief Executive Officer Mark Whitehead said that the world's leading air cargo terminal has held WHO GDP accreditation for almost four years now (the first in HKG to achieve it), and has already invested heavily in achieving compliance, including thermal dollies for the ramp, for processing pharma through the terminal, and upgraded temperature-controlled storage.

"The important difference with IATA CEIV is that it is an IATA initiative, which means it is securing faster and more positive uptake by carriers, and this is flowing down through their suppliers such as handlers and truckers. What is most important in developing airfreight's pharma potential is the adoption of a uniform industry-wide standard, and IATA CEIV represents the best prospect of achieving this," said Whitehead.

According to Whitehead pharma traffic had remained fairly stable over the past three years, but Hactl has seen a large surge in traffic this year: already up some 77 percent in the first quarter. "It's too early to say if this level of growth will be sustained throughout 2017, but such heavy increases must indicate an underlying trend that's likely to continue to some degree," Whitehead clarified.

On the volume of pharma handled at Hactl Whitehead revealed that pharma will never look like a major commodity for Hactl in pure tonnage terms. "It was only 0.1 percent in 2016, although (due to the scale of Hactl's business), that is still 1,300 tonnes. "However, although we can't give you the actual figures for this, the value of the pharma shipments would be a much larger proportion of the total value of all cargo handled," he added.

Carrasco International Airport (MVD) in Montevideo, capital city of Uruguay, is set to join Pharma.Aero. According to Bruno Guella, the airport's managing director, it is currently doing IATA CEIV certification, which it aims to complete by mid 2017. Guella believes that pharma business is a key part of its growth plans and there are many opportunities to grow this traffic. Guella also hopes to influence other airports in the region to adopt the community initiatives like Pharma.Aero and follow industry standards like the CEIV certification for pharma transport. "We are sure there is a good opportunity to grow this business across South America. Based on our experience at Montevideo, we may add more airports in our network," said Guella on the sidelines of the recent IATA World Cargo Symposium in Abu Dhabi.

While the air cargo industry has now widely recognised the importance of pharma as a revenue stream, but according to Whitehad, it's the manufacturers who are really driving progress. "Although we don't work directly with these companies, we represent 100 carriers on the ground in Hong Kong. So, it's vitally important that we have seized the initiative and fully prepared our carrier customers for carrying this commodity in a fully-compliant manner, right from the start. Adopting CEIV Pharma is just the next step in the journey: as the processes for carrying pharma evolve and mature, Hactl will continue to make whatever changes and investments mat be required. That's our job," he said.