Colibri Aero and J&C Aero unveil cargo containers for wide-body passenger cabins
Colibri Aero and J&C Aero launch cargo containers for Airbus and Boeing wide-body passenger cabins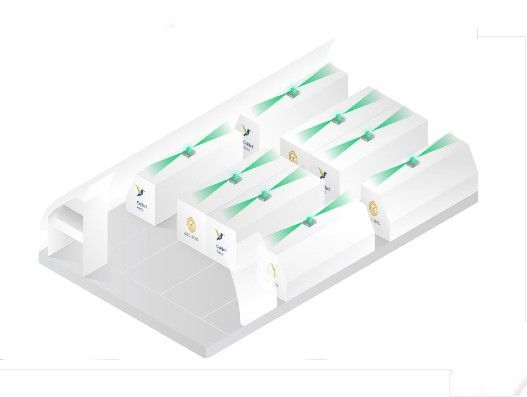 Colibri Aero, along with J&C Aero, has unveiled cargo containers for passenger cabins of wide-body aircraft made by Boeing and Airbus. The cargo container allows Airbus and Boeing cabin conversion between passenger and cargo operation in a matter of 24 hours.
The cargo containers come in five different sizes and are designed for wide-body passenger cabins of Airbus A330, A340 and Boeing 767, 777. Each equipped with its own smoke detector, the cargo containers are intended for temporal replacement of passenger seats while converting the aircraft's cabin for transportation of cargo of any type.
The initial modification is intended for use in cabins with the supervising cabin crew members. After certifying cargo container under European Union Aviation Safety Agency's (EASA) Supplemental Type Certificate (STC) requirements, the modification will be upgraded for other aircraft types and size variations.
With one container being able to transport up to 850 kg (1870 lb) of commercial cargo, a typical Airbus A330 cabin can be converted in just 24 hours, fitting 36 containers – almost 27 tonnes (58,640 lb) of cargo per single flight can be transported inside the passenger cabin.
In April, Colibri Aero and J&C Aero launched EASA-certified commercial cargo seat bags
After the Covid-19 pandemic brought passenger aviation to a complete halt resulting in severe shortage in air freight capacity, Colibri and J&C launched first EASA-certified commercial cargo seat bags for Airbus A319/A320/A321 passenger cabins in April. These spacious kits for double and triple seats allow airlines to transport commercial and humanitarian cargo inside passenger cabins.
Headquartered in Vilnius, Lithuania, Colibri Aero is an international provider of component and interior solutions for aircraft operators, lessors, owners, brokers, OEMs and MROs. With in-house EASA Part 145 and Part 21 capabilities, Colibri Aero provides a wide range of interior refurbishment and spare parts services for Airbus, ATR, Boeing, Bombardier and Embraer aircraft.
J&C Aero is an international company specialising in comprehensive aircraft cabin modification solutions. As a design organisation started in 2012 and approved by EASA - EASA.21J.580, it provides services for repairs and changes (modifications) of exterior liveries, covering cabin interiors, galleys, electrical systems and avionics as well as other related interior equipment.