Cobalt Air connects Frankfurt with Larnaca with twice-weekly services
November 6, 2017 : Cyprus' largest airline Cobalt Air, has announced a new twice-weekly service this winter linking Frankfurt Airport directly with Larnaca, which commenced November 1. With the latest addition, the airline is currently providing the earliest arriving flight from Cyprus into the German financial centre. Andrew Madar, CEO, Cobalt Air commented, "I am […]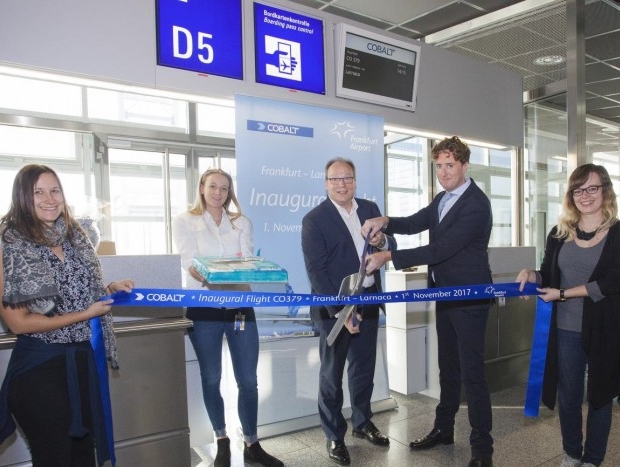 November 6, 2017 : Cyprus' largest airline Cobalt Air, has announced a new twice-weekly service this winter linking Frankfurt Airport directly with Larnaca, which commenced November 1. With the latest addition, the airline is currently providing the earliest arriving flight from Cyprus into the German financial centre.
Andrew Madar, CEO, Cobalt Air commented, "I am delighted that Cobalt Air is now flying to Frankfurt Airport from Larnaca. Cobalt Air has quickly become the preferred airline of the Cypriot people, and we can't wait to show them our great welcome and onboard service as they start their holiday or business trip from Frankfurt to Cyprus. And I'm very proud of our people too. At Cobalt Air, we know the value of reliability, competitive pricing and a genuine on focus customer care. We are genuinely different. Not Legacy, not LCC, just Cobalt Air."
Anke Giesen, executive director, Operations, Fraport AG said,"We are very happy to welcome Cobalt Air here at Frankfurt Airport. The connections offered by Cyprus' largest airline are an excellent addition to the route network here at Frankfurt into a very popular Mediterranean destination. We wish Cobalt Air many happy landings at FRA."
Cobalt Air currently serves 16 destinations across ten different countries from its Larnaca and Paphos bases in Cyprus.