China selects India's Delhi airport as cargo transshipment centre
January 04, 2019: Indira Gandhi International Airport (IGIA), New Delhi, India has been chosen as the cargo transshipment centre by China. With this development, Chinese cargo to the Central Asian countries is now being routed through IGIA with the new Transshipment Excellence Centre (TEC). According to airport officials, an Air Asia freighter, carrying garment and […]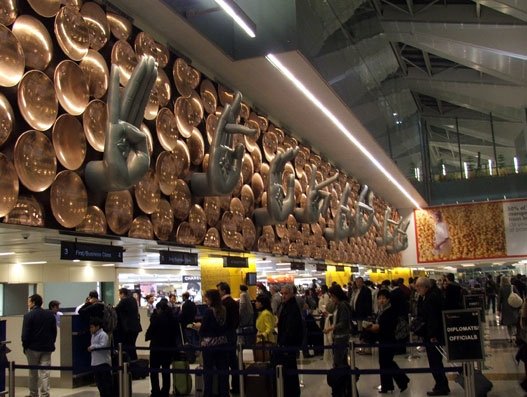 January 04, 2019: Indira Gandhi International Airport (IGIA), New Delhi, India has been chosen as the cargo transshipment centre by China. With this development, Chinese cargo to the Central Asian countries is now being routed through IGIA with the new Transshipment Excellence Centre (TEC).
According to airport officials, an Air Asia freighter, carrying garment and accessories, brought the consignment from Beijing to Delhi for onward delivery to Ukraine in the last week of 2019. This was the first instance of international-to-international movement of China's cargo via Delhi Airport. With this, a new gateway has been created for the movement of international transshipment cargo connecting China to Ukraine through Delhi Airport.
According Videh Kumar Jaipuriar, CEO, IGIA said, "Delhi has emerged as a cargo hub for businesses in North India and neighbouring countries. This new movement of international transshipment cargo connecting China to Ukraine via Delhi Airport will give a significant impetus to the air cargo and regional logistics sectors. TEC not only provides new momentum to the efficient movement of transshipment air cargo through a secure channel, but also contributes significantly in promoting Delhi airport as air cargo hub of the region and an air cargo gateway to the world."
Before this, the newly launched TEC was used by Bangladesh firms for sending a consignment of readymade garments from Dhaka to Manchester.
With the three operational runways and nine freighter parking bays, Delhi airport is India's largest and busiest airport. The airport is going to add three more freighter parking bays. The airport has the capacity to handle over 1.8 million tonnes of cargo annually, which is scalable to 2.3 million tonnes. In FY'19, the airport achieved a new milestone of handling over 1 million tonnes cargo, the highest volume of cargo handled by any airport in India in a year.
The airport has a world-class dedicated temperature control facility to ensure an end-to-end temperature-controlled supply chain. The facility can handle around 1.5 lakh million tonnes perishable and pharma cargo annually.
Delhi airport also has an airline network connecting 75 international and 69 domestic destinations served by 63 air carriers and 17 freighter airlines.
With its two state-of-the-art integrated cargo terminals and TEC at the airside for smooth and efficient movement of transshipment cargo, Delhi airport is emerging as a transshipment hub for India's neighbours.
The airport has also developed Airport Cargo Logistics Centre as on-airport warehousing facility to handle all types of cargo, including textile, retail, perishable, project cargo, pharma, livestock, and electronics.