CharterSync completes its first An-124 charter flight
Oct 30, 2019: Time-critical air charter specialist CharterSync recently transported a 50-tonne shipment from Ostend to North Carolina at short notice. The machinery at 458 cubic metres needed specialist handling loading and transportation. Considering the complexities of the shipment because of the size, the company decided to utilise Antonov-124, one of the few cargo planes […]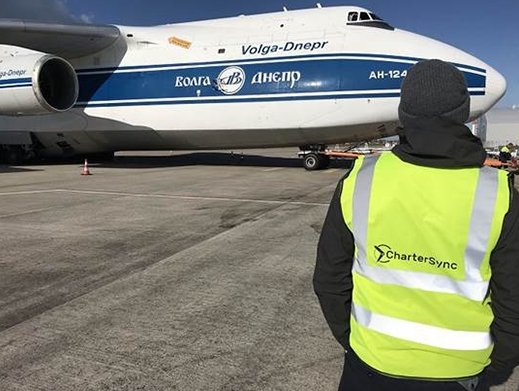 Oct 30, 2019: Time-critical air charter specialist CharterSync recently transported a 50-tonne shipment from Ostend to North Carolina at short notice.
The machinery at 458 cubic metres needed specialist handling loading and transportation. Considering the complexities of the shipment because of the size, the company decided to utilise Antonov-124, one of the few cargo planes available to handle a load of this magnitude.
An Antonov-124-100 owned and operated by Volga-Dnepr Group is one of the world's largest civil cargo aircraft, and though only operating since the summer, CharterSync was able to use its platform on behalf of its client to secure the charter.
The dimensions of the cargo provided a challenge, with one piece measuring 7 metres in length by nearly 4 metres in height and 5 metres in width.
Simon Watson, co-founder of CharterSync said: "To have placed a charter with an Antonov-124 so early in our business operations, and successfully completed a shipment of this complexity with such a tight timeframe is a testament to the solidity of our platform and the strength of our team."
The client required all documentation, timing and tracking through the platform to ensure every step of this vital cargo was monitored within CharterSync and fully accessible to them.
CharterSync expands team with two new appointments
Ekaterina Andreeva, deputy commercial director, Volga Dnepr Airlines, said, "We look forward to expanding our partnership together and will be glad to support the CharterSync team with a combined fleet of a nearly 50 all-cargo aircraft from the Volga-Dnepr Group".
Transportation of the cargo, due to its size, required specific road licences prior to loading on the Antonov 124 and its flight to North Carolina. The cargo left Ostend and touched down safely and on-time for its client, ensuring the machinery was delivered for installation without delays.
"This was by any set of standards a challenge, let alone for a relatively fledgling company. However, it shows the capability of our system, and that the skillset behind the technology is equal to it," said Ed Gillett, co-founder of CharterSync.
Time-critical air charter bookings platform CharterSync ready for flight

The company handled such a complex just after few months of its establishment.