CharterSync completes 16 charters in its first trading week
Aug 1, 2019: CharterSync, a platform for time-critical air charter bookings, has completed 16 time-critical air charters, in its first week of trading. The London-based startup confirmed time-critical cargo bookings on a range of aircraft, from the smaller Cessna to Antonov-12 carrying 18 tonnes. The platform expertly synchronises time-critical air charters for freight forwarders, generated […]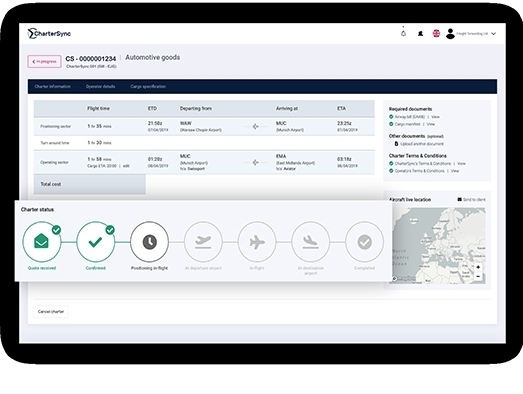 Aug 1, 2019: CharterSync, a platform for time-critical air charter bookings, has completed 16 time-critical air charters, in its first week of trading.
The London-based startup confirmed time-critical cargo bookings on a range of aircraft, from the smaller Cessna to Antonov-12 carrying 18 tonnes.
The platform expertly synchronises time-critical air charters for freight forwarders, generated charter options in under three minutes from request to quote for its customers.
It can be accessed through desktop and on Android and Apple mobile systems.
Many of the bookings involved complex payload and dimensional restrictions, but the system proved to be reliable and unphased.
"CharterSync accelerates the booking of time-critical air charter bookings for freight forwarders. Our platform adds transparency to cost whilst providing a gateway to the most suitable aircraft in real time. Our first week has exceeded expectations with the performance of the platform, and delivering ease of operation, time-saving, accuracy and cost reduction for our customers. Our industry expertise has made this possible," commented co-founder of CharterSync, Simon Watson.
CharterSync was founded by two airline pilots with a passion for aviation and a background in charter brokering and logistics.