Chapman Freeborn Airchartering helps to keep energy project on track
<p style="text-align: justify;">Mar 30, 2017: Chapman Freeborn Airchartering has helped to keep an energy industry project on track by delivering a 45-tonne consignment of radiant coils from Vitoria in Spain to Mumbai, India.</p> <p style="text-align: justify;">With construction plans facing delays until the materials arrived, specialists at Chapman Freeborn's offices in India and Spain arranged for […]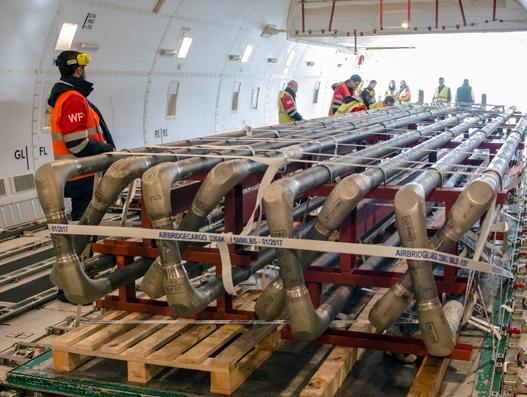 Mar 30, 2017: Chapman Freeborn Airchartering has helped to keep an energy industry project on track by delivering a 45-tonne consignment of radiant coils from Vitoria in Spain to Mumbai, India.
With construction plans facing delays until the materials arrived, specialists at Chapman Freeborn's offices in India and Spain arranged for an AirBridgeCargo Boeing B747-800F to be available on standby as the manufacturing process approached completion.
While still in production, the team was able to assess the loadability of the cargo and advise the client on the technical requirements for transporting the materials from the factory to the airport, and how it could be transferred to the aircraft with the help of cranes.
On the day of the operation, Chapman Freeborn's Sergio Nuñez-Cacho provided airport representation for the charter and helped to oversee the safe and professional handling of the materials ahead of the on-schedule departure and delivery.
Shailendra Seth, country manager of Chapman Freeborn India, said, "The project benefited from our global coverage as well as our ability to work in close cooperation with both the manufacturer in Spain and the end client in India."