CEVA Logistics pushes for ex-military employment in the UK
Nov 21, 2019: CEVA Logistics has signed the Armed Force Covenant, in a demonstration of its commitment to military veterans and their families. The initiative is likely to boost the number of former military personnel joining CEVA Logistics. The signing took place at CEVA's UK, Ireland and Nordics headquarters at Ashby de la Zouch in […]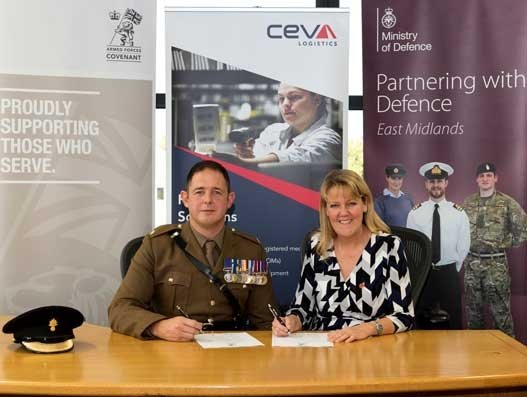 Nov 21, 2019: CEVA Logistics has signed the Armed Force Covenant, in a demonstration of its commitment to military veterans and their families. The initiative is likely to boost the number of former military personnel joining CEVA Logistics.
The signing took place at CEVA's UK, Ireland and Nordics headquarters at Ashby de la Zouch in Leicestershire and is the first step in the process of ensuring that veterans, their spouses, partners and families are not disadvantaged in their everyday lives.
Eddie Aston, managing director UK, Ireland and Nordics, CEVA said, "The Armed Forces can bring a wealth of relevant skills and experience to the logistics industry and this opens up a diverse talent pool for us to utilize. Signing the Covenant shows that not only is CEVA an Armed Forces friendly organisation but that we have inclusive recruitment practices and we welcome applications to join our team from everyone."
Speaking at the signing ceremony, Major Ty-Lee Bearder said, "I would like to say thank you so much for signing this Covenant. For me this is personal, within the next year or so I will be one of the many ex-service personnel looking towards my next chapter and new career.
CEVA further plans to work with the British Armed Forces Resettlement Services and the Career Transition Partnership to advertise vacancies and attend career fairs to increase awareness of the company's brand among ex-military personnel.