CEVA Logistics' new Chill Hub now officially open at DP World London Gateway
Oct 11, 2019 – CEVA Logistics inaugurated its new, integrated, end-to-end cold chain facility at DP World London Gateway. The Chill Hub is a multi-temperature 10,000 sqm facility with up to 10,000 pallet positions featuring seven independent chambers capable of operating at all temperature ranges from -25°C through to +16°C. This means chilled, frozen and […]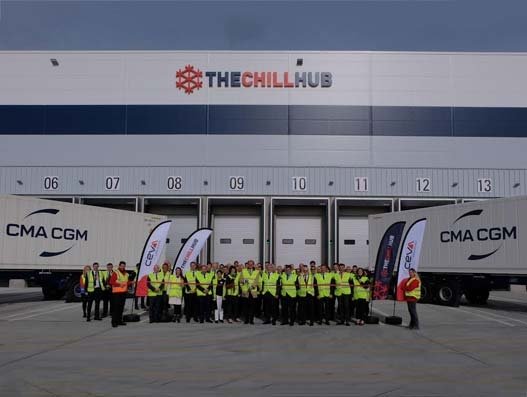 Oct 11, 2019 – CEVA Logistics inaugurated its new, integrated, end-to-end cold chain facility at DP World London Gateway. The Chill Hub is a multi-temperature 10,000 sqm facility with up to 10,000 pallet positions featuring seven independent chambers capable of operating at all temperature ranges from -25°C through to +16°C. This means chilled, frozen and temperature specific items can be accommodated.
Dedicated areas will handle pharmaceuticals, fresh and frozen produce, beverage products and flowers as well as other goods requiring temperature specific handling and storage. A full range of value-added services including labelling, boxing, re-palletising, price coding, tagging and kitting are all available through the Chill Hub.
A deep-sea port and logistics park is located in the vicinity of the new Chill Hub. The UK's number one reefer hub, London Gateway has links to over 110 ports in 60 different countries and its dockside proximity to the warehouse means shunting can take as little as two hours.
Nicolas Sartini, chief executive officer, CEVA Logistics said, "With its excellent road and rail connections, our best in class warehouse management systems and direct port access, the Chill Hub is a powerful demonstration of the synergies between CEVA Logistics and CMA CGM. This state-of-the-art facility will enable us to offer a unique value proposition to our shipper customers, providing a faster delivery of goods through an energy-efficient building. We can also give full visibility and control of the entire inbound operation through the Chill Hub."
CEVA has long and well-established reputation for warehouse management in the cool chain arena and the opening of the Chill Hub with its expanded and capabilities and end-to-end service offering further cements its credentials.