FROM MAGAZINE: Century-old transatlantic route still on an expansion spree
Ensuring stability in the wake of commercial tensions between the US and China, increasing oil prices and the predicted consequences of Brexit, transatlantic route exploits all barriers in air trade Shalini Nair Little did Captain John William Alcock and Lieutenant Arthur Whitten Brown knew that the World War-I modified Vickers Vimy flown by them on […]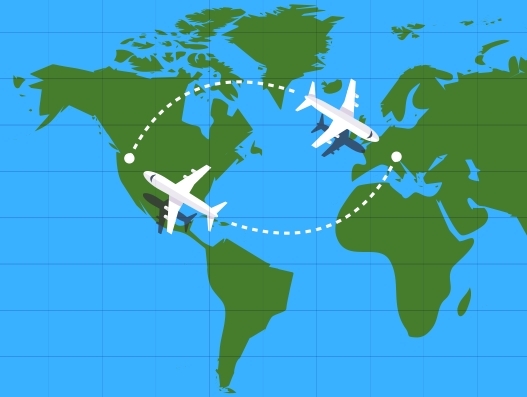 Ensuring stability in the wake of commercial tensions between the US and China, increasing oil prices and the predicted consequences of Brexit, transatlantic route exploits all barriers in air trade

Shalini Nair

Little did Captain John William Alcock and Lieutenant Arthur Whitten Brown knew that the World War-I modified Vickers Vimy flown by them on June 14, 1919, directly from St. Johns, Newfoundland to Clifden, Ireland, will be a major breakthrough in transatlantic air cargo trade - which is set to mark a span of 100 years next month.
In the current scenario, economic resilience from the North American markets, cross-border e-commerce, and rise of partnerships are all positive factors seeking to influence demand in the transatlantic markets. But what is dampening the impact of these factors is the rising protectionist sentiment that is developing in the North American and European markets. In spite of the commercial tensions between the US and China, increasing oil prices and the predicted consequences of Brexit, world freight activity has witnessed a 4.5 percent increase in 2018, reports International Civil Aviation Organization (ICAO). On the other hand, the figures released by the International Air Transport Association (IATA) indicated that in January 2019, the air cargo demand contracted by 1.8 percent year-on-year.
The UK and Europe are extremely important markets that have always been tightly linked with each other, be it for the flow of capital, people or goods. Speaking on Brexit effect in the short term, Ashok Rajan, SVP & global head cargo & logistics, IBS Software, said, "There is going to be a lot of disruption particularly in regulatory requirements such as customs, trade restrictions and so on, where matters of policy are still not defined clearly. This is a disruption which will be significant in large cross-border hubs like London and also in heavy throughput trade lanes from the UK to EU, particularly in areas like truck movements. This will obviously put a strain on business performance and technology change to ensure minimal disruption to business, which will be a major challenge for the industry and technology providers alike."
Observing the figures out of the most flexible airport in Europe – Liege, which connects a large number of airports in Europe, North America, the Middle East, and Asia, recorded a total of 870,644 tonnes transported in 2018, a 21.5 percent increase, compared to 2017 with 717,000 tonnes. Commenting on 2019 plans in a company release, Belgium's largest cargo airport's CEO Luc Partoune noted, "In 2019 and 2020, more than 30,000 square metre of warehousing will be made available to air cargo handlers. The contract signed with Cainiao is going to provide a medium-term boost for our activities and several hundred jobs will be necessary to sustain the growth in companies established at Liege Airport."
Cainiao, an Alibaba Group company, chose Liege Airport last year to become its e-commerce logistics hub in Europe. E-commerce shipments from the Cainiao network are already entering the European market via Liege Airport. Hence, the aim of establishing the hub was to increase those volumes resulting in more flights between Asia and Liege Airport.
At the same time, London Heathrow Airport saw a 1.8 percent fall in cargo volumes during January 2019 to 130,700 tonnes. Heathrow's best-performing markets were Africa, with a growth of 8.9 percent, and Latin America with an increase of 8.8 percent, largely driven by an increase in movements to Brazil. In 2018, the London hub processed 1.7 million tonnes of cargo, with North American volumes making up to 600,000 tonnes. However, Heathrow doubled its Chinese connections last year, adding six new cities, including Europe's only flight to Shenzhen. These new services helped to push global trade flowing through Heathrow. The master plan of Heathrow for expansion including the building of a new runway is in progress which is expected to be opened by 2026.
As the fourth-largest US airport in terms of cargo, Miami International Airport's (MIA) total cargo tonnes were up 2.8 percent, with international cargo tonnes up by 1 percent and domestic cargo tonnes up 13.4 percent, in 2018 - as Southern Air, Ethiopian Airlines and Amazon Air have launched their operations. For the first two months of 2019, MIA's total cargo tonnes went down approximately by 1.5 percent. But this doesn't deter MIA as FedEx Express, one of the largest cargo carriers in the airport is set to expand its logistics footprint. Aeroterm, a property company, will extend the ground lease to 2050 and expand the premises by approximately six acres of additional land, on which it will construct the building expansion. Miami is a top gateway airport and key entry point for perishables and other high-value goods from South America.
Giving uplift to MIA's business in 2019, four international carriers are entering the Miami market. Norwegian has launched the first-ever service on March 31 between MIA and London Gatwick Airport. Royal Air Maroc (RAM) launched its first-ever Miami-Casablanca route on April 3, giving the airport its first passenger flights to Africa and Florida's only nonstop service to the continent. On June 1, LOT Polish Airlines will begin flights to Warsaw-MIA, the first-ever service to Poland and the only nonstop route between Florida and Eastern Europe. French airline Corsair will also launch service to Paris Orly Airport on June 10.
Photo caption: Liege Airport

At the IATA's World Cargo Symposium, held in March at Singapore, IATA chief executive Alexandre de Juniac, remarked, "Protectionism, trade friction, Brexit, and anti-globalisation rhetoric are part of a genre of developments that pose a real risk to our business and broadly across the economies of the world." IATA sees geopolitical factors knocking down the demand for air cargo during 2019, and forecasts just 2 percent growth for the entire year.
Whatsoever is the market condition, there has been no barrier for the airlines from foraying into different markets. The 10-year historic lease agreement between Liege Airport and AirBridgeCargo (ABC) Airlines is expected to boost air cargo volumes of ABC to and from the airport. Under this, ABC will lease 25,000 square metre warehouse premises for effective and seamless cargo operations in the airport. The investment amounts to 25 million euros. The first phase of the project with 12,500 square metre warehouse will be launched in June 2019. The rest of the warehouse premises will follow in the second phase by 2020. At the same time, the Walloon Airports Company is building four new aircraft stands to accommodate growing ABC fleet. Speaking on the similar lines, Partoune, said in a release, "With AirBridgeCargo's presence at Liege, we plan to reach one million metric tonnes by 2020 and become one of the top 5 cargo airports in Europe."
With the warehouse lease agreement, ABC's intention is to increase the number of weekly flights to Liege up to 30 within the next 1.5 years. ABC will be able to leverage the growing market demand for special cargoes, especially e-commerce shipments.
Meanwhile, for the first time in its history, LATAM Cargo flew a direct flight between Bogota, Colombia, and Huntsville, Alabama, in last December to bypass transit through Miami. The new route comes in support of Panalpina's interest to cut down the travel time for perishables shipped from South America to North America and LATAM's commitment to its customers. The freighter aircraft can transport around 50 tonnes of cargo per flight.
On the other hand, cargo start-up ACE Belgium Freighters will begin its operations from Liege Airport to Tel Aviv, Israel and soon to New York City and Atlanta. The airline, presently seeking approval from the US Federal Aviation Administration (FAA), will operate scheduled service to New York four to five times per week and to Atlanta once a week. Its current fleet includes one 747-400BCF, which was transferred earlier this year from the fleet of its parent company, CAL Cargo Airlines. ACE plans to add a second 747F by the second half of 2019.
After two successful years of air freight growth, Lufthansa Cargo posted a decrease in cargo volumes for February this year by 3.5 percent. Even though increasing trade friction is making the carrier more cautious about its outlook for 2019, its fleet modernisation plans will continue as B777Fs will replace MD-11Fs. Similarly, the group's subsidiary carrier, AeroLogic also continues to expand its freighter fleet, which currently includes eleven B777Fs. The group will add a total of four B777Fs in 2019, half of which will be operated by AeroLogic. Two of the aircraft have already been delivered to Lufthansa Cargo and AeroLogic.
In future, Lufthansa Cargo will also have additional flights to North America and Atlanta which will be served seven times a week instead of the earlier six and Chicago is scheduled for twelve flights a week instead of eight. The B777F will only be used in the future to serve Central and South America.
Landing its one millionth tonne of air freight at John F Kennedy Airport in December 2018, Panalpina's B747-8F flight from Italy and Switzerland carrying fashion garments created transportation record in the company's history. The numbers were supported by the strongest trade lanes - China to Europe, Europe to China, Europe to the US and China to the US.
Panalpina has posted an increase of 8 percent in its air freight volume in the first quarter of 2019. Taking a major leap this April, the company has expanded its perishables network through the acquisition of CargoMaster in Colombia, and its subsidiary, Laseair in Ecuador. CargoMaster is one of Latin America's largest companies specialised in the air freight export of perishables, mostly of flowers to the US. The two companies not only export to the US but also to Europe and Asia. "We are adding significant volumes and know-how to our already impressive perishables footprint in Latin America, which will allow us to further deepen our well-established relationships with the airlines and producers in the region. As we continue to expand, we also see great development opportunities for our Charter Network with its gateway in Huntsville, Alabama," explained Stefan Karlen, CEO, Panalpina in a company statement.
The Basel-based freight forwarder's cold chain facility at Jomo Kenyatta International Airport, Nairobi aims to grow its business in Kenya from the current 65,000 tonnes of flowers, fruits, and vegetables to more than 80,000 tonnes by 2020. Kenyan perishable products attract more demand from the European markets.
Another Swiss forwarder, Kuehne + Nagel has posted a drop by 3.1 percent to 409,000 tonnes in the Q1 of 2019. As of April, the company has opened its first logistics centre for pharma and healthcare in Slovenia, which is located near to Ljubljana Airport. The facility will carry out the storage and distribution of finished products worldwide for the pharmaceutical industry.
At times, replacing cargo aircraft with a drone during an emergency is now finding a way into commercial operations. In a recent development, The UPS Foundation - part of UPS; Gavi – the Vaccine Alliance; and Zipline are estimated to serve up to 2,000 health facilities and 12 million people in Ghana through drones. The drone network will be integrated into the national healthcare supply chain and will help prevent vaccine stock-outs as well as during national immunisation campaigns. Earlier, the same was executed in partnership with the Rwandan government.
In recent years, the logistics industry has seen a large number of start-ups coming in to improve connectivity between various players in global air cargo supply chains. As a result, even traditional logistics companies are identifying the prospects available to them through investment in new digital business models.
Lufthansa Cargo is continuously ramping up its foothold in the tech domain by acquiring start-ups and encouraging digitalisation in the air cargo industry. Last year, it has joined hands with Berlin-based start-up cargo.one, which developed a platform for booking and marketing air cargo capacity. Lufthansa has already invested in a technology start-up Fleet Logistics, based in Portland, US. It became the world's first cargo airline to develop an application for the transport documents required for dangerous goods through DGD.online.
Digitisation is now rapidly becoming a core business need that could very well have long-term repercussions to the sustainability or growth of business in today's world, if not addressed immediately.
Commenting on technology acceptance in transatlantic markets, Rajan noted, "The North American and European markets have traditionally been hotbeds for technology innovation. We see both the North American and European aviation markets pretty open to exploring technologies that have the potential to solve the real world problems. Venture capital investments, partnerships with start-ups, hackathons are in fact mechanisms of getting these done in an effective, low-risk-to-business kind of manner. The South American markets too are willing but not as much as the North Americas or Europe, as geopolitical and economic factors in the region hold precedence now."
Adding more energy into the transatlantic cargo route, relief aids have been more active in the past few years. The recent example of humanitarian help extended to more than 1 million people affected by Cyclone Idai in Mozambique, Malawi, and Zimbabwe displays the strength of this route.
Danish freight forwarder DSV has helped Red Cross get help to these areas, many of which remain difficult to access. Along the similar lines, the French ministry of foreign affairs, with the support of the European Emergency Response Coordination Centre (ERCC), engaged the services of Bollore Logistics for the chartering of an Antonov 124 to Beira. The flight delivered 65 tonnes of freight. In its first deployment of humanitarian relief aid cargo to Africa, Deutsche Post DHL Group's Disaster Response Team (DRT) has transported nearly 800 tonnes of cargo. Three teams of 12 volunteers processed cargo from approximately 50 aircraft over 20 days at Beira Airport, at the request of the United Nations. On the other hand, Qatar Airways in association with Airlink has transported 19,000 pounds of relief material to the affected areas from John F. Kennedy Airport in New York. Similarly, Air ChartWer Service (ACS) has chartered aircraft to fly a total of 480 tonnes of humanitarian aid, as well as a B737 to transport 80 doctors following the cyclone. Whereas, National Airlines carried 70 tonnes of relief materials from the Canadian Red Cross Society using a B747-400F; the freighter flew from Toronto, Canada, and Amsterdam.
Over the last few years, partnerships in the air freight industry, particularly across inter-continental trade routes, is gaining traction. While this is nothing new in the passenger industry, where bilateral partnerships, codeshares, and alliances have been in existence for several decades, the air freight industry is slowly realising that the next phase of its growth lies in striking the right partnerships and collaborations that can help participants expand network reach, share capacity, reduce per unit costs and drive up sagging load factors.