FROM MAGAZINE : Caution! Dangerous goods on board
Rejected shipments on the grounds of mislabeled or misdeclared items can cause more pain to a supply chain than anything else – especially at a time when your business needs to deliver sensitive items such as industrial chemicals or blood samples. Such items, classified under one of the nine categories declared as Dangerous Goods, are subject to more stringent customs and regulatory requirements than any other type of shipment.

Surya Kannoth

When it comes to transportation of dangerous goods, crossing every "t" and dotting every "i" has become imperative as the process gets more and more technical over the years, especially with the rise of "hidden" dangerous goods. Certain prohibited items could be included in shipments which are then transported unknowingly. Such concealed products represent a heightened concern for air transport since they are not immediately visible and identifiable.
With so many goods containing lithium batteries in e-commerce shipments (smart phones, power banks, kids toys, hoverboards, etc) mistakes and non-compliance are frequent cases which lead to emerging volumes of "hidden" DG shipments. This problem is mostly related to lack of essential training and knowledge among supply chain stakeholders – something the industry should be aiming at.
"We are not only pushing e-commerce volumes, but work under the qualitative side, understanding that increasing e-commerce volumes will only worsen the situation with emerging 'hidden' DG shipments. From our side, we have been introducing additional safety measures, working only with reliable partners, who share our values and work in strict compliance with industry regulations, not accepting those shipments, contradicting with safety regulations and posing risk to the whole transportation process," explained Sergey Lazarev, general director of AirBridgeCargo Airlines.
It is therefore essential for cargo carriers and their business partners to have a program in place in order to avoid carrying prohibited items or hidden dangerous goods. All hazardous material, whether visible or not, should be recorded and labelled accordingly to avoid any risk.
"The market for the carriage of DGR commodities is on the rise since substances classified as hazardous can be found in an increasingly wide range of products. As this demand heightens, we must ensure that our standards are impeccable and our employees are fully trained to deal with such freight," stated a spokesperson from all-cargo carrier Cargolux, which ships all DGR classes (1 to 9). Cargolux is also represented in the IATA DG board which comprises 12 board members from airlines specialized in the transport of dangerous goods.
To face the increasing complexity posed by such commodities, the industry is in constant evolution to minimize risks and uphold adapted security standards. Screening methods have considerably evolved and required documentation and certifications have become more stringent.
Leading the change through innovation
In March this year, IATA launched a new digital solution, Dangerous Goods AutoCheck (DG AutoCheck) that allows the air cargo supply chain to check the compliance of shippers' Declaration for Dangerous Goods (DGD) against the association's Dangerous Goods Regulations (DGR).
"The air transport industry handles in excess of 1.25 million dangerous goods shipments transported per year, said Nick Careen, senior vice president, airport, passenger, cargo and security at IATA.
"With the air cargo growth forecast at 4.9 percent per year over the next five years this number will rise significantly. To ensure that air cargo is ready to benefit from this growth the industry needs to adopt modern and harmonised standards that facilitate safe, secure and efficient operations, particularly in relation to carriage of dangerous goods.
"DG AutoCheck is a significant step towards achieving this goal," he said. The tool enables electronic consignment data to be received directly, supporting the digitisation of the cargo supply chain, IATA said. Optical character recognition technology also transforms a paper DGD into electronic data. This data is then processed and verified automatically using the XML data version of the DGR.
DG AutoCheck also facilitates decisions to accept or reject a shipment during the physical inspection stage by providing a pictorial representation of the package with the marking and labelling required for air transport, IATA outlined.
An industry working group made up of more than 20 global organisations including airlines, freight forwarders, ground handlers and express integrators supported the development of DG AutoCheck. This group contains airlines, freight forwarders, ground handlers and express integrators including Air-France-KLM Cargo, Swissport, Panalpina and DHL Express.
"Although still at its inception, we can already foresee an interesting compatibility between eDGD and a concrete pilot project we are taking part in: the DG Autocheck. Indeed, the eDGD will most likely fix its OCR concerns, enabling the industry to finally move towards a fully digitalized acceptance process for Dangerous Goods," mentioned Cargolux spokesperson.
In November 2017, Emirates Airlines came in as the launch customer for IATA DGR's Electronic Flight Bags (eFB) format, which aims to help flight crews pre-check and identify dangerous good shipments. The eFB format was designed to enable flight crews to easily access information about dangerous goods when making pre-flight and in-flight safety decisions. Using a keyword search like "lithium batteries," flight crew can instantly view classification, labeling and handling information.
"The eFB has enabled our flight crew to have easy access of the DGR on their tablets. The information is searchable, and only specific parts of the DGR have been incorporated into the eFB DGR, thus making it easier to find information rather than trying to find required information in the 1126 pages of the paper DGR," explained Trevor Howard, manager- cargo standards and operational safety, Emirates SkyCargo.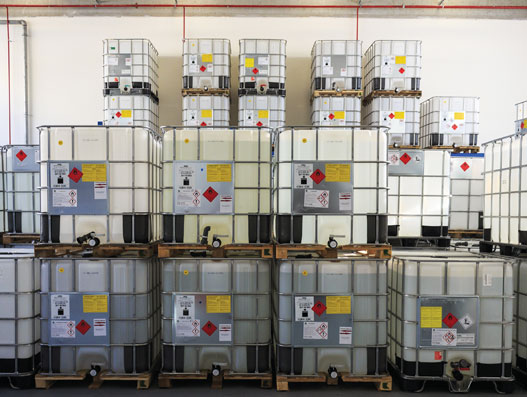 Training staff to deal with dangerous goods
Educating employees and following effective processes and systems is of the essence while transporting dangerous goods. Airlines are taking special efforts in imparting training to their employees dealing with dangerous goods.
"All specialists dealing with DG transportation are regularly trained for IATA DGR compliance either at special training centers or in-house with ABC IATA DG trainers who organize trainings for ABC personnel. We at ABC consider training process to be an integral part of everyday operations," affirms AirBridgeCargo Airlines' Sergey Lazarev.
"Our DG trainers are not detached from operational process, on the contrary, they take an active part into daily operations, assisting their colleagues and contributing to overall successful and correct transportation.  Apart from DG trainings, required by state regulators, ABC specialists have separate course for lithium batteries transportation," he adds.
AirBridgeCargo is one of the few carriers in the world to carry all nine classes of DG (including CAO cases) and is an acknowledged reliable expert when it comes to transportation of DG. With its dedicated abcDG and abcDG/Li products, ABC is fully equipped to carry dangerous goods – certified and trained personnel, state-of-art aircraft, introduced and aligned procedures to handle DG, Control Tower 24/7 to guarantee smooth operations of special cargoes and tackle any unforeseen situations.
In 2017, the airline transported over 11000 tonnes of dangerous goods, and around 7000 tonnes for the first six months of 2018, which is almost 50 percent higher compared to the same period of 2017.
Speaking about training its staff, Emirates' Howard cited that initial training and recurrent training every 24 months is conducted. "When transporting dangerous goods, it can sometimes be a challenge to understand and interpret the regulations governing transport. It therefore becomes imperative to train staff and to make sure that there are no confusions arising out of language barriers," he said.
Elaborating more on the kind of training imparted, Trevor added, "Training can be either class room instructor lead or computer based training. Training includes general familiarization, function specific and safety training. All staff are trained before they commence performing their duties. Staff undergo and assessment/test to verify their understanding of the regulations and confirmation is required of successful completion of the test/assessment," he said.
Traceable, visible and accountable
Being aware of the risks associated with lithium batteries transportation, airlines are now reviewing cutting-edge technologies to guarantee safety and security and are initiating the usage of fire containment covers (FFC) to protect shipments during the whole flight.
Emirates is working closely with many regulators around the world, including the General Civil Aviation Authority in the UAE to discuss and share information with regards to the transport of dangerous goods by air. Outreach and information are key areas where regulators can provide additional diligence. Also, action to be taken in event of reportable dangerous goods accidents, incidents or occurrences is key to ensuring the safe and secure transportation of dangerous goods by air. 
"From our side, ABC Dangerous Goods team works closely with industry-related associations and projects to introduce additional measures, aimed at protection of ABC crews and aircraft, as well as cargo on board," said Lazarev.
New solutions and latest technologies are being developed to maintain safety and security for DG transportation. "One of our suggestions was related to safe and reliable ULD. That said, a prototype of unique container for LB transportation, manufactured jointly by AirBridgeCargo and German company Gelkoh, has been designed to give ABC customers extra confidence in safety of transportation," he added. It features modified walls with fireproof material, withstanding fire of lithium batteries; decompression windows to let the smoke pass outside in case of fire to prevent bursting; and special protection on floor, to prevent damage from pallets.
The main hurdle the industry is facing now is non-compliance with the current regulations by some stakeholders, which causes additional problems and creates counterfeit situations. There is a need to encourage all stakeholders involved in DG transportation to follow existing rules, which will harmonize the whole process of transportation, make it more transparent, and manageable.