165 cattle transported from Leipzig/Halle Airport
<p style="text-align: justify;">Feb 17, 2017: Leipzig/Halle Airport has handled 165 cattle heading for the Gulf Region. The animals were transported on board a Boeing 747-400. The transfer of the animals from five trucks to transport boxes took place at the airport's Animal Export Centre. The animals came from the German states of Saxony-Anhalt and Thuringia. […]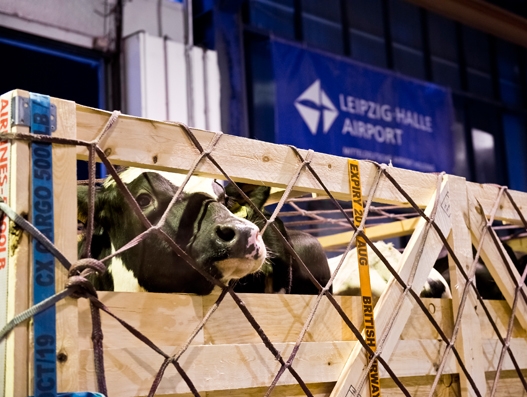 Feb 17, 2017: Leipzig/Halle Airport has handled 165 cattle heading for the Gulf Region. The animals were transported on board a Boeing 747-400. The transfer of the animals from five trucks to transport boxes took place at the airport's Animal Export Centre. The animals came from the German states of Saxony-Anhalt and Thuringia. The handling work was performed jointly by two companies – FARHAT GmbH, which operates in the cattle and meat wholesale business, and PortGround.
Leipzig/Halle Airport is a reliable partner when it comes to handling animals too. PortGround GmbH, a company affiliated to Leipzig/Halle Airport, provides a wide range of ground handling and freight services. The PortGround staff is certified by IATA (International Air Transport Association) to handle all types of aircraft and all kinds of freight, including large animals.
The airport has been operating an Animal Export Center at an area measuring 1,300 square metres since 2010. The facility has a large delivery zone, which can be used to exercise the animals too, if necessary; and it has recreation and relaxation rooms for those accompanying the animals.
The centre also has various other stabling facilities for the animals' comfort. Veterinary personnel and customs officers work round the clock.
A veterinary border inspection post with a permit to import animals from other countries and handle them in transit completes the services that are available.
Leipzig/Halle Airport is the fifth largest air freight hub in Europe and handled more than 910,700 tonnes of freight in 2014. Freight volumes increased by 8.3 percent to a figure of approx. 898,384 tonnes between January and November this year.
The airport has a 24-hour operating permit for cargo flights and direct links to the trans-European motorway and railway networks. As a result, Leipzig/Halle offers ideal conditions for transporting goods by road and rail. There are two parallel runways, each 3,600 metres long, and they can be used independently of each other in Cat III b conditions.