Cathay Pacific's new livery debuts on freighter fleet
Jan 22, 2016: Cathay Pacific Airways welcomed its first freighter showcasing the airline's brand new livery. The freshly painted freighter, a Boeing 747-400ERF (Extended Range Freighter) arrived in Hong Kong from the HAECO facility in Xiamen on January 19. The new Cathay Pacific livery was first unveiled on one of the airline's Boeing 777-300ER aircraft […]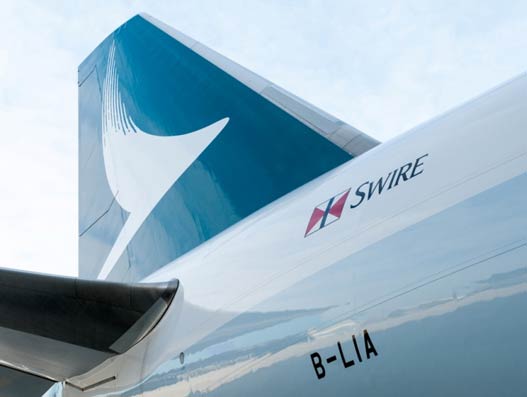 Jan 22, 2016: Cathay Pacific Airways welcomed its first freighter showcasing the airline's brand new livery. The freshly painted freighter, a Boeing 747-400ERF (Extended Range Freighter) arrived in Hong Kong from the HAECO facility in Xiamen on January 19.
The new Cathay Pacific livery was first unveiled on one of the airline's Boeing 777-300ER aircraft at a special event held at Hong Kong International Airport on 1November 2015. A continuation of the work that began in late 2014 to refresh Cathay Pacific's brand identity, the livery is a vital part of the airline's brand image and a symbol of the company's values displayed on its most important asset.
The new livery comprises three key design elements: the incorporation of the updated and streamlined brushwing; a simplification of the colour palette to Cathay Pacific green, grey, and white; and a more prominent display of the Cathay Pacific wordmark and brushwing. These updates are most evident on three areas of the aircraft: the nose, the fuselage, and the tail. Overall, these elements give a more contemporary feel to the livery, which is better aligned with the direction of Cathay Pacific's overall brand redesign.
Mark Sutch, general manager Cargo Sales & Marketing, Cathay Pacific said, "We are delighted that a freighter was chosen as the second in-service aircraft to get the new Cathay Pacific livery. We have one of the world's most comprehensive international cargo networks and it will be pleasing to see our Boeing 747-400ERF showcasing the airline's new livery around the world. This livery refreshes our brand and symbolises our continuing efforts to consistently deliver excellent service to our customers."
Cathay Pacific currently operates freighter services to 46 destinations and also carries freight in the bellies of its 140-plus passenger aircraft that serve a growing global network. The new livery will be progressively introduced onto all the aircraft in both its passenger and freighter fleets.