Cathay Pacific's cargo business suffers decline in July
Aug 22, 2019: Cathay Pacific's cargo business continued to face headwinds in the month of July as the Hong-Kong based airline has reported drop of 8.2 percent year-on-year, informed Cathay Pacific Group, comprising of Cathay Pacific and Cathay Dragon. The two airlines carried total of 169,720 tonnes of cargo and mail last month. The cargo […]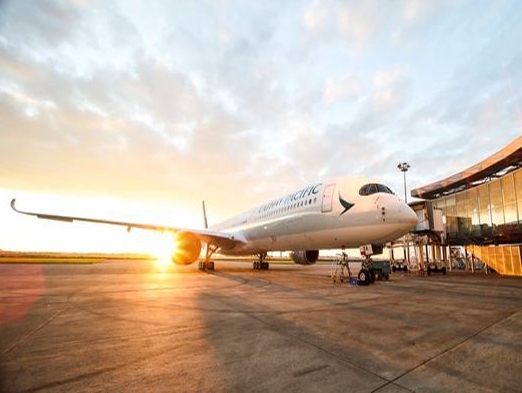 Aug 22, 2019: Cathay Pacific's cargo business continued to face headwinds in the month of July as the Hong-Kong based airline has reported drop of 8.2 percent year-on-year, informed Cathay Pacific Group, comprising of Cathay Pacific and Cathay Dragon.
The two airlines carried total of 169,720 tonnes of cargo and mail last month.
The cargo and mail load factor fell by 7.2 percentage points to 63.1 percent. Capacity, measured in available freight tonne kilometres (AFTKs), was up by 0.8 percent while cargo and mail revenue freight tonne kilometres (RFTKs) dropped by 9.4 percent.
"Indeed, South Asia was the only sales region where we still saw tonnage growth compared to the previous month and year. We are diligently matching capacity with customer demand while also strengthening our capability to carry specialised shipments," said Ronald Lam, chief customer and commercial officer, Cathay Pacific
However, the recent events in Hong Kong that happened over the last two months did not impact the July passenger traffic. The two airlines saw an increase of 4 percent compared to July 2018. They carried a total of 3,278,742 passengers last month.
Lam said: "We anticipate a much more significant impact to our revenue in August and onwards. Traffic into Hong Kong, both business and leisure, has weakened substantially and we've also now seen ex-Hong Kong traffic starting to soften, especially on our short-haul network including mainland China, Taiwan, South Korea and South East Asia."
"Especially pleasing were our India and Taiwan services, which have continued to perform well. As anticipated, however, yield remained under pressure due to intense competition and increasing transit passenger traffic, and our North America, Europe and mainland China routes underperformed as a result.
Rupert Hogg resigns as Cathay Pacific CEO; Augustus Tang steps in

The airline recently saw two of its top executives resigning from their posts in the wake of the Hong Kong pro-democracy protests. Rupert Hogg, CEO, Cathay Pacific has resigned from his posts of CEO and executive director and Paul Loo, chief customer and commercial officer also resigned from his post.