Cathay Pacific Group reports 14% fall in August cargo; announces capacity cuts
Sept 12, 2019: Cathay Pacific Group has reported a significant fall in the amount of cargo carried in August 2019, compared to the same period last year. Cathay Pacific and Cathay Dragon together carried 161,394 tonnes of cargo and mail in August, a drop of 14 percent compared to the same month in 2018. The […]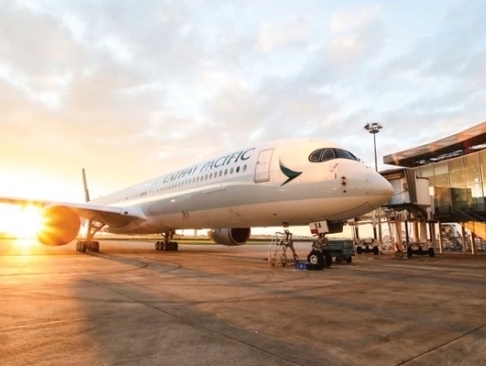 Sept 12, 2019: Cathay Pacific Group has reported a significant fall in the amount of cargo carried in August 2019, compared to the same period last year. Cathay Pacific and Cathay Dragon together carried 161,394 tonnes of cargo and mail in August, a drop of 14 percent compared to the same month in 2018.
The cargo and mail load factor fell by 7.5 percentage points to 60.9 percent. Capacity, measured in available freight tonne kilometres (AFTKs), was down by 0.6 percent while cargo and mail revenue freight tonne kilometres (RFTKs) dropped by 11.6 percent.
Tonnage fell by 7.1 percent against a 0.8 percent increase in capacity and a 7.2 percent decrease in RFTKs in the first eight months of 2019, as compared to the same period for 2018.
Cathay Pacific Group chief customer and commercial officer Ronald Lam said, "On the cargo side, our business continued to face headwinds. Tonnage further deteriorated month-on-month across all regions, driven in particular by slow demand over the holiday season in different parts of the world, the effects of tropical storms and disruptions at Hong Kong International Airport. Ongoing geopolitical tensions continued to affect overall market sentiment. Nevertheless, our outlook for September is slightly more positive and we expect to see demand progressively improve, driven by project shipments and the restocking of inventory as we enter the traditionally high-demand season."
On the passenger side, the two airlines carried a total of 2,906,954 passengers last month – a drop of 11.3 percent compared to August 2018. Passenger load factor decreased by 7.2 percentage points to 79.9 percent, while capacity, measured in available seat kilometres (ASKs), rose by 5.1 percent. In the first eight months of 2019, the number of passengers carried grew by 2.2 percent and capacity increased by 6.5 percent, as compared to the same period for 2018.
Ronald informed that given a significant decline in forward bookings for the remainder of the year, the Cathay Pacific Group would introduce short-term capacity cuts. "Specifically, we are reducing our capacity growth such that it will be slightly down year-on-year for the 2019 winter season (from end October 2019 to end March 2020) versus our original growth plan of more than 6 percent for the period," he informed.
Despite the falling numbers, Ronald was optimistic of the near future. "Having said that, we remain optimistic in the medium term. The strong commitment to our brand and customer experience remains unchanged. Our investments in new aircraft and enhancing the customer experience will continue, giving travellers more reasons to fly with us."
Cathay Pacific came in the eye of a political storm after it warned of firing employees if they participated in the allegedly illegal pro-democracy protests rocking Hong Kong since March this year. Hong Kong has been affected by violent clashes between police and pro-democracy protesters. The protests started as a movement against a now-shelved extradition bill that proposed to extradite suspects to places with which Hong Kong doesn't have extradition treaties, including mainland China. The protests have since grown to demand full democracy and police accountability.
In the aftermath of the protests, Rupert Hogg resigned from his posts of Cathay Pacific CEO and executive director, and Augustus Tang was appointed as CEO. Ronald was appointed to replace Paul Loo, chief customer and commercial officer, who also resigned from his post.