Cathay Pacific cuts 600 jobs; Cargo Director post removed
<p style="text-align: justify;">May 22, 2017: In a major organisational shake-up Cathay Pacific, the flag carrier of Hong Kong, cuts 600 jobs across senior, middle management and non-managerial roles in its head office in Hong Kong. "This is part of a transformation programme to make Cathay Pacific and Cathay Dragon more effective by improving the speed and […]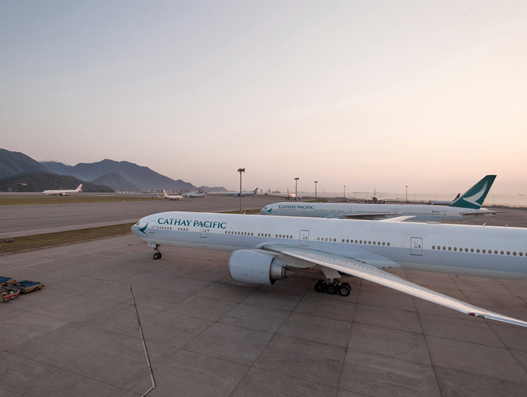 May 22, 2017: In a major organisational shake-up Cathay Pacific, the flag carrier of Hong Kong, cuts 600 jobs across senior, middle management and non-managerial roles in its head office in Hong Kong. "This is part of a transformation programme to make Cathay Pacific and Cathay Dragon more effective by improving the speed and quality of decision-making and putting a greater focus on its customers," says an official press release.

The restructuring also affects the cargo division of the carrier. The release says that to align with the head office re-organisation, Cathay Pacific will also restructure its Cargo department. "It will streamline the structure by removing the role of Cargo Director. The commercial and planning functions will report into the Director Commercial and Cargo, and be overseen by the Chief Customer and Commercial Officer. The services function will report into the Director Service Delivery," the press release said.

In April this year James Ginns, director of service delivery at Cathay Pacific, was appointed to replace Simon Large as Cathay Pacific's director of cargo. The transition was expected to take place on June 1.

The changes will affect around 190 management and 400 non-managerial roles representing 25 per cent of management and 18 per cent of non-managerial positions respectively.

The majority of affected employees will be informed Monday (May 22) and over the next month, with most of the restructuring completed by the end of 2017. No frontline employees, pilots or cabin crew will be affected, it said. Cathay, its affiliate airlines and businesses employed about 33,000 people as of June 2016.

The carrier, according to the statement, says as the airlines continue to grow, employees will be asked to deliver greater efficiencies and productivity improvements, in line with the rest of the organisation. Cathay Pacific will continue to invest in its frontline capabilities to deliver high-quality products and services to its customers.

"We have had to make tough but necessary decisions for the future of our business and our customers. Changes in people's travel habits and what they expect from us, evolving competition and a challenging business outlook have created the need for significant change," says Rupert Hogg, Chief Executive Officer, Cathay Pacific. Hogg replaced Ivan Chu as the CEO on May 1 amidst mounting losses and rising competition from low-cost airlines. Cathay, controlled by the Swire conglomerate, is in the midst of a three-year reorganisation programme after reporting its first annual loss in eight years for 2016, in part from a fuel-hedging bet gone wrong.

"As we look to the future we will have a new structure that will make us leaner, faster and more responsive to our customers' needs. It is the first step in the transformation of our business. We want to invest in and improve the experience that we offer people in Hong Kong and around the world, to find new ways to give our customers what they really want and need."

All employees whose roles will become redundant in the new structure will receive a severance package including up to 12 months' salary, extended medical benefits including counselling and support, and additional and extended travel benefits. Cathay Pacific will also offer all outgoing employees job search support, job application support and interview training.

Cathay Pacific and Cathay Dragon carried 163,473 tonnes of cargo and mail in April this year which is an increase of 10.7 percent compared to the same month last year. The cargo and mail load factor rose by 2.2 percentage points to 65.7 percent. Capacity, measured in available cargo/mail tonne kilometres, was up by 2.6 percent while cargo and mail revenue tonne kilometres (RTKs) increased by 6.2 percent. In the first four months of 2017, the tonnage rose by 11.2 percent against a 1.9 percent increase in capacity and an 8.6 percent increase in RTKs.