Cathay Pacific, Cathay Dragon see surge in passenger & cargo traffic in December
January 17, 2018: Cathay Pacific Group today released combined Cathay Pacific and Cathay Dragon traffic figures for December 2017 that show an increase in both the number of passengers carried and cargo and mail uplifted compared to the same month in 2016. Cathay Pacific and Cathay Dragon carried a total of 3,051,564 passengers last month%u2014an […]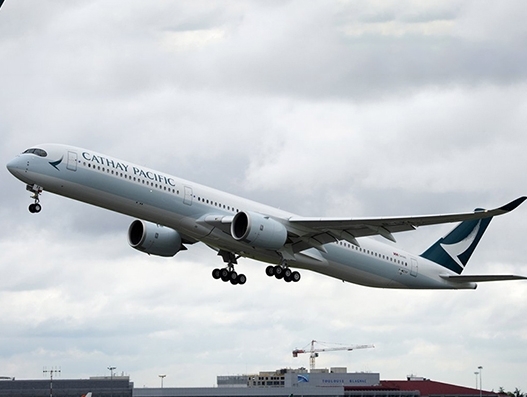 January 17, 2018: Cathay Pacific Group today released combined Cathay Pacific and Cathay Dragon traffic figures for December 2017 that show an increase in both the number of passengers carried and cargo and mail uplifted compared to the same month in 2016.
Cathay Pacific and Cathay Dragon carried a total of 3,051,564 passengers last month%u2014an increase of 3.1 percent compared to December 2016.
The passenger load factor dropped 0.4 percentage points to 84.6 percent, while capacity, measured in available seat kilometres (ASKs) and increased by 4.1 percent.
For 2017 as a whole, the number of passenger carried increased by 1.4 percent while capacity rose by 2.8 percent.
The two airline s carried 192,190 tonnes of cargo and mail last month, an increase of 10.2 percent compared to the same month last year. The cargo and mail load factor rose by 2.4 percentage points to 71.9 percent.
Capacity, measured in available cargo/mail tonne kilometres, was up by 5.7 percent while cargo and mail revenue tonne kilometres (RTKs) increased by 9.2 percent. For 2017 as a whole, the tonnage rose by 10.9 percent against a 3.6 percent increase in capacity and a 9 percent increase in RTKs.
Ronald Lam, director commercial and cargo of Cathay Pacific said: "Business traffic prior to the holiday period continued to be strong, while frontend leisure demand over Christmas was high, especially on regional routes. The backend performance was also robust, which was partially driven by a growing demand for premium economy class travel. On December 23, 2017, we established a new record in the number of passengers carried in a single day. Routes to the UK and Europe were particularly popular during the month, while routes to Japan and Taiwan also performed well, with both volume and yield improvements recorded."
"Cargo's strong momentum continued well into December, with volumes growing well ahead of capacity. We were able to sustain a high load factor and high yield during the month. As a result, revenue efficiency gains were observed in all route groups. Not only did our home market of Hong Kong perform well, strong cargo feed from across the network enabled us to achieve an all-time weekly tonnage uplift record in the week ending December 9. In terms of the nature of commodities carried, perishables were much in demand in the lead up to the festive season," said Lam.