Cathay Pacific Cargo announces global rollout of Ultra Track
Cathay Pacific Cargo is introducing Ultra Track, its multi-dimensional tracking product, to its network, with a phased introduction at 29 ports across the globe.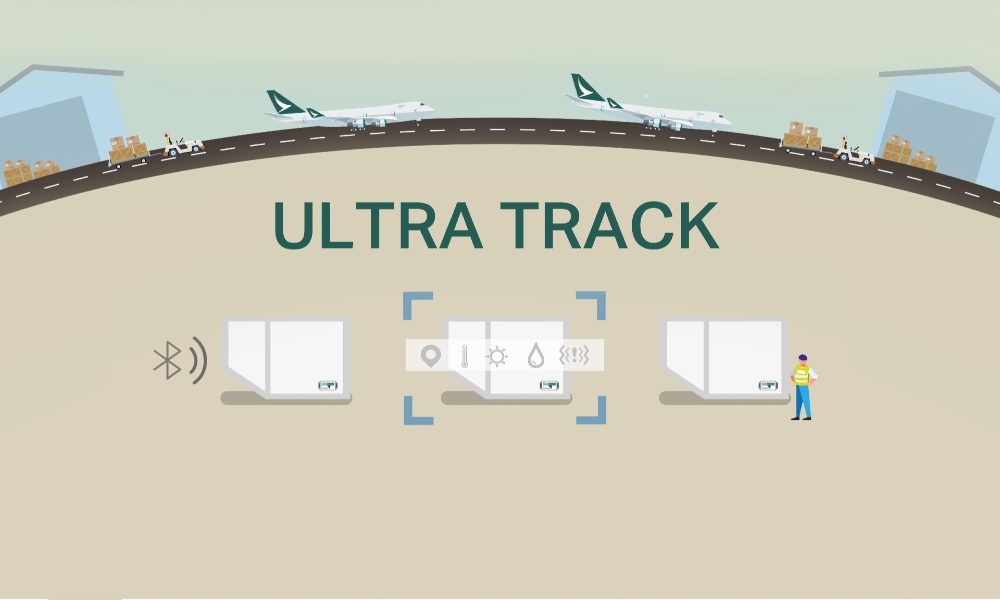 Cathay Pacific Cargo is introducing Ultra Track, its multi-dimensional tracking product, to its network, with a phased introduction at 29 ports across the globe.
Cathay Pacific Cargo's Ultra Track uses the Descartes Core Bluetooth Low Energy (BLE) Network, Tags and Readers. These data-loggers and transmitters offer visibility to Cathay Pacific Cargo customers who can now monitor shipments in near real-time through the airport-to-airport leg of the air-cargo journey. This is the first Cathay Pacific IoT (Internet of Things) application that enables remote connection to shipments.
The investment reflects Cathay Pacific Cargo's strategic ambition to offer better products and services to customers in tandem with the commitment, led by IATA, to bring greater digitisation and transparency to the air cargo industry, and to continuously improve processes using data-driven initiatives.
Ultra Track is suitable for pharmaceutical, perishable and other vulnerable shipments. The loggers record and transmit data to Bluetooth readers in the cargo terminal and on the airside ramp area. Data includes GPS location and temperature – and depending on the type of shipment, this can be extended to include light, humidity (for example, for cut-flower shipments) and vibration, which is important for sensitive specialist cargo such as stepper machines, the printing presses for microchips.
While customers can monitor their shipments, shipments are monitored 24/7 by Cathay Pacific Cargo's OCC (Operations Control Centre), a dedicated team of cargo professionals who not only monitor shipments but can also instruct ramp and cargo terminal staff to take proactive steps and corrective actions. Customers can communicate with the OCC team directly using live chat.
Frosti Lau, Cathay Pacific general manager Cargo Service Delivery said, "If something happens, like a temperature excursion, the OCC can investigate and implement the right actions to put things right. It means that Ultra Track is both a damage-prevention and service-recovery process in one."
To use Ultra Track, agents place the Bluetooth device on individual shipments. As shipments are delivered to the terminal, they will be tracked and booking agents will have visibility of the data on the current Ezycargo system (powered by GLSHK) or on cathaypacificcargo.com, by entering the air waybill number for the shipment.
"Customers have been demanding increased visibility of their air cargo and the pandemic has made it even more important for high-value and pharmaceutical cold-chain products," said Scott Sangster, VP, Global Logistics Service Providers at Descartes. "We are pleased to work with air cargo industry leaders such as Cathay Pacific to help provide end-to-end shipment visibility and develop standards that can be adopted across the industry."
The data from the inflight segment of the journey collated from the flight will be transmitted as soon as the Bluetooth device comes into contact with a reader on arrival, and Ultra Track will show the aircraft's progress using data from Flightradar24.
The investment in Ultra Track and the OCC reflects Cathay Pacific Cargo's commitment to digitisation and new technologies – IoT in this case – for the benefit of customers and the wider air cargo industry by setting new standards in quality of service and products while bringing greater transparency to the shipment journey.
Ultra Track introduces an additional level of visibility for cargo attributes along the shipment journey, aligned with but in addition to existing IATA Cargo iQ milestone tracking and shipment control.
Lau said: "As the aviation industry starts to recover, we want to ensure that our customers' experience is enhanced through greater use of digital technology and industry engagement with IATA and Cargo iQ. We want to take the lead on the industry's technological development and use the best technologies to keep abreast of customer needs, and serve them better in the years to come."