Cathay Pacific's cargo business continues to see positive growth in March
<p style="text-align: justify;">Apr 21, 2017: Cathay Pacific Airways has released combined Cathay Pacific and Cathay Dragon traffic figures for March 2017 that show a decrease in the number of passengers carried and an increase in cargo and mail uplifted compared to the same month in 2016.</p> <p style="text-align: justify;">The two airlines carried 181,189 tonnes of […]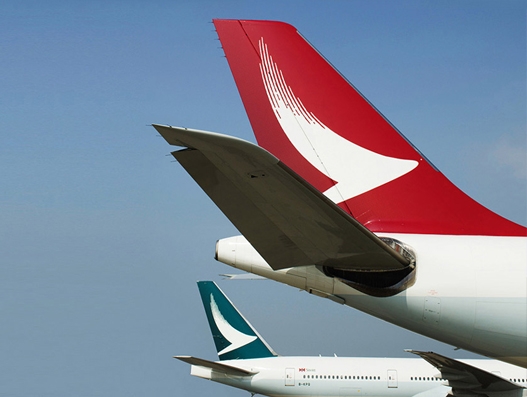 Apr 21, 2017: Cathay Pacific Airways has released combined Cathay Pacific and Cathay Dragon traffic figures for March 2017 that show a decrease in the number of passengers carried and an increase in cargo and mail uplifted compared to the same month in 2016.
The two airlines carried 181,189 tonnes of cargo and mail last month, an increase of 15.4 percent compared to the last corresponding period. The cargo and mail load factor rose by 7.3 percentage points to 70.3 percent. Capacity, measured in available cargo/mail tonne kilometres, was up by 3.3 percent while cargo and mail revenue tonne kilometres (RTKs) increased by 15.4 percent. In the first quarter of the year, the tonnage rose by 11.4 percent against a 1.7 percent increase in capacity and a 9.4 percent increase in RTKs.
Cathay Pacific and Cathay Dragon carried a total of 2,851,661 passengers last month – a decrease of 3.7 percent compared to March 2016. The passenger load factor dropped 1.1 percentage point to 82.8 percent, while capacity, measured in available seat kilometres (ASKs), increased by 0.3 percent. In the first quarter of 2017, the number of passenger carried declined by 1.2 percent while capacity fell by 0.4 percent.
Mark Sutch, general manager Cargo Sales & Marketing, Cathay Pacific, said, "Tonnage grew well ahead of our capacity growth. Asian exports were boosted by a number of new product launches and quarter-end project movements. Transpacific routes and inbound-India routes were particularly strong. Volumes from the Hong Kong market recorded good year-on-year growth. It was also encouraging to see the inbound loads from Europe and North America continue to hold up well. The collective result was a high load factor across the network and improving yields. In March we welcomed Tel Aviv to our network and this took-off to an encouraging start with solid import and export volumes."
Patricia Hwang, general manager Revenue Management, Cathay Pacific, said, "Passenger demand during the traditionally slow season between the Chinese New Year and Easter holidays declined, with our North American routes continuing to come under pressure. Our North East Asia routes performed well on the whole, although Korea was slightly impacted by the political situation there. Our new route to Tel Aviv, which was launched during the month, proved to be a bright spot and has been very well received with strong demand. Easter bookings are ahead of 2016, with strong demand out of Hong Kong. Looking ahead, the market environment remains highly competitive and yield remains a major concern."