Caring for animals on board
A slew of unfortunate accidents involving pet travel have rung alarm bells for airlines flying live animals. While industry body IATA has announced a certification programme to improve service quality of live animal transportation, airlines and airports are getting their act together to safeguard the safety, health and welfare of animals in transit.
Surya Kannoth
In March 2018, a French bulldog puppy suffocated to death after the bag it was in was stored in an overhead bin aboard a United Airlines flight. The very next day, two dogs travelling in cargo were mixed up and flown to the wrong continents. A giant rabbit Simon that was flying from London to Chicago also died last year. The number of such casualties has steadily been on the rise.
Such systemic issues plaguing the transportation of live animals have led to the announcement of a new certification programme by the International Air Transport Association (IATA). The voluntary certification programme called the Center of Excellence for Independent Validators (CEIV) for Live Animals Logistics builds on IATA's current set of animal transportation rules Live Animals Regulations (LAR) -- widely regarded as the industry standard -- with input from air transport and animal experts to improve service quality throughout the supply chain.
Since its development, the IATA LAR has been adopted by a number of countries as their national regulations for transporting live animals. The IATA standards were also adopted by international agencies such as the United Nations Convention on International Trade in Endangered Species of Wild Fauna and Flora (CITES) and the World Organisation for Animal Health (OIE), the association representing worldwide government veterinary services. In the early nineties, the US Fish and Wildlife Service (USFWS) began enforcing the IATA container requirements for wild mammals and birds imported into the United States. Likewise, the member states of the European Union enforced the IATA container requirements for shipment of live animals entering the European Union.
"The discussion of introducing professionalism in the air freight industry when handling and transporting live animals was initiated while listening to the industry at conferences. The need to reinforce training, competency and compliance was the key message and this in the different segment of the supply chain while asking for more enforcement from IATA. This led also to the discussion of visibility and transparency of the existing facility and how can the shippers identify the level of infrastructure and trained staff at airports," reveals Andrea Gruber, IATA's head of special cargo.
Another point raised at the conferences was the need to educate better the shipper community on ensuring they apply the LAR correctly when building the crates. Therefore, the industry's concern raised, initiated IATA's thought in developing a programme to ensure the handling and transport of live animal are carried out to safeguard safety, health and welfare of the animals.
The certification programme, which was announced April 5, involves training personnel to account for the physical and emotional health of animals across a variety of species. CEIV certification is intended for airlines, airports, ground handling, freight, and animal shipping companies, according to IATA. Companies who obtain the certification will be listed in a registry on IATA's website. The City of London's Heathrow Animal Reception Centre (HARC) and Air Canada Cargo played a key role in helping to pilot the CEIV Live Animal program and are looking to receive their certification by Q2 2018.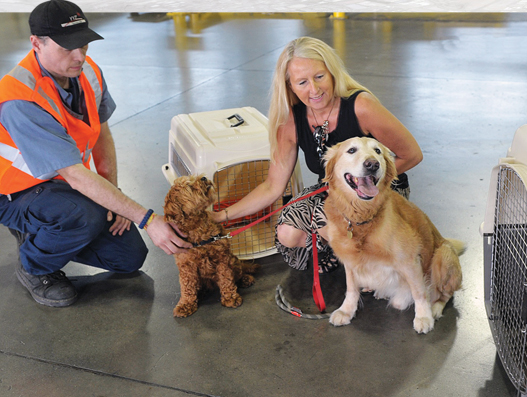 Dealing with unforeseen incidents in transit
All stakeholders do believe that communication with the shipper is all-important especially while dealing with sensitive commodities such as live animals.
Patrick Silverio, special services manager, Luxair Cargo recalls an unforeseen incident and how they acted upon it. "We have never lost an animal shipment. For dead animals, we have procedures in place in cooperation with authorities and customs. However, we also have had the case that we received a fixed number of animals and before the loading for the next leg, we realized that in the meantime we have one young newborn in addition. So customs had been informed and after the necessary veterinary check, the animals were handed over to the consignee."
"We take such incidences (death/lost animals) very seriously. Communication with the customer, transparency and accountability are key. In the case of a lost animal, multiple parties are involved immediately to locate the animal – this includes staff at all the points in transit, including cargo, airport or GHA staff, and of course staff who are communicating directly with the customer. Should an animal pass away in transit, an immediate investigation is triggered and a full necropsy is performed. In either case, once the root cause is understood, every step of the process is reviewed to determine whether a mistake happened, or whether a policy or procedure needs to change. We react very quickly and adjust our policies, procedures and training if need be," explains Tomal Sohorab, cargo product and business development manager, Air Canada Cargo.
All-cargo carrier Cargolux is also committed to upholding best practices especially while dealing with live animals. "Since live animals are such a sensitive commodity, a specialized Live Animals department responds to the particular needs of such shipments. Each animal transport presents different requirements and specific environmental necessities both on the ground and onboard the aircraft. Communication with the shipper is key and all arrangements are made well ahead of time to ensure our customers receive a tailor-made solution in each individual case," remark Christian Theis, manager global product management – live animals, and Marc Roveri, head of global customer services, Cargolux.
It is also the onus of the shipper to submit all information related to the shipment of live animals. "Communication is key and the shipper has the responsibility to provide all information and documentation pertaining to the live animal shipment. Collaboration and communication can always be improved especially at the critical point of handover between the supply chain stakeholders," said IATA's Gruber.
Ensuring safe travel for animals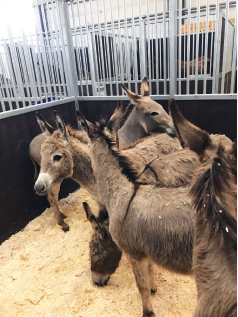 Stakeholders within the air cargo industry are making significant investments and getting their act together to ensure that live animals are treated special and to make their transit smoother and safer.
The Liege Airport (LGG) has invested a lot in its 'capacity' of handling and importing live animals in order to allow its partners carriers to transport AVI to or through LGG. In 2002, it built a fully equipped and centralized facility for the advantage of its airport community, a Border Inspection Post (BIP), named "FLYIN' FARM" at Liege Airport, which includes specialized services for all kinds of live animals, and is at the disposal of all airport operators.
"Whether it concerns one-day-old-chicks, sharks, hippopotamus, giraffes, pets, birds, monkeys, or live tropical fish, or horses, they are all alike, but of course, they are treated and stored in different and segregated areas with each one of them with their specific needs and desires. They are and can be welcomed in this state-of-the art-facility at LGG," said Eric Gysen, cargo sales manager at Liege Airport.
Liege Airport is also known for its Horse Inn – well appreciated transit-point for live horses. With its Horse Inn, 56 stables and its specialized equipment (flooring) services, Liege airport continues to offer the highest level of service to its four legged visitors, their owners and grooms.
"With these investments in such 'heavy' assets and specialized services, the airport is definitely concerned and looking after the animals' well-being and health, advocating and working for their utmost animal welfare and comfort, before or after a boring and tiring flight or truck-trip, that they will be sheltered, cared and protected in an appropriate and even cozy place, following their species' requirements, and following all the applicable rules concerning animal welfare," Gysen reasons.
Over the years, Volga-Dnepr and AirBridgeCargo have been demonstrating expertise in transporting animals using its unique fleet of freighters. For over 28 years, they have successfully delivered wild animals (rhinos, bears, manatees, hippos, etc), livestock (horses, cows, pigs, sheep, etc), and marine animals (dolphins, fish) under strict compliance with industry and other related standards for live animals' transportation.
When asked how they manage the transfers of live animals at times of multi-city halts, Robert van Weg, vice president of sales and marketing, Volga-Dnepr Group explains, "When it comes to charters, all the flights are operated non-stop for 'special' passengers to avoid tail-to-tail transfers.  If this is necessary and animals have to take connecting flights, we make sure that ground handling (Thermotruck, AVI handling facilities, etc.) and transfer processes go as smoothly and effectively as possible, organising a step-by-step plan of all airport procedures. When it is operated with interline partners, we use services of our trusted and reliable partners which we've been working with for many years."
Recently, the airline transported giant Pandas Lumi and Pyry to their new home at Ahtari Zoo in Finland after travelling from China. The flight was chartered specifically for pandas' transportation, with full attention, expertise, and priority given to well-being of animals. The transport boxes were loaded/unloaded with the help of inner cranes of Il-76, with loading process being planned and organized according to the strict and tight schedule. Both, Lumi and Pyry, were comfortable during the flight given that they were accompanied by a familiar Chinese veterinarian and a panda keeper, together with Ähtäri Zoo's panda keeper Anna Palmroth and veterinarian Heini Niinimäki, who were also onboard.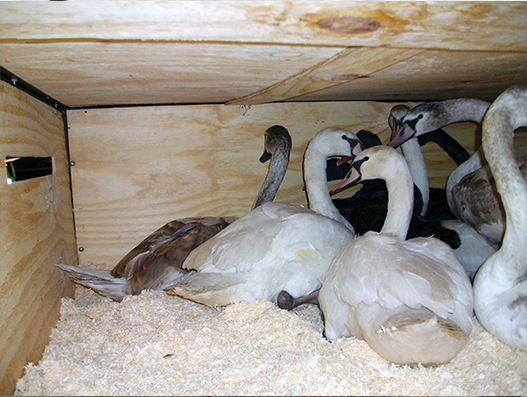 "For transportation of two much-awaited pandas Volga-Dnepr used one of its modernized IL-76TD-90VD which is able to operate long-haul flight without stops. Both special passengers flew more than 6,500 km from Chengdu to Helsinki in 11 hours. During the flight, the pandas were accompanied by two keepers and two vets from the Finnish and Chinese zoos, who ensured their safety and well-being throughout the journey. To monitor the conditions onboard the aircraft, special measuring equipment was acquired for the flight. One hour before landing, the crew gradually lowered the temperature in the cargo hold to 10°C to help the pandas acclimatize gradually for their arrival in snow-covered Helsinki. Onboard the aircraft, they enjoyed their usual food rations, including chopped bamboo shoots, carrots and apples," reveals Robert van Weg.
Over the last few years, Luxair Cargo has significantly added to the live-animal station at its cargo center at Luxembourg Airport. Every month, the ground handler handles around 50 pets (mainly dogs) travelling in cargo, nearly 150-200 horses, 200-250 pigs, 7000 boxes of day-old chicks and 400-500 boxes of birds, reveals Silverio.
"Our major business is the handling of precious horses. We have per month between 150 and 200 horses transiting through our facility which currently can accommodate 50 horses at the same time. In addition we handle small pets travelling with passengers, then up to 50 dogs per month travelling in freighter aircrafts. Other animals travelling in cargo are livestock, marine, wildlife, equines," Silverio adds.
Speaking about special provisions for the escort staff, Silverio says, "We have also installed a special accommodation container for the accompanying grooms with all necessary amenities so that not only the animals will be treated as VIP but also their escort staff."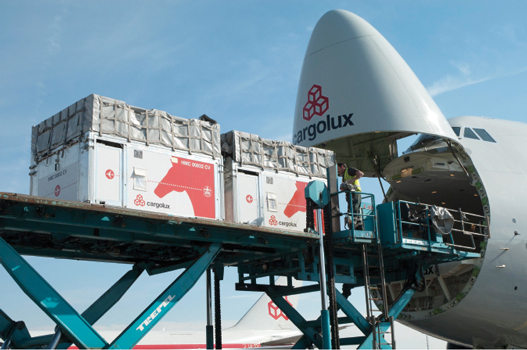 Another important player in the transportation of live animals is Turkish Cargo. Live animal shipments for the carrier in the first three months of this year doubled as compared to the same period last year. The carrier has made several investments to improve the quality of service in transporting live animals. Turkish Cargo now plans to build a bigger dedicated live animal facility at the ?stanbul New Airport. The carrier will continue to provide technology-driven logistics solutions to individual customers and major corporations. In terms of track-and-trace solutions, Turkish Cargo has implemented one of the latest IoT telematics systems (Telemetry), web portal and ERP technologies (COMIS by IBS). Furthermore, the airline is also planning to apply for the IATA CEIV certification for live animals.
All-cargo carrier Cargolux offers a specialised line for the transportation of live animals named CV Alive. This particular commodity has seen considerable growth since its creation and Cargolux has handled all kinds of live animals ranging from bees to giraffes and many more in between. The most frequent four-legged passengers onboard our aircraft are horses traveling to competitions and races but our company is also known for regularly transporting cows, buffalos and day-old chicks to name a few. For particular exchanges between zoos, Cargolux has also been in charge of more exotic shipments such as alpacas, white rhinos, camels, whales or white tigers.
"As a carrier committed to safety and customer satisfaction, we do not undertake any shipments that would cause operational issues or jeopardize safety. Certain live animals such as day-old chicks or marine animals demand very specific operational requirements but our specialised product CV Alive and the expertise of our Live Animal team ensure all animals are handled appropriately according to the highest standards," said Cargolux's Theis.
Recently, Emirates SkyCargo transported some of the world's best show jumping horses from Mexico City to Miami for the Longines Global Champions Tour. Miami International Airport is one of the few airports with a US Department of Agriculture Animal and Plant Health Inspection Service (APHIS) facility on site to handle the import and export of live animals.
The air cargo carrier transported these horses from Miami to Liege and from there to Shanghai back to Liege. The airline moved 97 horses using two separate freighter aircraft from Mexico City. The horses, each weighing between 600 and 650 kgs, were transported on the Emirates SkyCargo Boeing 777F freighter aircraft along with grooms and about specialised equipment.
Emirates SkyCargo, with its state of the art facilities including a modern fleet of wide-bodied aircraft and specialized horse stalls along with exceptional logistical arrangements on the ground by working with specialists such as Peden Bloodstock, managed to create a comfortable environment for the equines while also complying with all international norms for the transport of live animals.
With the increased use of technology, new investments, customised offerings and trained personnel for live animal transportation, the air cargo industry hopes to streamline its operations and expedite the sharing of information. This does offer a ray of hope to shippers and pet-owners and all other stakeholders in the value chain, and for sure, will help avert unfortunate casualties in the future.