cargo-partner continues to expand warehouse capacities in Slovakia
Feb 1, 2019: Logistics provider cargo-partner has expanded its warehouse space in Dunajska Streda, Slovakia with a 4,100 m annex building to over 18,300 m. The direct connection to the METRANS terminal provides cross-dock possibilities for intermodal transport to Hamburg, Bremerhaven, Trieste, Koper and Rijeka. The previous expansion of 2017, which had doubled the existing […]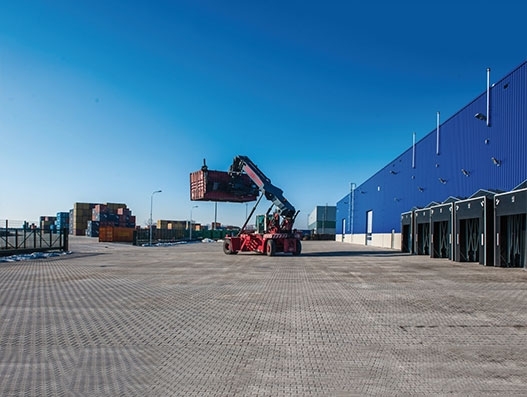 Feb 1, 2019: Logistics provider cargo-partner has expanded its warehouse space in Dunajska Streda, Slovakia with a 4,100 m annex building to over 18,300 m.
The direct connection to the METRANS terminal provides cross-dock possibilities for intermodal transport to Hamburg, Bremerhaven, Trieste, Koper and Rijeka.
The previous expansion of 2017, which had doubled the existing capacities to 14,200 m, was now followed by an additional 4,100 m, bringing the total space up to 18,300 m with 24,000 pallet slots.
cargo-partner is the only logistics provider in Slovakia operating an own warehouse with a direct connection to the METRANS container terminal, right next to its spacious ground level container handling area.
The existing cross-dock hall has nine loading ramps where consolidated containers can be loaded directly onto the train. From there, they can be transported further via the fastest intermodal route to the ports of Hamburg, Bremerhaven, Trieste, Koper and Rijeka.
Conversely, the direct connection to the terminal area makes it possible to move containers by reach stacker directly to the cargo-partner cross-dock station. This replaces trucking on the last mile, which results in time savings of one to two days and eliminates transport costs and customs duties.
In addition to the nine container loading ramps, the old part of the building provided twelve additional loading docks. The most recent expansion has added ten more, so that the logistics facility now has 31 different loading platforms.
With the logistics center in Dunajska Streda, cargo-partner places an explicit focus on the customer segments automotive, industrial spare parts and high-tech machinery.
The new warehouse hall is maintained at an energy- and cost-efficient temperature range between 15C and 25C and is ideal for handling project cargo shipments of oversized goods. This is another area where the direct access to the neighboring intermodal terminal is an advantage, since special transports by truck can be subject to certain limitations and resulting logistical challenges.
Stefan Krauter, cargo-partner's CEO and owner said: "With this second warehouse expansion in Dunajska Streda, we are furthermore strengthening our commitment to this ideal location in direct proximity to the METRANS container terminal. In addition, we want to make use of this hub to further develop our industry solutions for the automotive sector."