Cargo.one launches real-time data product cargo.one360
Understanding the dynamics of digital sales, including new performance metrics, benchmarks and customer behavior, requires airlines to adapt and evolve traditional sales and revenue management processes with the help of new data sources and tools.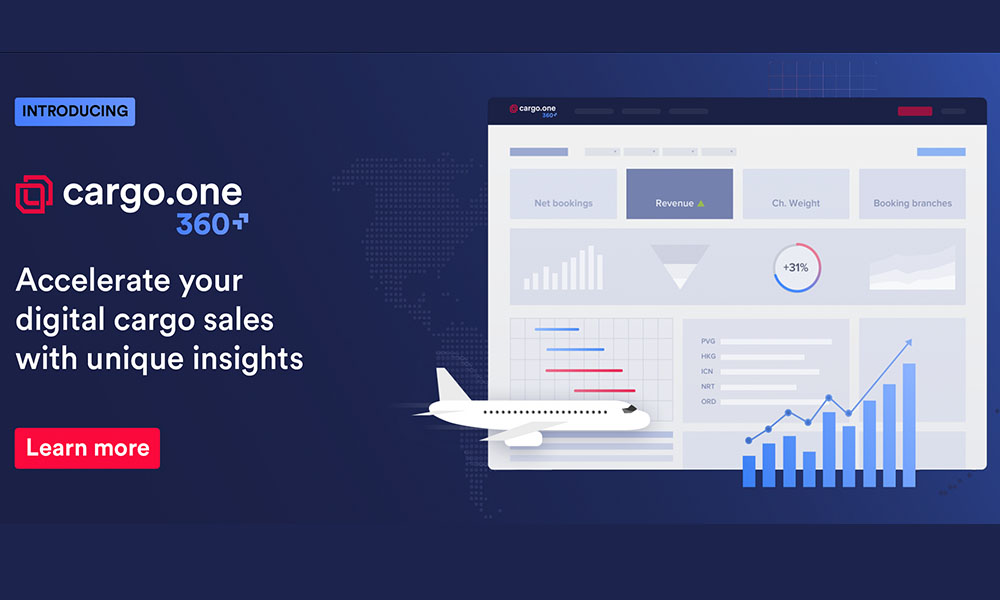 cargo.one announces the launch of a real-time data and analytics product called cargo.one360. This will provide cargo.one partner airlines with unique insights to maximize their sales performance in digital channels.
cargo.one360 helps airlines to accelerate the airlines' adoption of best practices in digital sales, delivers valuable customer insights, and reflects market changes and trends to facilitate better tactical and strategic commercial decision-making.
As the Boston Consulting Group recently noted, data-based steering can boost net profits by up to 12 percent in the first year. While an increasing shift towards digital sales predates the pandemic, Covid-19 has supercharged this trend: volatile schedules, constrained capacity, and disrupted pricing mechanisms have sent customers seeking transparency on offers, and instantly confirmed bookings.
Toshiya Tamada, EVP global marketing and sales at ANA Cargo, describes his carrier's experience with the deep insights that cargo.one360 provides to its partners, "ANA now has deeper visibility of the different factors that drive sales performance and how we benchmark against the market. With cargo.one360, our teams can access real-time data to find concrete areas in which to invest time and resources in order to yield a higher quality of service to our customers and thus increase our overall performance."
cargo.one360's easy-to-use analytics dashboards provide transparency on key digital sales metrics from day one. Real-time data feeds enable airline teams, from revenue management to sales steering, to integrate live information into their systems and workflows. In addition, unique, market-leading insights on customer behavior and benchmarks, provide context to improve offer design and conversion rates.
"Speed and quality matter in air freight. But what truly drives success, is consistently closing the feedback loop: seeing if actions have had the desired effect, and responding to learnings quickly. Access to great data enables this and deploying the right digital sales metrics to augment existing commercial frameworks can lead to remarkable results. Together with our partner airlines, we have developed cargo.one360 precisely in order to make these new metrics available and actionable, and to create greater channel transparency," Simson Demmer, senior director airline products at cargo.one, explains.
Moritz Claussen, co-founder and managing director of cargo.one adds, "With cargo.one360, we are helping our partner airlines to unlock all the opportunities that digital sales channels present. Better service offers also lead to improved customer experience and increased net profits. We are thrilled to play a central role in our partners' sales success and growth, as we jointly create a digital future for the air cargo industry."