Cargolux adds third flight from Xiamen
July 8, 2019: All-cargo airline Cargolux Airlines has started its third weekly frequency to Xiamen from July 1. The new frequency from Xiamen to Los Angeles will mainly support the export of clothing items and electronic goods. The new service, CV9721 is operated every Monday morning, departing Luxembourg at 8:10 am with arrival in Xiamen on […]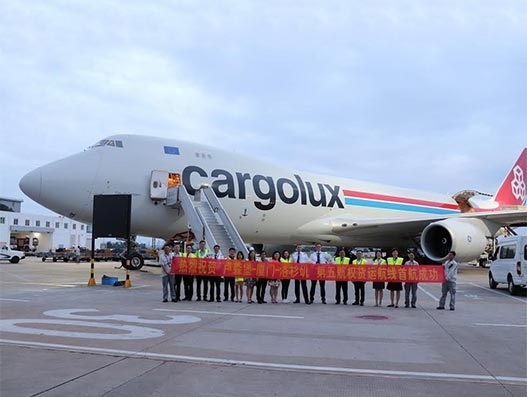 July 8, 2019: All-cargo airline Cargolux Airlines has started its third weekly frequency to Xiamen from July 1. The new frequency from Xiamen to Los Angeles will mainly support the export of clothing items and electronic goods.
The new service, CV9721 is operated every Monday morning, departing Luxembourg at 8:10 am with arrival in Xiamen on Tuesday at 4:40 am. The return flight, CV9731, is scheduled to leave Xiamen at 6:15 am and is routed through Los Angeles before returning to Luxembourg where it lands at 6:15 am (local time).
Cargolux has been operating into Xiamen since 2006 with two weekly flights from Luxembourg. The main imports from Europe into Xiamen comprise a vast range of classic cargo as well as spare parts and semiconductor parts. Cargolux operates a fleet of nose-door equipped Boeing 747 freighters, that allows it to carry a wide a range of commodities on all its trade lanes.