CargoLogicAir meets UK's aviation minister to support rising cargo demand
March 21, 2018: Top management from the British all-cargo airline, CargoLogicAir recently called on the UK's aviation minister, Baroness Sugg, and emphasise its commitment towards the country's growing air cargo industry. During the meeting, David Kerr, CEO, CargoLogicAir drew attention of the aviation minister towards its growing network, which has supported several companies in the […]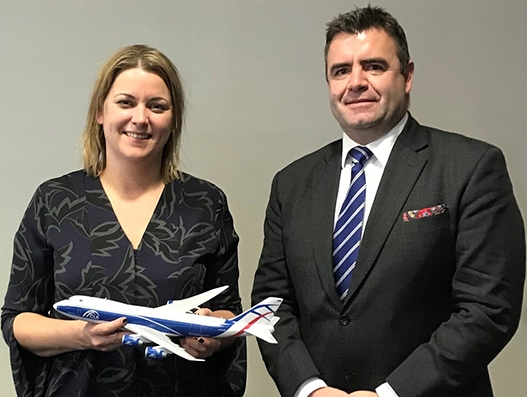 March 21, 2018: Top management from the British all-cargo airline, CargoLogicAir recently called on the UK's aviation minister, Baroness Sugg, and emphasise its commitment towards the country's growing air cargo industry.
During the meeting, David Kerr, CEO, CargoLogicAir drew attention of the aviation minister towards its growing network, which has supported several companies in the UK, including oil & gas, pharmaceuticals, aerospace, automotive and high-tech products, and boosted the international trade.
He also highlighted CargoLogicAir's efforts to support the strong demand for cargo capacity, which helped in meeting the demand of growing volumes of e-commerce shipments.
The minister was also acquainted with the fact that CargoLogicAir had played a key role in delivering humanitarian aid from the UK to the Caribbean, following Hurricane Irma, and also highlighted its cargo capacity, which helped in meeting fast-response deadlines for life-saving relief goods during natural disasters across the world.
CargoLogicAir also pledged to support the government's position to continue its longstanding membership in EASA, the European Aviation Safety Agency.
"It's highly significant that Baroness Sugg was interested in hearing about the UK freight market and its requirements, along with the development of CargoLogicAir to support the growth of UK trade. We are upbeat about the UK's growth prospects, and continue to invest in building a team, fleet and network, which will support a positive future for the British business, in the global market. We are ready to support the government, and industry initiatives to bolster trade links through the provision of reliable, high quality air cargo services," said Kerr.