Cargo terminal operator FIT opens new cargo facility at Port Everglades
Oct 23, 2018: Cargo terminal operator Florida International Terminal, LLC. (FIT) is opening a new 32-acre containerised cargo facility at Florida's biggest seaport Broward County's Port Everglades. FIT is enhancing the terminal with new features such as double the number of entry gates, and adding new scales, heavy equipment, technology and increased stacking capacity. FIT […]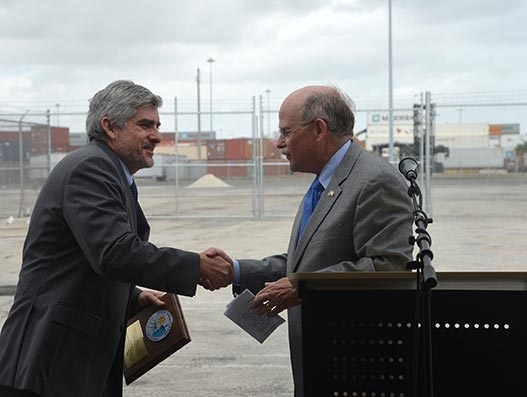 Oct 23, 2018: Cargo terminal operator Florida International Terminal, LLC. (FIT) is opening a new 32-acre containerised cargo facility at Florida's biggest seaport Broward County's Port Everglades.
FIT is enhancing the terminal with new features such as double the number of entry gates, and adding new scales, heavy equipment, technology and increased stacking capacity. FIT is already one of the largest cargo terminal operators at Port Everglades and is relocating to make way for the largest capital improvement project in the port's history.
During an inaugural ceremony on October 22, 2018, Glenn Wiltshire, deputy port director, Port Everglades said:"FIT is a terrific example of how a company can be born at Port Everglades and grow into a regional leader that brings international business and jobs to Broward County."
Six lanes entering the terminal with scales and two outbound lanes, new yard tractor fleet, upgraded container handling equipment, resilient information technology systems with quick disaster recovery abilities are some of the improvements at FIT's new terminal.
"We have installed a lot of new technology to better monitor gate traffic and what is happening throughout the terminal," said Klaus Stadthagen, vice president & general manager, FIT.
"By improving efficiency we are helping our customers, the shipping lines, develop their business. Our success is dependent upon our customers' success."
In the past fiscal year (October 1, 2017 through September 30, 2018), FIT experienced 17 percent growth with approximately 226,000 TEUs. (20-foot equivalent units)
Perishables cargo accounts for approximately 15 percent of FIT's total containers volumes.
In the next five years, Port Everglades is investing nearly $1 billion in infrastructure improvements to increase cargo volumes. Expansion projects include adding new cargo berths, installing new Super Post-Panamax container gantry cranes, increasing the lift capacity on existing cranes, and deepening and widening the Port's navigation channels.