Cargo revenue rises for Qatar Airways but ongoing Gulf blockade hits overall group results
Sep 19, 2019: Qatar Airways posted that its cargo revenue climbed 16.8 percent year on year in fiscal 2019, while the overall airline reported loss due to continued airspace blockade on Qatar put in place by neighbouring countries, which started on June 5, 2017. In the 2018-19 Annual Report, the carrier informed that its cargo […]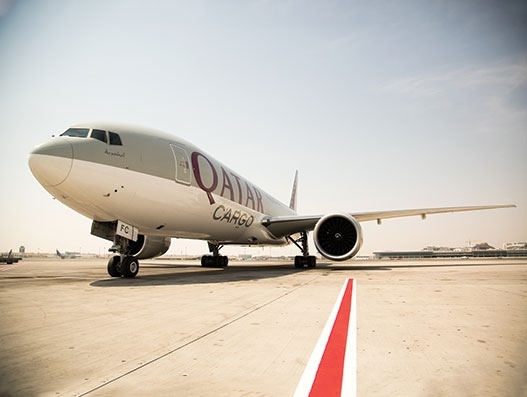 Sep 19, 2019: Qatar Airways posted that its cargo revenue climbed 16.8 percent year on year in fiscal 2019, while the overall airline reported loss due to continued airspace blockade on Qatar put in place by neighbouring countries, which started on June 5, 2017.
In the 2018-19 Annual Report, the carrier informed that its cargo capacity (Available Tonne Kilometers) grew 11.8 percent annually.
The carrier transported 1,452,000 tonnes of cargo, recording 6.8 percent year-on-year increase in volumes compared to 2017-18.
The Doha-based airline in its annual results highlighted its freight tonnage has been increasing since 2008.
Freighter flight movements grew at 16.9 percent Compound Annual Growth Rate (CAGR) over the last three years, added the carrier.
The carrier's freighter fleet has grown during 2018-19 with three new state-of-the-art Boeing 777 freighters.
Coming to the group revenues, a year-on-year increase of 14 percent was recorded, but it reported a loss for the year of USD 639 million.
Akbar Al Baker, Group chief executive, Qatar Airways said: "2018-19 was a year of achievement in the face of adversity for Qatar Airways. Despite facing challenges that are unparalleled in the airline industry, I am very proud that we have grown our fleet, expanded our network and seen overall revenue increase to USD 13.2 billion, a rise of 14 percent. Passenger numbers are up, capacity as measured by available seat kilometres has risen and our cargo business is now the largest in the world."
"2018-19 was nonetheless a challenging year and while it is disappointing that Group has registered a net loss of QAR 2.3 billion – attributable to the loss of mature routes, higher fuel costs and foreign exchange fluctuations – the underlying fundamentals of our business remain extremely robust.
The airline launched 11 new destinations during the fiscal year 2019 and has now added a total of 31 (as at 1 September 2019) since the start of the illegal blockade, growing its network to over 160 gateways around the world.
During the financial year, the Group further built its investment portfolio by acquiring five percent of the total issued share capital of China Southern Airlines. This shareholding sits alongside its existing holdings in airlines such as Air Italy, Cathay Pacific, IAG, JetSuite and LATAM.