FROM MAGAZINE: Cargo just-in-time when you need it
Delivering 'just-in-time' shipment is a challenging mission. To ensure that the cargo touches the destination intact, companies are ahead of the curve in adopting technologies. Furthermore, when it comes to urgent shipments, digitisation plays a vital role in customer interaction. Shalini Nair Miami relished sumptuous Argentinean beef during Christmas and New Year as soon as […]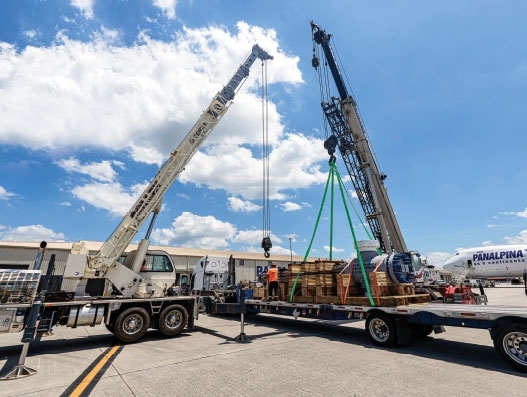 Delivering 'just-in-time' shipment is a challenging mission. To ensure that the cargo touches the destination intact, companies are ahead of the curve in adopting technologies. Furthermore, when it comes to urgent shipments, digitisation plays a vital role in customer interaction.
Shalini Nair
Miami relished sumptuous Argentinean beef during Christmas and New Year as soon as the 17-year old ban was uplifted at the 2018 G20 Buenos Aires summit, which concluded few days before the festive season. Within days of the regulation change and to meet festive demand on an immediate basis, American Airlines (AA) Cargo carried out the transportation of 14,000 pounds of beef.
The task tends to become more complex when the shipments have to rely on several modes of transport. One such shipment is the recent transportation of four heat exchangers from the United States of America to Luanda, Angola by Panalpina. The freight forwarder trucked two large exchangers of 16,524 kilogrammes each to Huntsville, from where it was flown by Atlas Air's B747-8F to Liege Airport, and then loaded onto trucks via onsite cranes to the Sonils dock. The customer's entire maintenance plan would have been derailed if Panalpina didn't have its innovative African Star solution designed especially for oil & gas clientele.
Fastest transit time to the destination, priority boarding, proactive shipment monitoring, and on-time notifications – constitute a seamlessly designed supply chain and this is what the world demands. Herein, the just-in-time solution has a 'critical' role to perform. For every single shipment, numerous teams play an intricate role in the journey. Constant communication between each group is imperative to ensure that everything is done effectively for the shipment to arrive on time.
What's on offer?
In March 2019, AA Cargo launched a campaign 'All eyes on' to promote its Critical Priority Parcel Service (PPS) product. The carrier, on a regular basis, transports immunotherapy drugs, personalised treatments for cancer patients and cord blood. Erin Jeffers, head of product development & innovation strategy, AA Cargo, notes, "By providing high visibility to our Critical PPS shipments, we are proactively addressing any issues that may occur during the journey of the shipment. If a shipment is delayed in flight and is estimated to miss its connection, our monitoring team can quickly identify and proactively ensure that the shipment is rebooked for the next available flight and the customer is informed about the same."
In April 2019, IAG Cargo announced the expansion of its 'Critical' product by offering a 24-hour service team, dedicated to supporting urgent shipments. "Our decision for the expansion of the service comes after a noticeable increase in demand for Critical shipments from our customers. Since setting up this product in 2016, our customers have shipped over 10,000 consignments with the special service from our London and Madrid hubs. Our teams are on hand to offer end-to-end journey support and advise our customers during the booking process," states Daniel Johnson, head of product at IAG Cargo.
For airlines, onboard courier (OBC) shipments and ordinary passenger baggage have the same status, yet OBC shipments usually come with high ticket prices because they are bought at the last minute, so full fare has to be paid and, additionally, for extra weight, unusual dimensions or more pieces of luggage. Robert Boetzer, head of charter and emergency services, Panalpina Charter Network, opines, "In view of this, airlines could demonstrate a bit more customer orientation by at least offering a dedicated check-in desk for on-board couriers. The normal passengers would benefit too, because who wants to wait in line behind a courier who is about to check in two dozen travel bags?"
Meanwhile, companies are ahead of the curve in adopting technologies. Furthermore, when it comes to just-in-time shipments, digitisation plays a major role in customer interaction. Alexander Kohnen, CEO, time:matters, states, "time:matters has developed certain APIs which optimise and speed up the interaction with its customers and their requirements, for instance, a tracking API which is an application for transmitting shipment data for partners and internal processes. All time:matters handling partners can conveniently document shipment acceptance, handover via QR code and digital signature. The information is fed into the time:matters system immediately so that customers can enjoy faster status updates."
Commenting more on time:matters airmates API developed for the on-board courier platform, Kohnen added, "The fully automated platform provides the best price for flights, global network of more than 12,000 on-board couriers in over 50 countries, and gives an option to select the right courier through till customs clearance - in less than a minute."
Besides expanding Critical PPS to international origins, AA Cargo continues to evaluate various technologies that will significantly enhance its products and procedures. Jessica Tyler, vice president strategy and development, AA Cargo, observes, "We are looking at low-cost sensors which will help improve the quality of tracking information in the near to mid-term. In the longer term, we are testing how machine learning will allow for better predictions and responses to situations, eliminating the likelihood of a service failure before it happens. Additionally, greater digitisation and eAWB adoption will increase the accuracy and speed of information exchange, thereby improving the overall efficiency of the supply chain."
Zero tolerance level
Though we do not live in a perfect world or error-free environment, just-in-time shipments are expected to operate on a zero tolerance level. To bring out minimal disruptions in the solutions being offered, companies have deployed seasoned professionals in the industry, who have spent years perfecting the service delivery.
As a global expert for speed logistics, time:matters offers higher loading priority, shortest handling and transit times, physical shipment monitoring at its hubs, pick-up, delivery and customs clearance which enables a safe, reliable and transparent shipping process. Kohnen says, "time:matters GmbH holds the certificate of an Authorized Economic Operator (AEO) since April 2019. AEO status provides international customers with transparent insight into the unparalleled standards that time:matters meets in global goods management and safeguarding of its customer supply chain."

PHOTO: American Airlines Cargo
Critical shipments are booked with guaranteed capacity, with no restrictions on size, weight or volume of cargo outside of regular aircraft requirements. Johnson cites, "With the added 24×7 customer service support from our Critical service teams out of both our hubs, IAG Cargo ensures that they provide assistance to the customers through every step of their consignment's journey. The service offers priority check-in desks and enhanced shipment monitoring technology."
Jeffers comments, "We have established a 24×7 monitoring team that tracks each shipment at multiple points to ensure it maintains on course throughout the entire journey."
Working in tandem
Collaboration is the backbone of the supply chain industry and everyone has a part to play in delivering the best. Boetzer mentions, "The main challenge is how incidents of misrouted baggage are handled. When it happens, we appreciate faster, more pro-active communication and transparency for passengers (and therefore our couriers). This would increase the service quality for OBC shipments."
In the area of speed logistics, resilient dependability and customer communication play a major role within the strategy of long-term service excellence and quality. Kohnen says, "Customers value the transparency that we offer along the entire transport chain through seamless monitoring and attach great importance to the reliability of our efficient and proactively defined backup processes. time:matters pursues customer interface digitisation and, as a result, can offer fully automated tracking information updates, invoicing and other important core elements."
The shutdown of an oil rig or assembly line is the worst case scenario for a company operating in that sector. To prevent this from happening, Panalpina deploys on-board couriers, part and full charter aircraft, helicopters or any combination of transport methods for urgent shipments. "Our experienced team and global network ensure even the world's most remote areas can be reached in the fastest possible time," adds Boetzer. Panalpina deploys almost 500 OBC services every year. The most important OBC routes it serves are China to Europe and China to the Americas.
Similarly, AA Cargo's active trade lanes for Critical PPS in the US include Midwest to Northeast and Northwest and South to Southwest regions that are supplying or receiving highly sensitive shipments from diagnostic centres, medical facilities and research labs.
IAG Cargo continues to invest in its premium products like Critical and Secure. On the other hand, it is constantly expanding its network as per the customers' need. Industries such as aerospace, automotive, high technology, oil & gas, and pharmaceuticals continue to fly Critical, in and out of UK, Asia, North America and Europe.
An interesting 'must-fly' shipment this year was seven tonnes of sauce sachets for a popular fast food chain. Johnson states, "In April 2019, we started the only direct flight from the UK to Pittsburgh, Pennsylvania and in June 2019 we resumed our Islamabad service. We have expanded our network with the addition of our four times a week service to Osaka, and now provide customers with three gateways into and out of Japan."
Similarly, for time:matters, popular trade lanes for OBC shipments include - Europe to Mexico, Europe to China, Europe to the US, and the US to Asia.
In a logistical emergency situation, every second counts. Geopolitical and other regulatory issues can have spiralling effects on trade flows and trade lanes in the supply chain. Disruptions in the supply chain can lead to production downtimes, supply shortages combined with tremendous costs. Tyler says, "Geopolitical and regulatory issues continue to challenge the handling of time-sensitive shipments and the ability to uphold a seamless journey. Currently, Critical PPS is only available for US and Canada shipments. However, as we look to expand internationally we are identifying the various challenges that can affect the performance to ensure proper solutions are in place to meet our customers' needs."
On the other hand, Nikolai Bergmann, global OBC director, Chapman Freeborn, observes, "This is a broad topic that is country specific. One of the reasons businesses rely on us is precisely for our expertise with this subject. It is our job to stay on top of changes and navigate through regulatory processes."
IAG Cargo's partnership with the British Museum illustrates the trust for choosing it as a long-term logistics partner. IAG transports exhibit items on behalf of the museum on its global network of over 350 destinations. Most recently, this involved the transport of over 20 pieces of manga artwork shipped over 9,000 kilometres from Tokyo for British Museum's Manga exhibition. The items flew with a handler from the museum on board to oversee the entire process.
This story was originally published in STAT Trade Times' July 2019 issue.