Cargo has a future, says Claudia Weidenbusch at Cargogate's 45th anniversary
July 10, 2019: Munich's airfreight handling company Cargogate, established in July 1974, celebrates its 45th anniversary this year The 'Muc Air Services Gesellschaft für Luftverkehrsabfertigung mbH' was established as a 100 percent subsidiary of Flughafen München GmbH (FMG), the airport's operating company at Munich Airport in 1974. In 1999, Muc Air was reincorporated as Cargogate. […]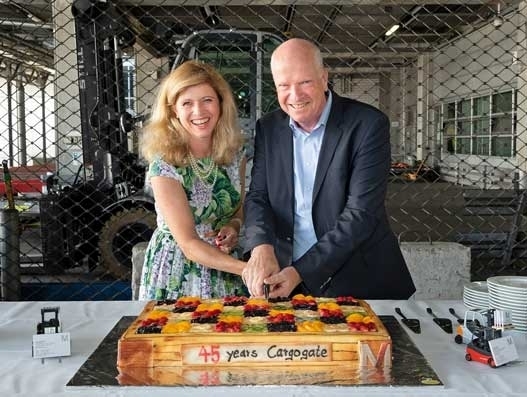 July 10, 2019: Munich's airfreight handling company Cargogate, established in July 1974, celebrates its 45th anniversary this year
The 'Muc Air Services Gesellschaft für Luftverkehrsabfertigung mbH' was established as a 100 percent subsidiary of Flughafen München GmbH (FMG), the airport's operating company at Munich Airport in 1974. In 1999, Muc Air was reincorporated as Cargogate.
Speaking at the anniversary celebration, Claudia Weidenbusch, managing director of Cargogate said, "We're looking forward to another 45 years because cargo has a future and the worldwide exchange of goods is an important factor in the globalisation of markets."
Cargogate currently processes around one third of the freight passing through Munich Airport. With a 20,000 square metre storage facility, Cargogate offers ex-warehouse services, including: receiving, sorting, break-bulk and consolidation, handover of cargo, as well as customs clearance and hazardous goods formalities. Along with tailor-made infrastructure, spacious cooling rooms and GDP-certified storage of pharmaceutical products, Cargogate scores points for the short journeys covered by goods during handling and its efficient processes.
"The relentless rise of digital sales channels will also help to boost growth of analog airfreight services in the future," said Thomas Weyer, the CFO and director of infrastructure at Munich Airport. "We're fortunate as an airport operating company to have a professional and efficient subsidiary like Cargogate that ensures, with its outstanding competence and strong customer focus, that everything keeps moving at Munich Airport," said Weyer in his speech honouring Cargogate's anniversary.