Cargo handler WFS to open new pharma centre at Paris CDG Airport
Aug 30, 2019: Cargo handling company Worldwide Flight Services (WFS) is investing €10 million, including equipment and supplies for the next 10 years, in new pharma centre, at Paris Charles de Gaulle Airport. The 2,400 m² pharma centre, located in the heart of CDG airport's cargo area, is opening in September and will be offering […]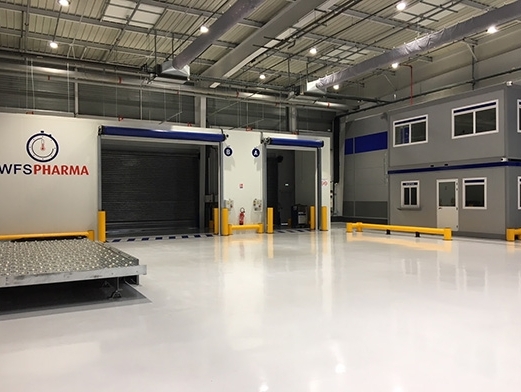 Aug 30, 2019: Cargo handling company Worldwide Flight Services (WFS) is investing €10 million, including equipment and supplies for the next 10 years, in new pharma centre, at Paris Charles de Gaulle Airport.
The 2,400 m² pharma centre, located in the heart of CDG airport's cargo area, is opening in September and will be offering both landside and airside acceptance capabilities.
It will also become IATA CEIV Pharma certified, as part of an initiative launched by Group ADP within the cargo community at Paris-CDG Airport.
The facility has its own docks and manoeuvring area for the loading and unloading of temperature-controlled pharmaceutical shipments.
In order to ensure constant tracking of shipments from the centre to and from aircraft, a new warehouse management system (WMS) has been implemented. This will support the use of barcode scanning for real-time storage capacity monitoring and management.
A statement from WFS informed: "A temperature monitoring solution with a cloud platform will collect temperature and humidity data in real-time via sensors and enable this information to be accessed on mobile devices."
Setting straight ground handling priorities

WFS is also investing in new digital technology systems to improve operational efficiency and shipment visibility.
As part of WFS' global safety and security programme, the controlled-access pharma centre is also equipped with modern screening, CCTV control and alarm systems, monitored 24/7 by its Security operational centre.
The WFS pharma centre will adopt a Quality Management System with specific processes for temperature-controlled cargoes. Performance will be measured against pre-set Key Performance Indicators during management reviews and internal audits.
Ensuring flexibility to adjust capacity on demand, the WFS Pharma Centre is served by exclusively-designed temperature-controlled three-pallet trailers and cool dollies
A team of highly trained pharmaceutical handling specialists will operate the centre. The team is IATA CEIV trained and possess a solid knowledge of time and temperature-sensitive healthcare and pharmaceutical products transportation according to IATA's Temperature Control Regulations. They will also receive additional training at WFS' WFS Academy.
Hugo Rodrigues, vice president Cargo France at WFS commented: "At a major air cargo gateway like Paris CDG, we believe it is incumbent on ground handlers to invest in the right equipment to handle pharma products."
This latest investment follows the opening of WFS pharma facilities in Copenhagen, Johannesburg and Miami.