Cargo Drone Virtual Summit to go live from Aug 26-28
STAT Media Group, with its three publications, The STAT Trade Times, Logistics Update Africa and Indian Transport & Logistics News is organizing a three-day cargo drones virtual summit from Aug 26-28.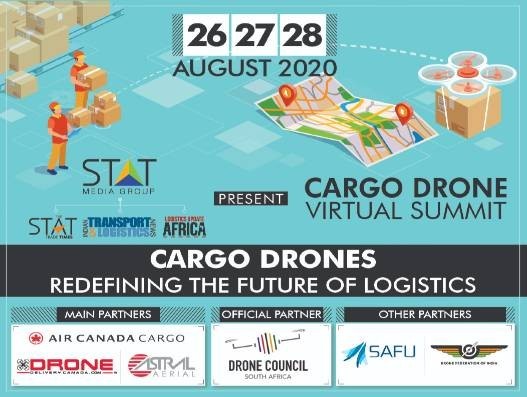 STAT Media Group is organizing a three-day marathon cargo drone virtual summit starting Aug 26 to Aug 28, 2020. The three publications under its umbrella - The STAT Trade Times, Logistics Update Africa and Indian Transport & Logistics News will focus on cargo drone operations in the key markets that each of them cater to.
The commercial usage of cargo drones is gaining steady momentum and has become a talk of the hour. Various industries and government bodies have now started to take this industry seriously, especially in the current conditions of a global pandemic, where social distancing has become a necessity. While various concerns on security and air traffic still remain, as these technologies continue to evolve and grow, drones will revolutionise the way cargo will move from Point A to B.
See detailed agenda and speakers here
The virtual summit, themed around 'Cargo Drones: Redefining the future of logistics', sponsored by Air Canada Cargo, Drone Delivery Canada and Astral Aerial, will be focused on cargo drones development, their application in critical logistics and deliveries that range from humanitarian to medical and healthcare and the development of a drone ecosystem. Other supporting partners include Drone Council South Africa, Drone Federation of India, and South Africa Federation of Unmanned Aviation.
The summit will include keynotes (regulators from civil aviation authorities and ICAO; large users of drones like healthcare companies, ecommerce industry and global NGOs like UNICEF and WFP), short presentations by cargo drones creators and service providers, and panel discussions.
Day 1 of the event will focus on the key developments in cargo drone operations in India. Starting with a keynote address by Amber Dubey, joint secretary, Ministry of Civil Aviation, the event will progress with interviews with founders and CEOs of leading drone companies. This will be followed by presentations by drone innovators (Throttle Aerospace, Indian Robotics Solution, Zipline) who have collaborated with several delivery providers and healthcare companies to begin testing their drone solutions following an approval from India's civil aviation authority. The finale will be a moderated panel discussion with leading names in India's cargo drone circuit including the Drone Federation of India, World Economic Forum, among others.
Day 2 of the Cargo Drones Virtual Summit will focus on Africa - the continent that leads the world in drone application. A similar format to Day 1 will be followed with participation from leading drone companies and service providers, regulators – including South African Civil Aviation Authority, representation from UNICEF, Wings for Aid, Astral Aerial Solutions, South Africa Federation of Unmanned Aviation (SAFU), Drone Council South Africa, Dove Air, Wingcopter and African Drone Voice. Innovators from Phoenix Wings, Dronamics and Singular Aircraft will present their technologies.
The last of the three-day programme will present the big picture - the next evolution in logistics, bigger drones, larger volumes and longer distances. The session will begin with keynotes from Frederic Malaud of International Civil Aviation Organization (ICAO) and Angela Yochem of Novant Health to set the context of the proceedings ahead. Interviews with TEDx speakers like Amit Ganjoo of ANRA Technologies and aviation/air cargo industry veteran Ram Menen are lined up. This will be followed by presentations from large drone manufacturers like Sabrewing Aircraft Company and Natilus and drone infrastructure provider SkyPorts.
The final panel discussion on Day 3 will feature key representatives from the North American drone ecosystem – Edmonton International Airport, Air Canada, Drone Delivery Canada and DSV Air & Sea Canada.