Building Confidence in Pharma Air freight
The stakeholders in pharma supply chain are ensuring that they meet the growing need of standardisation and transparency to ensure regulatory adherence and no excursions. The investments made by IATA CEIV Pharma Certified companies have brought significant changes on how the temperature controlled pharmaceutical products are handled at airport and transported by airlines, instilling trust back in the industry.
Nahida Jafferi
In 2017, the global pharmaceutical market stood at $934.8 billion, growing at a CAGR of 5.8 percent.  It is expected to reach $1,170 billion by 2021.
Pharmaceuticals make up 1.9 percent of all air cargo volumes flown by air and contribute 2.6 percent of total airline cargo revenues.  Andrea Gruber, head, special cargo, IATA, said, "Global trends show that spending on pharmaceuticals is likely to increase by low to mid-single digits in developed markets and low-double digits in developing and emerging markets. However, growth in the value of pharmaceuticals trade will be more modest due to highly regulated localised markets and entry barriers. In the three years ahead (2018-2020), volume growth in pharmaceuticals is expected to be 3.7 percent, despite lower than overall air cargo volume growth, the higher premiums of pharmaceutical shipments and the investments in personalised medicine mean that they will still generate an increasing share of air cargo revenues."
Although high-end pharma mostly goes by air, pharma logistics is a competitive sector across all transport modes. It is to be seen whether air with all its efforts in reducing excursions and the cost extensiveness, can grab a bigger chunk of the market mainly dominated by sea. "The competition from other transport modes has pushed our industry to react and improve with the aim to become a modal choice based on the business model of a company rather than to be the mode of transport of no choice but air freight. Finally regulations and standards, such as IATA CEIV Pharma, have served to shore up confidence among shippers to rely on air cargo," stated Gruber.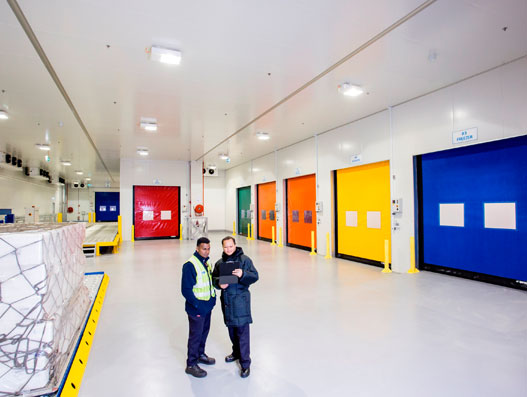 dnata coolchain facility at Changi Airport

For Serum Institute of India- the world's largest vaccine manufacturer, 100 percent of exports is done by air. Highlighting some of the difficulties Vishal Lobo, manager-exports, Serum Institute of India, said, "Tracking of products to ensure supply chain visibility, products exposed to a wide range of temperature extremes during their journey, and adherence to and compliance with worldwide regulations, are some of the challenges in pharma supply chain."
He, however, added that positive changes are being made in the pharma supply chain. "Airlines and forwarders have started recruiting staff with a pharmacy background. They have also created pharma verticals to handle customers. They work on joint ventures with specialised pharma packaging companies to provide solutions as per the regulated market. Investments in training staff for the handling of pharma shipment and its implementation is also gaining momentum," added Lobo.
Lobo also pointed towards the need for cross-functional and cross-company efforts to eliminate bottlenecks and increase responsiveness. He mentioned, "Proper infrastructure planning to deliver desired results, in addition to ease of transactions and flow of communication within supply chain, is expected from the stakeholders in the pharma supply chain."
Many parts of air freight and pharma handling are very manual. Increasing regulatory demands and continued volume growth in cold chain logistics worldwide is spurring significant development in smart solutions for tracking and monitoring pharma from origin to destination.
In Singapore- a leading biomedical hub in Asia, more than 75 percent of the total value of pharmaceutical products are transported via airfreight. Lim Ching Kiat, managing director, Air Hub Development, Changi Airport, said, "Eight of the top 10 pharmaceutical companies in the world have established facilities in Singapore, with Singapore manufacturing four of the top 10 drugs (in terms of global revenue). For the first half of 2018, Changi Airport saw a 10 percent growth in pharmaceuticals cargo as compared the same period last year."
"Changi Airport remains a major conduit for pharmaceuticals trade flows on routes between North Asia and the South Asia, Southwest Pacific and Europe regions. From January to June 2018, strong growth export markets include Indonesia and the Netherlands," added Lim.
According to an IATA report, more than 50 percent of all temperature excursions occur at airports and inside airlines. Changi Airport has undergone the IATA CEIV Pharma certification, besides certifications like GDP and ISO standards to ensure proper standards are maintained. In a bid to prevent falsified medicines from entering supply chain, the airport's business partners follow international standards such as those under the Transported Asset Protection Association (TAPA) for their facilities and trucking operations. Lim also added that pharmaceutical shipments are the last cargo to leave the cold chain warehouse for loading onto the aircraft. For pharmaceuticals that have a short transhipment duration in Changi, on-tarmac chillers are used to keep sensitive cargo away from high temperatures.
Changi Airport also formalised the [email protected] initiative in October last year, working with nine other partners from the air cargo supply chain towards the continuous strengthening of Changi's capabilities to handle pharmaceutical air cargo. "According to the statistics by Singapore's Economic Development Board, Changi Airport is also co-leading Pharma.Aero's digitisation project, which aims to develop a demo for a common data sharing platform, where relevant information across shareholders in the supply chain can be shared and translated into valuable insights," informed Lim.
Meanwhile in India, the Air India-SATS (AISATS) COOLPORT at Kempegowda International Airport has been developed as a one-stop-shop for temperature-sensitive cargo and the presence of onsite facilities such as Drug Controller Lab Testing, Plant Quarantine Inspection & Certification and Custom Clearances help to reduce cargo dwell-time and fasten the overall cargo movement. Furthermore, the AISATS COOLPORT has also started reefer trucking services to major cities in South and Central India in order to ensure temperature-controlled delivery of cargo.
Mike Chew, CEO, AISATS, said, "Due to a strong generic pharma industry in India, strategic sourcing of raw materials from domestic and foreign sources, and low-cost innovation and production of generic drugs, India is able to supply affordable, high-quality pharmaceuticals to the global market. These cost benefits have led to an increased demand of Indian pharmaceuticals in the international markets, which has subsequently led to an increase in exports of Indian pharmaceutical products to the value of $17.3 billion in 2017-18."
"AISATS handled around 3000 tonnes of pharmaceutical cargo at its COOLPORT facility in FY 2017-18. In the first quarter of 2018-19, AISATS has managed around 930 tonnes of pharmaceutical cargo compared to 430 tonnes during the same period in the previous financial year. With the surge in movement of perishable cargo, AISATS has witnessed an overall y-o-y growth of around 120 percent," said Chew. 
For Finnair Cargo, the main project in 2017 was the COOL Nordic Cargo Hub at Helsinki- the most modern air cargo terminal in Europe, which was opened in two phases and built, in part, to fulfil the needs of customers shipping temperature controlled cargo such as pharmaceuticals or perishables.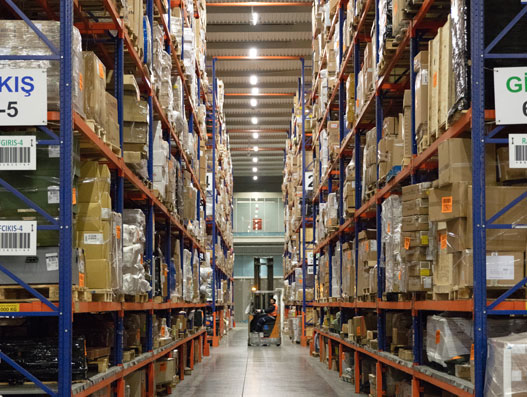 "Our pharma growth is linked closely with the growth of Finnair as an airline, but the new COOL terminal has significantly boosted our credentials with pharma shippers. It also means that we can handle a lot more cargo, and do so while ensuring the quality requirements of various types of shipments are met in accordance with shipper's instructions," informed Fredrik Wildtgrube, head of global sales, Finnair Cargo. 
In the first half of this year Finnair saw a 40 percent increase in pharma shipments compared to H1 2017. "Pharma is a significant revenue stream that has seen the strongest growth in recent years. The key countries for us are of course Finland and Sweden in our Nordic home market, and Belgium that is served with enhanced connectivity to/from Brussels. In Asia, India is a key market in terms of pharma," said Wildtgrube. "Although the temperature history can be retrieved from tracking device after the flight, the cargo operator has strategised to introduce real-time temperature monitoring of pharma during flights in near future," he added.
Swiss World Cargo, the air cargo division of Swiss International Airlines, has gained its CEIV-Pharma certification that ensures that all segments of its supply chain network, operating in more than 84 countries, meet the strict temperature-control standards set by IATA. Swiss World Cargo is also recognised as compliant with the Good Distribution Practices (GDP) standards.
LATAM Cargo is the first airline in the American continent to receive the CEIV Pharma Certification in 2017. "Since then, we have also certified our MIA hub, and we are now looking at certifying other important pharma hubs for us in Latin America," said Cristina Oñate, VP marketing and product development, LATAM Cargo. She further added, "We are currently expanding our pharma stations in Europe. On September 1st, it recently launched its tenth hub in Copenhagen airport which will help the Danish pharmaceutical industry to have a better option to get their medicines to patients all over Latin America.
About growth figures, Rodolfo Marre, development senior manager, LATAM Cargo, informed, "During 2017, we handled approximately 2,500 tonnes of pharmaceuticals, and so far, we have transported around 1,900tonnes of pharmaceuticals from, to and intra Latin America. Pharmaceuticals contribute around a three percent of our overall cargo business. The best performing routes are Chicago (ORD)- Sao Paolo(GRU), Miami (MIA)-GRU and Milan (MXP)-GRU."
LATAM Cargo is upgrading air cargo services for the life sciences industry with the recent adoption of advanced air cargo tracking system that will in future target pharma cold-chain tracking capability as well. Marre highlighted, "We are in permanent touch with clients and benchmarking that we have the technology needed for delivering our standard. We are currently improving the real-time monitoring of our cold rooms in our network. This will enable us to react faster and prevent any problems with the temperature control."
As a result of increasing investments in pharma services, AF-KLM Martinair Cargo has witnessed increase in pharmaceutical logistics in 2018, which now represents more than 10 percent of the total sales.
"AF-KLM Martinair Cargo has made investments this year in the Pharma sector: at our hub Amsterdam Schiphol, we invested in a state-of-the-art Pharma Containers Conveyor, a fully automated palletized system, capable of handling over 100 electrical or dry ice containers at the time. We also implemented CO2 detectors in our hubs in Paris Charles de Gaulle and Amsterdam Schiphol so that we can safely store 'controlled shipments' in combination with Dangerous Goods, including ICE and Lithium Batteries," informed Enrica Calonghi, director verticals, global head pharmaceutical logistics, AF-KLM Martinair Cargo.
AF-KLM believes that digitisation will be making pharmaceutical logistics more efficient and customer-centric. "We have recently launched myCargo portal that allows our customers to get quotations, and information about the latest and best deals todo their bookings. For Active containers solutions, customers can use myCargo to track the temperature, level of battery during the transit of the containers in Amsterdam Schiphol Airport and in Paris Charles de Gaulle. AF- KLM Cargo is looking at blockchain as enabler to ensure the cool chain and to track pharmaceuticals from the point of origin to the consumer," said Calonghi.
AF-KLM considers the IATA CEIV certification as a basis for a continuous improvement process. Being GDP compliant and CEIV certified means a great level of investment in time, processes and continuous improvement.
According to a study carried out by the French office of Air Charter Service in 2017 on airport quality, Luxembourg and Paris-Vatry were named the most efficient airports for cargo worldwide. Health care products represented five percent of Paris-Vatry Airport's global cargo business in 2017. Yoann Maugran, cargo sales manager, Paris-Vatry Airport, said, "We mainly handle full freighters on Charter basis with big volumes every year. In terms of aircraft movements, the figure doubled in five years." 
Maugran added, "We proved to the French pharma community our know how in the handling of healthcare products. What we expect from the pharma supply chain stakeholders is that they keep in mind that regional airports have valuable assets, and are sometimes more reactive and proactive than big hub." 
Paris-Vatry is committed to get the CEIV Pharma certification. "We look at data sharing solutions to bring transparency in the supply chain. In terms of collaborative thinking, we have launched an initiative together with two other French provincial airports, to share good practices in the handling of pharma products, and find ways of collaboration and synergies between our platforms," said Maugran.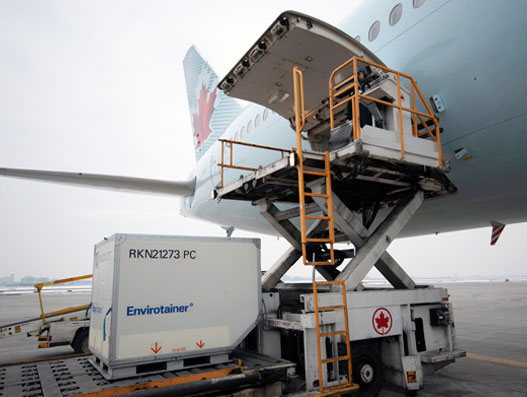 photo:  Air Canada cargo

Maugran also informed that Paris-Vatry has good prospects to start a new cargo service towards Western Africa end of this year or beginning of next year. The airport saw a 134 percent overall tonnage growth in 2017 over the same period in 2016. "This was due to efforts overseas to promote the platform and the arrival of regular operations with companies for tech stops from Etihad Airways; Kalitta Air, and import/export operations via AirBridgeCargo in addition to charter flights," said Maugran. 
Delta Cargo is also taking proactive steps toward eliminating irregularities in the pharma air freight.   Lindsey Jalil, managing director-commercial, Delta Cargo, said, "Delta has CEIV certification in Atlanta, our largest hub, and are now looking at expanding our facilities and capabilities at some of our North American hubs, including New York-JFK.  We are also expanding our temperature controlled warehousing space in Atlanta with construction underway, we anticipate this to be completed by early October with 30,000 square feet more of 15-25C warehouse space."
"The trans-Atlantic continues to be one of the best performing markets for us.  We have experienced our largest amounts of growth from the UK, Ireland and Spain.  The UK is supported by our new Pharma Zone at London Heathrow with our partner Virgin Atlantic Cargo," informed Jalil.
Delta recently announced that all Delta products can be booked online on Deltcargo.com.  This allows the customer to enter in their precise details and requirements, and ensures that an airline has all of the information needed to get the job done properly. 
After successfully undergoing a rigorous assessment against IATA's Temperature Control Regulations, IATA has recognised LUG aircargo handling (Frankfurt) as CEIV Pharma Certified in August 2018. Dominik Misskampf, senior project manager and manager, health care centre, LUG aircargo handling, said, "At LUG, we have seen a continuous rise in temperature and time sensitive shipments over the years. Due to a change in our customer portfolio the type of cargo handled in our facilities has changed too. As a result, our volume of temperature sensitive goods has almost tripled this year compared to the same period in 2017."
To meet the increase in demand for pharma, the IATA CEIV certified- Health Care Center at the LUG Terminal in the Cargo City South Frankfurt, which covers 625 square metre, is being further expanded by another 190 square metre. "Building work has commenced already. Currently seven rooms of different sizes offer storage at temperatures ranging from <-18°C and 2-8°C to 15-25°C. As the temperature of the single rooms can be adjusted, we are able to meet different operational needs even in the long run. Moreover, a dedicated team is in charge for the handling of pharmaceuticals," informed Misskampf.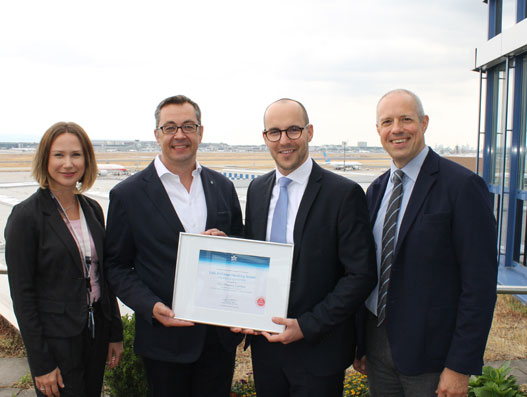 Presentation of IATA CEIV certificate to LUG air cargo handling GmbH. From left to right Nina Strippel, COO, LUG; Mathias Jakobi,  Area Manager Central Europe, IATA; Dominik Misskampf,  Senior Project Manager, LUG; and Patrik Tschirch, CEO, LUG.

Misskampf further added that LUG aims to develop additional services in collaboration with its customers, as well as selected forwarding-agents and shippers. It also participates in the pharma working group of the Air Cargo Community Frankfurt that aims to optimize the overall supply chain at Frankfurt Airport.
"Technical innovations such as new temperature controlled ULD, passive thermal boxes, tc tarmac transportation, dolly blankets, special foil, and sensors offer more end-to-end controls, monitoring, and security of temperature integrity and strengthen the position of airfreight in the supply chain. They also help to reducing damages," he added.
Turkish Cargo, as an airline and warehouse operator, is closely following technological and infrastructural developments for pharmaceutical business worldwide. Its increase in service quality by completion of IATA CEIV Pharma certification process in August 2016 at its Istanbul hub has brought a growth rate of 65 percent. Pharma air cargo shipments increased by 50 percent this year compared to the same period last year. Turkish Cargo's annual pharma air cargo tonnage has also been developing steadily. 
The cargo operator plans to build a bigger dedicated pharma facility via the Istanbul New Airport project and also targets to be the major transit pharma hub between Asia and Europe. The pharma facility currently includes Constant Climate acceptance area without breaking the cold chain, 5,000 square metre operation area isolated from other cargo where +5 and +20 degrees temperature is provided to perform the operation without breaking the cold chain and Cool Cells for ULD Storage.
To mitigate the temperature excursions, Brussels Airport has recently increased the number of temperature controlled pharma transport dollies from 4 to 9, allowing the airlines operating at the airport to develop and offer specific pharma handling services for forwarders and pharma shippers.  The temperature data of the shipments inside the pharma dollies is constantly monitored and could be made available via the BRUcloud based booking platform and management tool. 
"Creating a neutral data sharing platform like the BRUcloud is a prerequisite to enable the different stakeholders to work more 'integrated' and act as a network. The Pharma Quality dashboard app was launched two years ago and has recorded the quality handling data of up to 30,000 pharma shipments.  This vast data pool allows the local pharma working group to analyse the root causes of the irregularities and implement corrective actions on a cargo community level.  It has resulted in a 40 percent reduction of quality irregularities," mentioned Nathan De Valck, cargo and product development manager, Brussels Airport. 
Also, the Pharma.Aero initiative- the global collaboration group of pharmaceutical shippers and airport communities endorsing the pharma CEIV standards, has gained momentum and Brussels Airport is taking a leading role by chairing the group.  "The most recent project focusses on how to create transparency in the air cargo pharma supply chain by sharing data on a data platform.  This project on data transparency will actually be implemented in the next 6 months on three pilot pharma corridors where BRU is involved.  Pharma shippers, airlines and handlers are actively involved in the project group," informed Valck.
Brussels Airport is the preferred European Life Science and MedTech Gateway. Valck also emphasised that Brussels Airport has seen continuous growth rates over the past few years ranging between 15 percent and 24 percent on a yearly basis for the export flown cargo in the pharma segment.
Meanwhile Anand Yedery, regional cargo manager – South Asia, ME & Africa, Cathay Pacific also called for industry collaboration. He pointed that the use of differing standards between supply chain partners compromises product integrity.
Cathay Pacific is the first airline in Hong Kong to be awarded IATA CEIV Pharma Certification. In addition to other airport stakeholders in Hong Kong, Cathay Pacific Services Limited (CPSL) – a wholly-owned subsidiary of Cathay Pacific which operates the Cathay Pacific Cargo Terminal, and Hong Kong Airport Services Ltd (HAS) – another wholly-owned subsidiary which provides ground handling services to airlines, have also been awarded CEIV Pharma Certification. 
"This collaborative approach will boost Hong Kong's reputation as a key international airfreight gateway for the handling of pharmaceutical products," asserted Yedery.
Talking about the growth markets in the pharma segment, Yedery added, "The pharma industry has seen double digit growth in India over the years. Hyderabad, India's fourth most populous city and, an important hub for the technology and pharmaceutical industries account for around one-third of the country's drug production. We see a strong demand for our specialised Pharma LIFT products and services. Cathay Pacific is also seeing huge tonnage growth from Bengaluru and Mumbai, compared to last year."
Cathay Pacific has entered into a number of strategic alliances and partnerships for better serving its clients. Pharmaceutical shippers are able to lease PharmaPort 360 temperature-controlled bulk shipping containers directly from Cathay Pacific Cargo through its partnership with Sonoco ThermoSafe. The PharmaPort 360 utilises proprietary hybrid technology to ensure extremely precise +5C temperature control.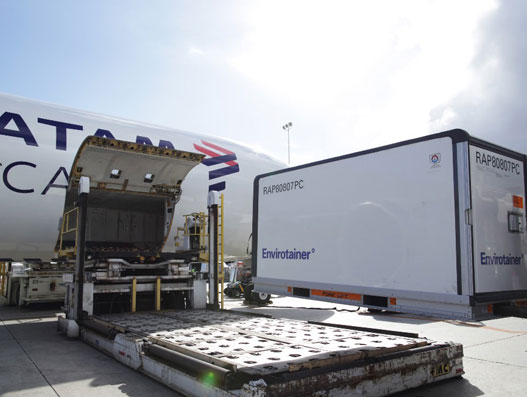 LATAM Cargo

Digital capabilities are being considered in the use of containers and already implemented. Track and trace capabilities with real-time information is existing in the pharmaceutical environment. "The future of IATA's interactive cargo aims at developing responsive air cargo services based on intelligent systems that are able to self-monitor, send real-time alerts, respond to deviation to meet customers' expectations and report on the cargo journey to allow data-driven improvements. With tracking at piece level, using sensors and data loggers will also impact the pharmaceutical shipments," stated Gruber.
Talking about technology and digital container for pharma shipments, Carolyn Van Vliet - Manager, Cargo Products Business Development, Air Canada Cargo, pointed, "Most of the active or advance-passive container/packaging companies currently have ability to capture data (location, internal and external temperatures, etc.) for which we have access.  We are exploring the ability to integrate this data with our operating systems to improve our overall transparency with our track and trace capabilities.  In addition, other container companies such as Unilode are also enhancing their assets to incorporate such data capabilities. We are very excited about this."
Pharmaceutical shipments represent approximately 16 percent of Air Canada Cargo's cool chain shipments.
Vliet said, "Our strategy for pharma logistics will involve a revamped product offering in the coming months and into 2019 for its passive shipments.  The key components will feature very clear definitions of our temperature management offering – enhanced temperature storage facilities throughout our global network which currently spans 6 continents; more effective use of technology to improve visibility and transparency of our handling processes, renewed focus on quality and training to ensure more pro-active and preventive activities and of course, the pursuit of industry certifications such as IATA's CEIV Pharma certification."