Budget 2019 reactions: Shipping, transport sectors welcome connectivity push
July 6, 2019: Shipping, transport and logistics, professionals welcomed the Budget 2019 presented by Union minister for finance and corporate affairs Nirmala Sitharaman on July 5. "People's hearts filled with aasha (hope), vishwas (trust), aakansha (aspirations)," said Sitharaman, adding that "India Inc. are India's job-creators and nation's wealth-creators." Good news was in store for the […]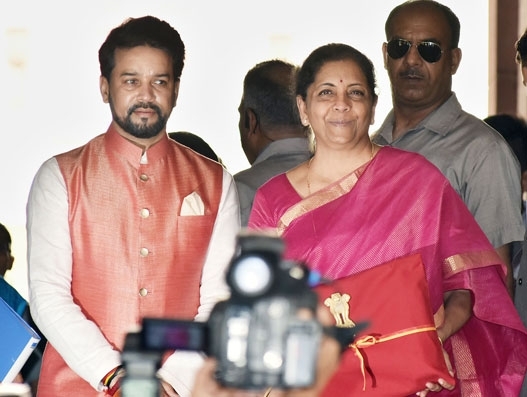 July 6, 2019: Shipping, transport and logistics, professionals welcomed the Budget 2019 presented by Union minister for finance and corporate affairs Nirmala Sitharaman on July 5.
"People's hearts filled with aasha (hope), vishwas (trust), aakansha (aspirations)," said Sitharaman, adding that "India Inc. are India's job-creators and nation's wealth-creators."
Good news was in store for the transport, logistics and shipping industries as the minister proposed a massive push to all forms of physical connectivity. Industrial corridors, dedicated freight corridors, state road networks to be developed in second phase of Bharatmala project, were among the highlights that will benefit the industries.
Budget 2019: Key takeways for shipping, transport, aviation and logistics
"The ambitious programme of Bharatmala would help develop national road corridors and highways, while Sagarmala would enhance port connectivity, modernisation and port-linked industrialisation. These initiatives will improve logistics tremendously, reducing the cost of transportation and increasing the competitiveness of domestically produced goods," Sitharaman said.
The National Highway Programme will be restructured to ensure a National Highway Grid, using a financeable model. The minister also propose a four-fold increase in the next four years estimated in the cargo volume on Ganga, leading to cheaper freight and passenger movement and reducing the import bill.
Welcoming the budget, Abhishek Bhardwaj, chief marketing officer, Shristi Infrastructure Development Corporation Limited said, "It is very encouraging that the government has continued its huge push to all forms of connectivity through several promising projects like Pradhan Mantri Gram Sadak Yojana, industrial corridors, dedicated freight corridors, Bharatmala and Sagarmala projects, Jal Marg Vikas and UDAN Schemes. The schemes are sure to boost logistics and make transportation economical. The warehousing sector will definitely benefit a lot from these in the coming days."
A day before the budget was proposed Nitin Gadkari, Union minister for road transport & highways had informed the Lok sabha that the ministry had set the target of 10,000-km for construction of National Highways against which 10,855-km i.e. more than 100 percent has been achieved in the financial year 2018-19.
The creation of the One Nation-One Transport card can have practical implications for the transport industry wherein truck drivers can use this card for paying at highway tolls and avoid cash transactions.
Mudasar Mohamed, co-founder & COO, Ezyhaul exercised caution at the ambitious five trillion dollar economy figure. "The government recently announced an ambitious goal for the India economy to grow to $5 trillion by 2024. It's against this backdrop that I feel the budget announced today has allowed for incremental improvements rather than a bold big bang approach which would allow the economy to grow towards the goal. The Indian economy will need to grow at 8%+ over the next several years and the creation, incubation and nurturing of start-ups will play a critical role in achieving this goal."
"Secondly, a continued focus on transportation and logistics sector will act as a critical launchpad for the India economy and as such, the government will need to continue to focus on clearing bureaucratic obstacles and focus on implementing some key initiatives announced in the budget," added Mohamed. Ezyhaul is a logtech startup based in India, Singapore, Malaysia and Thailand.
The budget made a mention of AI, IoT, Big Data, 3D Printing, Virtual Reality and Robotics to prepare the youth for overseas jobs. However, the policy and budget for these skills were not specified.
Kushal Nahata, CEO & co-founder of logistics-tech startup FarEye said, "The government's focus on building a digital India is again highlighted with its willingness to train people on AI, IoT and Big Data. These are key technologies that will transform the supply chain and logistics industry. The initiative to invest Rs100 lakh crore in infrastructure will definitely have a positive impact on the nation's logistics and transportation industry both from a business and connectivity perspective. Also, the directive to eliminate tax scrutiny on funds raised by startups will make business operations a bit easier."
Sitharaman also stressed on the need to develop inland waterways to shift a significant portion of inland cargo movement from road and rail.
Rajiv Agarwal, MD, Essar Ports said, "The Budget has laid down a definitive road map for realising the dream of five trillion economy. Finance minister has addressed many issues like of job creation investments infrastructure, encouraging start-ups, support to MSMEs liquidity issues Bank recapitalisation, through bank recapitalisation, improving water availability through water grid across nation. The renewed focus on rural housing is a step in the right direction. The focus on logistics through Bharatmala, Sagarmala and Railways seek to improve connectivity that is much needed for growing economy. Over all it is a progressive budget."
Budget 2019 provided relief for start-ups by proposing extension in capital gains exemptions from sale of residential house for investment in start-ups till financial year 2021. Funds raised by start-ups will not require scrutiny from the Income Tax department, there will be an e-verification mechanism for establishing the identity of the investor and source of funds, special administrative arrangements will be made for pending assessments and grievance redressal, relaxation of conditions for carry forward and set off of losses were among the measures aimed at encouraging the start-up culture in the country.
"We propose to start a television programme within the DD bouquet of channels exclusively for start-ups. This shall serve as a platform for promoting start-ups, discussing issues affecting their growth, matchmaking with venture capitalists and for funding and tax planning. This channel shall be designed and executed by start-ups themselves," said minister Sitharaman.
Rajesh Neelakanta, ED & CEO of BVC Logistics commented, "The budget of 2019 has addressed key areas that will help the economy grow in the coming year. Logistics will play a key role in propelling India to become a $5 trillion economy over the next five years. It will boost the government's aim of using rivers for cargo transportation to decongest roads and railways. Emphasis on infrastructure and the proposed government investment of Rs100 lakh crore in infrastructure over the next five years is a welcome move. It also has noticeably recognised the importance of infrastructure in the growth of the country." BVC Logistics is a precious cargo logistics company.
"The increase of 2.5 percent customs duty on the import of gold is a dampener for the precious cargo industry, which has been, as it is, affected by low lending interest of the Indian banking industry to this sector. Given the ebbing volumes in the jewellery sales, the above 2 factors are bound to cripple the industry in the foreseeable future. Hope the government takes cognisance of the travails of this industry and help foster business" added Neelkanta.