Budget 2019: Key takeaways for shipping, transport, aviation and logistics
July 6, 2019: Union minister for finance and corporate affairs Nirmala Sitharaman made her maiden Budget Speech on July 5. Good news was in store for the logistics, shipping, transport, aviation and rail industries industries as the minister proposed a massive push to all forms of physical connectivity. She presented the Union Budget 2019-20 before […]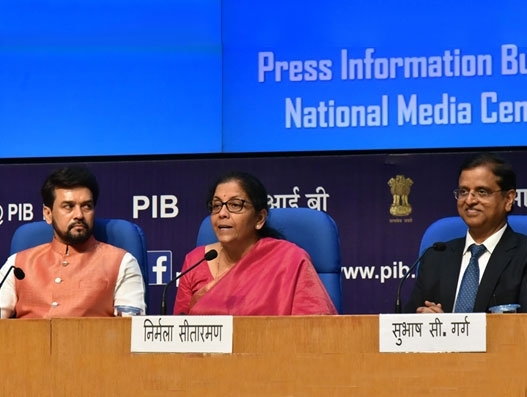 July 6, 2019: Union minister for finance and corporate affairs Nirmala Sitharaman made her maiden Budget Speech on July 5. Good news was in store for the logistics, shipping, transport, aviation and rail industries industries as the minister proposed a massive push to all forms of physical connectivity.
She presented the Union Budget 2019-20 before the Parliament, aiming to build a five trillion dollar economy by 2024.
"Connectivity is the lifeblood of an economy. The Government has given a massive push to all forms of physical connectivity through Pradhan Mantri Gram Sadak Yojana, industrial corridors, dedicated freight corridors, Bharatmala and Sagarmala projects, Jal Marg Vikas and UDAN Schemes. While the industrial corridors would improve infrastructure availability for greater industrial investment in the catchment regions, the dedicated freight corridors would mitigate the congestion of our railway network benefitting the common man," said Sitharaman.
She added that the ambitious programme of Bharatmala would help develop national road corridors and highways, while Sagarmala would enhance port connectivity, modernisation and port-linked industrialisation. The move will boost the transport and logistics industry that depends on creation of infrastructure and networks to reduce costs.
On July 4, Nitin Gadkari, Union minister for road transport & highways had informed the Lok sabha that the ministry had set the target of 10,000 km for construction of National Highways against which 10,855 km i.e. more than 100 percent has been achieved in the financial year 2018-19.
For the aviaton sector, the minister expressed willingness for India to enter into aircraft financing and leasing activities from Indian shores.
"This is critical to the development of a self-reliant aviation industry, creating aspirational jobs in aviation finance, besides leveraging the business opportunities available in India's financial Special Economic Zones (SEZs), namely, International Financial Services Centre (IFSC). Government will implement the essential elements of the regulatory roadmap for making India a hub for such activities," said Sitharaman.
The budget proposed to leverage India's engineering advantage and potential to achieve selfreliance in the Maintenance, Repair and Overhaul (MRO) industry. "Government will adopt suitable policy interventions to create a congenial atmosphere for the development of MRO in the country," said the minister.
Sitharaman also stressed on the need to develop inland waterways to shift a significant portion of inland cargo movement from road and rail.
"This government envisions using the rivers for cargo transportation, which will also help to decongest roads and railways. As part of the Jal Marg Vikas Project for enhancing the navigational capacity of Ganga, a multi modal terminal at Varanasi has become functional in November 2018 and two more such terminals at Sahibganj and Haldia and a navigational lock at Farakka would be completed in 2019-20. The movement of cargo volume on Ganga is estimated to increase by nearly four times in the next four years. This will make movement of freight, passenger cheaper and reduce our import bill."
On the rail connectivity front, Sitharaman estimated that railway infrastructure would need an investment of Rs50 lakh crore between 2018-2030. She proposed the use of Public-Private Partnership to unleash faster development and completion of tracks, rolling stock manufacturing and delivery of passenger freight services.