Brussels Airport says foundations laid for new logistics building
May 27, 2019: On May 24, Brussels Airport laid the foundation for its new logistics building located on the west side of Brucargo, the airport's logistics platform. The construction of this new building is part of a 100 million-euro investment in the modernisation of Brucargo. This new logistics building for cargo handling will have direct […]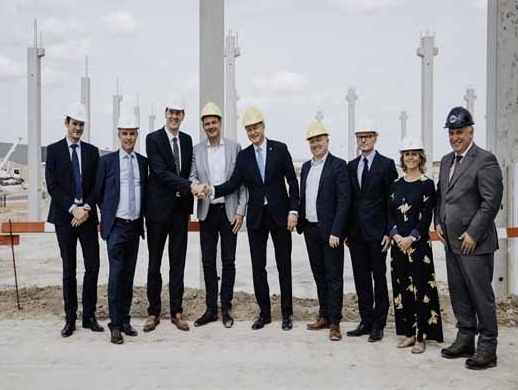 May 27, 2019: On May 24, Brussels Airport laid the foundation for its new logistics building located on the west side of Brucargo, the airport's logistics platform.
The construction of this new building is part of a 100 million-euro investment in the modernisation of Brucargo.
This new logistics building for cargo handling will have direct access to the tarmac.
The European airport is developing the building under its own management. The building will be completed in the course of 2020 and can then be taken into use by the tenants Kuehne & Nagel, World Flight Services (WFS) and Expeditors.
The symbolic 'laying of the first stone' of this new project took place in the presence of Marc Grootjans, Mayor of Machelen, and the CEOs of the three future tenants, Kuehne & Nagel, World Flight Services and Expeditors.
"With these investments in the further qualitative expansion of Brucargo, the airport is considerably increasing its offer of handling space and particularly that of refrigerated storage. These temperature-controlled rooms are not only of considerable importance for various key sectors in our country including biotech and pharmaceuticals, but also for the import and export of fresh and perishable goods. Two niche markets in which Brussels Airport is specialised and in which it is investing further," says Arnaud Feist, CEO of Brussels Airport Company.
The construction of this logistics building will also incorporate various sustainability aspects. For example, the office block will get a green roof and solar panels. The buildings will also be economical with water, thanks to the installation of a water infiltration system and rainwater wells for reuse of rainwater. The building will also be equipped with LED lighting and heat pumps.