Bombardier inks framework agreement with ST Engineering to build Singapore Service Centre
Nov 16, 2018: German-based rail technology leader Bombardier Transportation and ST Engineering's Land Systems arm have entered into new strategic partnership to build a Singapore Service Centre. Based on the agreement that aims to strengthen Singapore's capability in rail maintenance and support services, the two companies will combine their respective strengths in transportation design, manufacturing, […]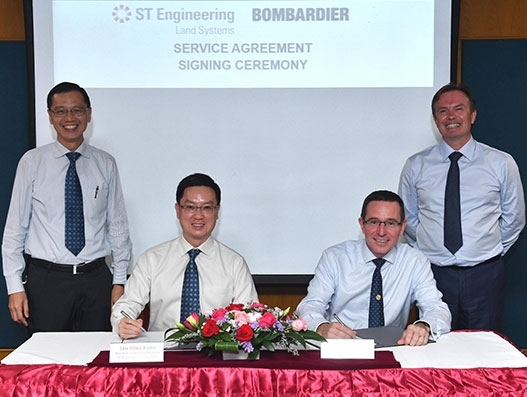 Nov 16, 2018: German-based rail technology leader Bombardier Transportation and ST Engineering's Land Systems arm have entered into new strategic partnership to build a Singapore Service Centre.
Based on the agreement that aims to strengthen Singapore's capability in rail maintenance and support services, the two companies will combine their respective strengths in transportation design, manufacturing, engineering knowledge, maintenance, repair and overhaul expertise to drive cost-effective localised component repair capabilities for customers in Singapore, as well as regionally.
These measures will improve the overall Service offering for Bombardier customers while strengthening its portfolio and providing customers greater options in support of their operations.
Tan Peng Kuan, president of Commercial Business, ST Engineering's Land Systems arm said: "ST Engineering's advanced diagnostics and maintenance, repair and operations (MRO) expertise not only ensures that there is reliable in-country support for transport operators in Singapore, our complementary capabilities in robotics and simulation systems also offer innovation engineering applications for improving efficiency and reliability to rail operations."
Jayaram Naidu, vice president of Southeast Asia, Bombardier Transportation said: "We understand the importance that our customers place on passenger safety and system performance, and we will further add value by improving total train performance for operators moving millions of passengers safely."
Over the last 20 years in Singapore, Bombardier has made significant contributions to improving mobility in Singapore. To date, it has delivered 276 driverless BOMBARDIER MOVIA metro cars for Singapore's Downtown Line and 13 BOBMARDIER INNOVIA APM 100 automated people mover cars for the Bukit Panjang Light Rail Transit (LRT) system.
Earlier this year, a new asset replacement contract was awarded to supply 19 new BOMBARDIER INNOVIA APM 300 cars, to retrofit 13 existing APM 100 cars, as well as to deliver a signalling system upgrade for 13 stops on the Bukit Panjang LRT Line. In addition, a new contract was recently awarded to supply 396 MOVIA metro cars for the high-capacity North-South (NSL) and East-West (EWL) Mass Rapid Transit (MRT) lines. The new order brings the number of MOVIA vehicles in Singapore to 672, making it one of Bombardier's largest metro fleets in the world.