Bombardier delivers first CS300 aircraft to Korean Air Lines
December 23, 2017: Bombardier Commercial Aircraft recently delivered its first CS300 aircraft to Seoul-based Korean Air Lines at Mirabel, Quebec. Korean Air Lines is the Asian customer of Bombardier to add the C Series aircraft in its fleet. "It%u2019s quite an important milestone for the C Series program because it is our breakthrough into the […]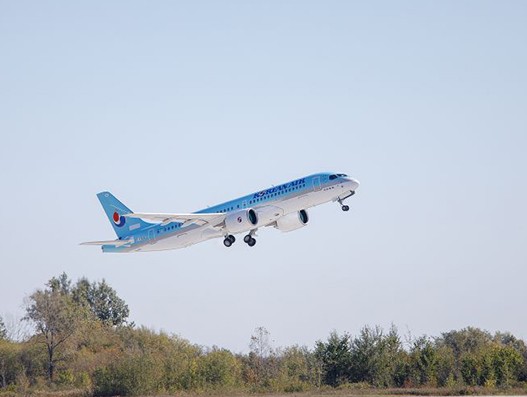 December 23, 2017: Bombardier Commercial Aircraft recently delivered its first CS300 aircraft to Seoul-based Korean Air Lines at Mirabel, Quebec.
Korean Air Lines is the Asian customer of Bombardier to add the C Series aircraft in its fleet.
"It's quite an important milestone for the C Series program because it is our breakthrough into the fast-growing Asian market, and we are honored to have Korean Air Lines as our brand ambassador in the region," said Fred Cromer, president of Bombardier Commercial Aircraft.
"We expect that over the next 20 years, Asian operators will take delivery of 2,870 small single-aisle aircraft. We are thrilled that Korean Air is the first in the region to showcase the CS300 aircraft's outstanding performance and capabilities," he said.
"We have witnessed the C Series impressive first year in service, and are pleased to take delivery of our first Bombardier CS300 aircraft," said Soo-Keun Lee, CTO of Korean Air Lines.
"When we selected the aircraft in 2011, we knew it would be a great addition to our fleet. Today, it is the most efficient aircraft in its class, and its passenger comfort is outstanding. The CS300 aircraft will enable us to reinforce our regional single-aisle operations, while providing a high level of profitability and customer satisfaction. These are key drivers of our decision to acquire the Bombardier CS300, and we are looking forward integrating it to our fleet," he said.
"We are thrilled for Korean Air to receive their first CS300 aircraft," said Rick Deurloo, senior vice president of sales, marketing and customer support of Pratt & Whitney.
"Pratt & Whitney has shared a long standing relationship with KAL dating back to the late 1940's and we look forward to powering their new-generation fleet," he said.
According to the company, Korean Air Lines is expected to take delivery of its second CS300 aircraft before year end.