Bolloré Logistics transports H160 helicopter to Japan
<p style="text-align: justify;">Bolloré Logistics Japan handled the transport and logistics operations for <a title="Airbus Helicopters' H160 helicopter" href="http://www.airbushelicopters.com" target="_blank" rel="noopener noreferrer">Airbus Helicopters' H160 helicopter</a> (formally launched on March 3, 2015 at Heli-Expo in Orlando, Florida). The H160 was transported for 2016 Japan International Aerospace Exhibition held in Tokyo from October 12-15, 2016.</p> <p style="text-align: justify;">The scope […]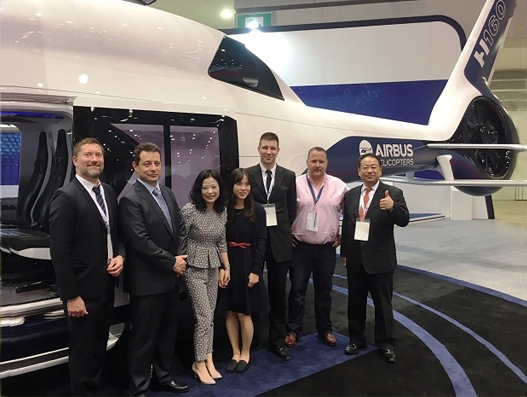 Bolloré Logistics Japan handled the transport and logistics operations for Airbus Helicopters' H160 helicopter (formally launched on March 3, 2015 at Heli-Expo in Orlando, Florida). The H160 was transported for 2016 Japan International Aerospace Exhibition held in Tokyo from October 12-15, 2016.
The scope of work of operations included the transportation from the site of Airbus in Marignane, France, to Japan; import formalities (from customs clearance to the supervision of unloading the cargo), transportation to the event and organising the assembling operations of the helicopter safely and within the time line with the engineer support were orchestrated by Airbus Helicopters personnel.
"Once the event had come to an end, our teams organised the disassembling operations of the H160, as well as land transportation of the cargo to the storage warehouse in Narita, where the helicopter was transported in a cargo-plane all the way to Hong Kong," said Bolloré Logistics through a statement.
The export formalities, customs clearance and confirming the cargo arrival at the storage location of the Hong Kong airport were also managed by Bolloré Logistics Japan, as the H160 was pursuing its journey towards China, to be showcased at the Airshow China in Zhuhai with the support of Bolloré Logistics Hong Kong. Then, the helicopter was transported to Singapore for other events.
These operations were challenging, due to the large size equipment, the security issues in regards to handling it, and the transportation to various sites.
"Our teams of Marignane, Tokyo, Hong Kong and Singapore were able to be reactive and come up with solutions to every client's request," adds the company.
Taking advantage of the Group's network and reliability, Bolloré Logistics France, Japan, Hong Kong and Singapore teamed up to provide end-to-end services for this project, therefore showcasing the expertise and know-how of Bolloré Logistics in the aerospace industry.