Bolloré Logistics in transportation of materials for thermal power plant construction in Mozambique
<p style="text-align: justify;">Jun 01, 2017: Early 2017, <a title="Bolloré Logistics" href="http://www.bollore-logistics.com/en" target="_blank">Bolloré Logistics</a> secured an end-to-end logistics contract to transport materials for the construction of a thermal power plant. The 100 MW Gas Fired Combined Cycle Power Plant (GFCCPP) is being built in Maputo, the Capital of Mozambique for EDM, Electricidade de Moçambique.</p> <p style="text-align: […]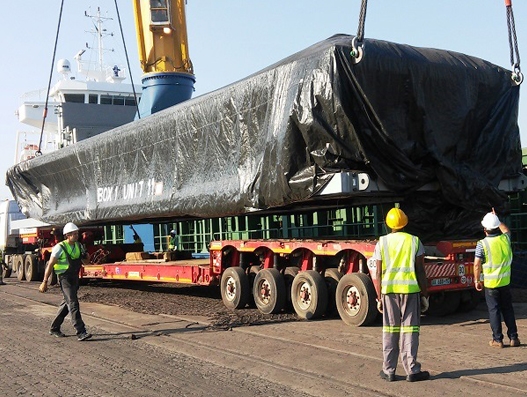 Jun 01, 2017: Early 2017, Bolloré Logistics secured an end-to-end logistics contract to transport materials for the construction of a thermal power plant. The 100 MW Gas Fired Combined Cycle Power Plant (GFCCPP) is being built in Maputo, the Capital of Mozambique for EDM, Electricidade de Moçambique.
Bolloré Logistics provided tailored end-to-end logistics solutions to their EPC client, and is in charge of shipping specific out-of-gauge materials from many countries including South Korea, Japan and Thailand. Once unloaded in the port of Maputo, Bolloré Logistics Mozambique has handled the customs clearance, the transport to site located 8 kilometres from the port. Bolloré Logistics also provides storage areas for certain materials due to site limitations.
Around 750 trips will be necessary to carry the materials including but not limited to three modules weighting up to 108 tonnes each, two gas turbines of 68 tonnes each and three generators of 94 tonnes each as well as the balance of plant. In total, 40,000 cbm of freight will be transported for this 2-year project onto modular, low beds trailers and high-sided trucks.
15 operators are working to ensure seamless operations.
The Group is able to bolster its position with the main market players through the coordination of teams located on all continents and the specific expertise used by the Bolloré Logistics teams in the areas of electricity and power.