Bolloré Logistics Switzerland transports 200,000 doses of life saving vaccines to Iraq
Oct 18, 2019: Bolloré Logistics Switzerland transported 200,000 doses of life saving vaccines to Iraq last month. A leading biotech company contracted the company to organise and execute the door-to-door shipment of 37 pallets of temperature sensitive pharmaceutical products from Europe to the Ministry of Health of the Republic of Iraq, based in Baghdad. The […]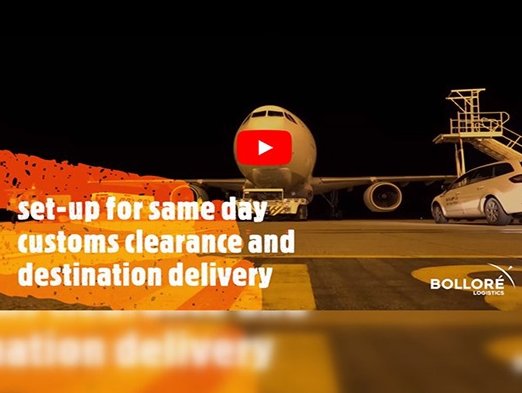 Oct 18, 2019: Bolloré Logistics Switzerland transported 200,000 doses of life saving vaccines to Iraq last month.
A leading biotech company contracted the company to organise and execute the door-to-door shipment of 37 pallets of temperature sensitive pharmaceutical products from Europe to the Ministry of Health of the Republic of Iraq, based in Baghdad.
The door-to-door-delivery operation, that started on September 28, 2019 at 5 am, took 40 hours to complete, including customs clearance.
Bolloré Logistics Miami gains TAPA Level C certification
The operation was executed following an in-depth trade lane analysis, including a comprehensive risk assessment.
On September 28, the goods were carefully packed in 37 passive cool large size boxes at the customer's warehouse in Germany.
In order to maintain the product temperature of +2°C to +8°C for 96 hours, the boxes were equipped with cooling elements.
Bolloré Logistics Central China transports oil & gas upstream equipment to Egypt
Bolloré Logistics Switzerland executed the pre-transport of the 22 tonne-shipment to Cologne airport by five temperature-controlled full truck loads.
For the transport of the cargo from Cologne airport to Baghdad airport, Turkish Cargo's A330-200 freighter was used. In order to minimise the exposure to ambient can you buy ambien over the counter temperature, the airline pallets were only transferred to the tarmac when the Turkish Cargo jet approached for landing.
@Bollorelog #Switzerland & @TurkishCargo successfully carried out a major delicate operation to transport 37 pallets of temperature-sensitive pharmaceutical products to Baghdad. The door-to-door #delivery only took under 40 hours from start to finish. Read https://t.co/FmSvypJK70 pic.twitter.com/oqXVWDIgxQ

— Bolloré Logistics (@BolloreLog) October 17, 2019
Upon arrival at Baghdad airport at 9 am on September 29, 7 pre-conditioned temperature controlled trucks were waiting on the tarmac for direct cross-docking of the 37 boxes.
David Erismann, Technical Key Account manager Healthcare, Bolloré Logistics Switzerland commented: "The entire team was perfectly coordinated for this large-scale operation carried out in special conditions in a sensitive area of Baghdad. I am delighted to have been part of this operation. The customer showed us his great satisfaction, happy to have been able to receive his products in perfect condition and without any delay."