Bollore Logistics Singapore and Aviation Partner and Consulting extend their partnership
Nov 26, 2018: Bollore Logistics Singapore and Aviation Partner and Consulting Pte Ltd (APAC) announce the extension of their partnership with a new aerospace e-commerce supply chain agreement for distribution in Asia. The agreement was signed at the MRO Asia-Pacific 2018 in Singapore on November 7, 2018, at Bollore Logistics' booth, in the presence of […]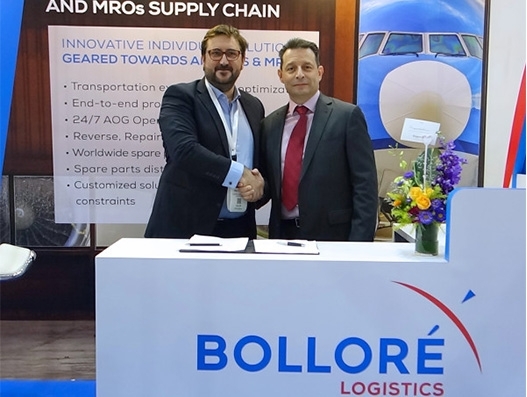 Nov 26, 2018: Bollore Logistics Singapore and Aviation Partner and Consulting Pte Ltd (APAC) announce the extension of their partnership with a new aerospace e-commerce supply chain agreement for distribution in Asia.
The agreement was signed at the MRO Asia-Pacific 2018 in Singapore on November 7, 2018, at Bollore Logistics' booth, in the presence of Fred Hervot, founder and managing director of Aviation Partner and Consulting Pte Ltd (APAC), and Christian Deverine, Regional Aerospace manager at Bollore Logistics Asia-Pacific.
Founded by Fred Hervot in 2016 and headquartered in Singapore, Aviation Partner And Consulting Pte Ltd (APAC) specialises in three main activities: Distribution, Trading and Consultancy services for commercial aviation parts & products in Asia-Pacific. APAC has already been entrusted by international groups such as BOSE Aviation, MAPAERO, NYCO and REEFLECT as their authorised and exclusive Distributor for the region.
With this new integrated e-commerce solution, end users will be able to order online (BOSE Aviation products for now) and trigger at the same time a door-to-door delivery.
"This service enhances even more our service level to our local and regional customers, this would not have been possible without Bolloré Logistics Singapore's support and dedication to the Aerospace Industry and companies including startups such as APAC," says Fred Hervot, founder and manager director of APAC.
Bollore Logistics Singapore has more than 250 staff dedicated to its aerospace activities.