Bollore Logistics ships large tanks from China to USA
August 9, 2018: The Industrial Projects teams of Bolloré Logistics China and USA collaborated again for the transport of tanks for Chinese customer Lehui, a well-recognised manufacturer of tanks for various industries. The consignee for these tanks was Novozymes USA, a biological company. In April 2018, Bolloré Logistics China had the task of delivering tanks […]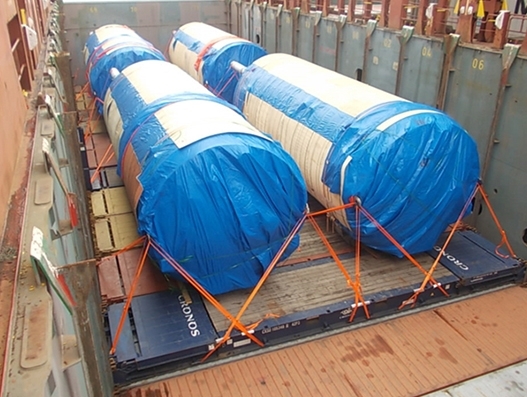 August 9, 2018: The Industrial Projects teams of Bolloré Logistics China and USA collaborated again for the transport of tanks for Chinese customer Lehui, a well-recognised manufacturer of tanks for various industries. The consignee for these tanks was Novozymes USA, a biological company.
In April 2018, Bolloré Logistics China had the task of delivering tanks from Shanghai to Norfolk. The tricky part was that the cargo was too long to be loaded on flat rack containers and break bulk service was too slow to meet customer needs.
Faced with this situation, the inventive industrial projects team of Bolloré Logistics USA went the extra mile to find a solution for Lehui tanks transport. By contacting several FCL carriers, they found an option with one of them to ship the tanks as break bulk items on an FCL ship.
The shipment consisted of four tanks with dimensions of 45' x 13.5' x 14.3' and which weighed 50,000 lbs each.
To make it happen, the carrier built a bed of a 12 x 40' flat rack on their ship on which the tanks were loaded and secured.
The transport of the tanks ended up costing the same price as a break bulk shipment but with a faster transit time of 30 days instead of 45 to 50 days. The customer was delighted with this outcome.