Bolloré Logistics Senegal and Canal+ enter into supply chain management contract
Nov 21, 2016: Canal+ has selected Bolloré Logistics Senegal for its supply chain distribution activities and value-added warehousing services on September 1, 2016. Products are distributed from Dakar to 11 regional cities and 150 points of sale. The services provided to the customer include receipt on pallets, storage and kitting, primarily for decoders and satellite […]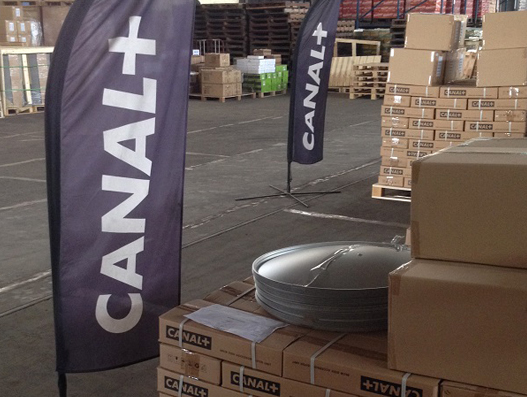 Nov 21, 2016: Canal+ has selected Bolloré Logistics Senegal for its supply chain distribution activities and value-added warehousing services on September 1, 2016.
Products are distributed from Dakar to 11 regional cities and 150 points of sale.
The services provided to the customer include receipt on pallets, storage and kitting, primarily for decoders and satellite dishes.
Bolloré Logistics Senegal is providing Canal+ with a dedicated value-added warehouse of 500 square metre equipped with four-level racks.
The warehouse is fully managed using the latest generation, Speed, Warehouse Management System (WMS), which allows for the efficient tracking of stock record updates with real-time recording of all movements. In addition, it analyses flow changes by following order picking operations managed by a dedicated team of handling assistants and agents.
The logistics services are supplemented by the distribution of merchandise which is carried out according to the instructions and planning agreed upon with the customer.
The Supply Chain department relies on a network of dynamic subcontractors who manage distribution using a fleet of four closed and secured vehicles assigned to this interurban traffic which records already an average of 5,000 kits delivered per month.
Emphasis is placed on the importance of monitoring and precise control of operations, in order to establish specific reporting for data consolidation and submission to the customer.
This new contract provides exposure for supply chain activity and will lead to better visibility for logistics services offered by Bolloré Logistics Senegal with the various Canal+ subscribers in the axes of Dakar and its suburb Rufisque, as well those in the North, Southeast and Centre.