Bollore Logistics opens new Regional Distribution Center to support L'Occitane en Provence
<p style="text-align: justify;">Jul 10, 2017: <a title="Bollore Logistics" href="http://www.bollore-logistics.com/" target="_blank">Bollore Logistics</a> Singapore is expanding its regional footprint in Singapore by launching a new Regional Distribution Center. This is to support the development of its longtime partner L'Occitane en Provence.</p> <p style="text-align: justify;">The new hub is providing L'Occitane en Provence a one-stop-solution covering freight import and export […]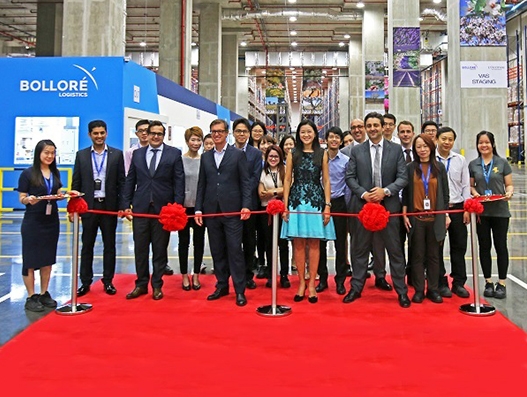 Jul 10, 2017: Bollore Logistics Singapore is expanding its regional footprint in Singapore by launching a new Regional Distribution Center. This is to support the development of its longtime partner L'Occitane en Provence.
The new hub is providing L'Occitane en Provence a one-stop-solution covering freight import and export on the Asian markets, warehousing, kitting and labelling operations. As a second phase, L'Occitane en Provence has also entrusted Bollore Logistics to handle their National Distribution Center in China.
These facilities will allow L'Occitane to cater for the needs of their future growth. The opening of the new regional platform with a capacity of over 10,000-sqm marks the launch of the 8th Hub for Bolloré Logistics Singapore confirming its leading market expertise in logistics and freight management for the cosmetics industry. This facility is set to deliver operations with efficiency. The new Regional Distribution Center will provide an agile, productive and cost-effective solution enabling L'Occitane en Provence to meet a constantly evolving and demanding time to market.
"Customer satisfaction has always been a top priority. To come even closer to our customers in Asia-Pacific, we have launched a Regional Distribution Center to overtake the central distribution model," said Lorenzo Giacomoni, VP Group Operations at L'Occitane en Provence.
"We have been developing this project with L'Occitane for many years. This Regional Distribution Center - as well as the forthcoming opening of the 5,000-sqm National Distribution Center for the Chinese market in Shanghai - both mark a new era for our long term partnership. We are thrilled and proud to accompany L'Occitane and address their future supply chain requirements," mentioned Yves Laforgue, Chief Operating Officer at Bolloré Logistics Asia Pacific.