Bollore Logistics opens new warehouse for L'Occitane en Provence
June 11, 2019: Bollore Logistics' longtime partner L'Occitane en Provence formally moved into the Bollore Logistics' new cosmetics hub. The hub located in Kunshan, 50 km away from Shanghai's city-center, serves as a distribution center for Bollore Logistics' cosmetics customers in China. The hub is a one-stop center for services including importing, storage, labeling, kitting, […]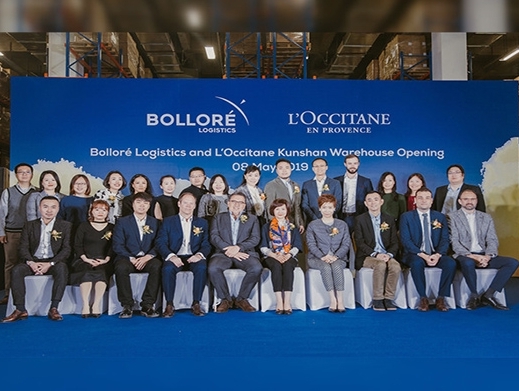 June 11, 2019: Bollore Logistics' longtime partner L'Occitane en Provence formally moved into the Bollore Logistics' new cosmetics hub.
The hub located in Kunshan, 50 km away from Shanghai's city-center, serves as a distribution center for Bollore Logistics' cosmetics customers in China.
The hub is a one-stop center for services including importing, storage, labeling, kitting, and distribution services in China.
A variety of storage solutions in the hub will meet the storage demands of the full range of products for L'Occitane en Provence.
"We are impressed with Bollore Logistics' efforts to set up this new hub to support the business development of L'Occitane and we wish to achieve greater success in future hand in hand," said Queenie LIN, China managing director at L'Occitane en Provence.
"We are extremely pleased to be a key logistics partner to L'Occitane and to support their growth in this dynamic region. We have developed along the years in Asia-Pacific a unique supply chain ecosystem for the beauty industry. We will continue to invest heavily in this vertical and aim at bringing value through constant innovation," said Cyril Dumon, CEO of Bollore Logistics Asia-Pacific.
Wen-wei ZHAO, Supply Chain Solution manager of Bollore Logistics Greater China adds: "This move marks a new milestone in our partnership with L'Occitane in China. We are proud to accompany their growth in China and will continue to innovate and address L'Occitane's future supply chain needs."
The Kunshan Cosmetics Hub is the sixth hub for Bollore Logistics in Shanghai. Its proximity to major transportation centers, coupled with scalability makes it a competitive site for the years to come.