Bollore Logistics loads floating dock Marco Polo onto Sun Rise Vessel
September 11, 2017: Bollore Logistics Poland recently has performed a highly challenging and unique "Float-on/Float-off (FLO-FLO) operation in Gdansk Bay, on the Baltic Sea, near Gdynia Port in Poland. The scope of works was to load Marco Polo onto the semi-submersible heavy lifter vessel Sun Rise. The floating dock Marco Polo was built by Polish […]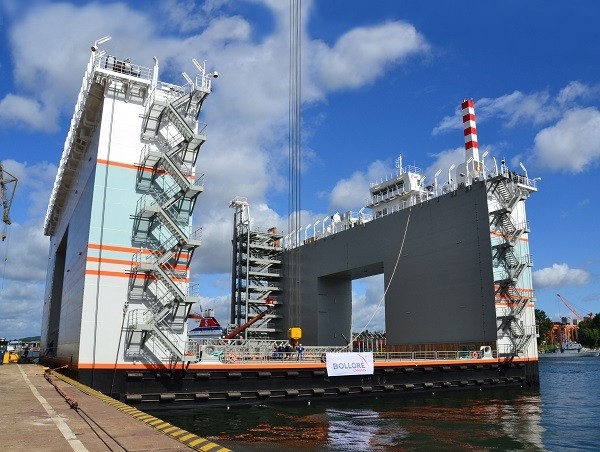 September 11, 2017: Bollore Logistics Poland recently has performed a highly challenging and unique "Float-on/Float-off (FLO-FLO) operation in Gdansk Bay, on the Baltic Sea, near Gdynia Port in Poland.
The scope of works was to load Marco Polo onto the semi-submersible heavy lifter vessel Sun Rise. The floating dock Marco Polo was built by Polish shipyard Crist for the famous French construction company Bouygues Travaux Publics. This device is 56 meters long, 50 meters width and 27 meters high (the equivalent of eight regular floors building). The gross tonnage equals nearly 8,000 tons.
To conduct this operation, Bollore Logistics Poland was responsible for towing floating dock Marco Polo from shipyard's quay to anchorage area by four tugs, positioning the floating dock on the submersible vessel. Pilot captain, towing master captain, four riggers-seamen, NDT inspector were specially hired for the operation. Bollore also handled customs clearance T2L, Harbour master permission, port fees, single voyage declaration, towing train certificate from Polish Ships Registry, non-destruction tests of welded stowage and assistance during the FLO-FLO loading operation on the Bay of Gdansk.
The operation lasted for 11 hours. After the loading on the vessel, Marco Polo was transported to Marseille, France and later to Monaco to build the maritime urban development project.