Bollore Logistics Indonesia completes major Gas Engine Power Plant project
Oct 16, 2018: WIKA (PT Wijaya Karya) had appointed Bollore Logistics Indonesia for its MPP Package IV Gas Engine Power Plant project which has a total electrical capacity of 140MW. The transportation work began in April 2018 and finished in late August 2018. The scope of work included receiving ten MAN engines from under HeavyLift […]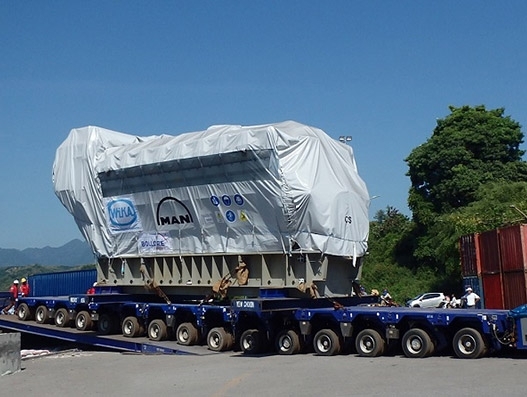 Oct 16, 2018: WIKA (PT Wijaya Karya) had appointed Bollore Logistics Indonesia for its MPP Package IV Gas Engine Power Plant project which has a total electrical capacity of 140MW. The transportation work began in April 2018 and finished in late August 2018.
The scope of work included receiving ten MAN engines from under HeavyLift Vessel hook on ballastable barge, mobilisation of spacer barge, design of temporary jetty, road survey, roll off from barge to temporary jetty, transportation to site and installation to foundation.
Three different sites were concerned by this project; two of them located in the province of West Nusa Tenggara in the city of Bima and Sumbawa, and the last site in Maumere, East of Nusa Tenggara. Bollore Logistics delivered six MAN 18V51/60DF engines, three units to Bima and three units to Sumbawa, each weighing 315 tonnes and four MAN 12V51/60 DF engines of 219 tonnes each to Maumere.
Talking about the project in detail, the logistics giant informed, "Several bridges needed to be crossed along the way to reach the site that required preliminary survey to give assurance to the Indonesian Public Works Authority to allow transportation of MAN engines. Bolloré Logistics Indonesia also arranged for the Police to escort the heavy lift convoys and used a "Fly Over Bridge" to ensure no damage to public facilities."
Nasrullah, Project Operations manager at Bollore Logistics Indonesia, who organised several meetings and surveys with the Public Works as well as leading the transportation of these heavy lifts to the site.
Maumere operations presented some tough challenges as the seabed turned out to be a UN Conservatory area that did not allow the vessel to anchor or to touch anything under the water. Mr. Xuan Dung Le, Civil & Transport Engineer at Bollore Logistics Asia-Pacific, specifically designed a temporary jetty. The design of the jetty with the use of a spacer barge allowed Bolloré Logistics to roll off the heavy lifts without touching the seabed at all.
Bollore Logistics Indonesia was also involved in customs clearance operations of the entire cargo of this project and inland transport to each site.
Thanks to Taufik Mariyanto, Customs Regulatory manager at Bollore Logistics Indonesia, who has supported this project during the preparation of the Master list for duty exemption, as well as supporting the process of SKB (import taxes exemption) for every shipment during the entire duration of the project.
Moreover, Bollore Logistics was involved to mobilise equipment to support the operation in these remote islands, and transport eight transformers ranging from 43 to 79 tonnes each purchased by WIKA - and other materials purchased locally that were indispensable to complete the project.