Bollore completes Geothermal power plant logistics operations in Indonesia
June 10, 2019: Bollore Logistics has handled the logistics operations, including the challenging inland transportation, for the Sumitomo Corporation's Muara Laboh project from various global ports (Japan, China, Korea, Malaysia, Europe, USA, etc.) to Indonesia. The company has coordinated 50 shipments for the geothermal power plant project located in West Sumatra, Indonesia. The project started […]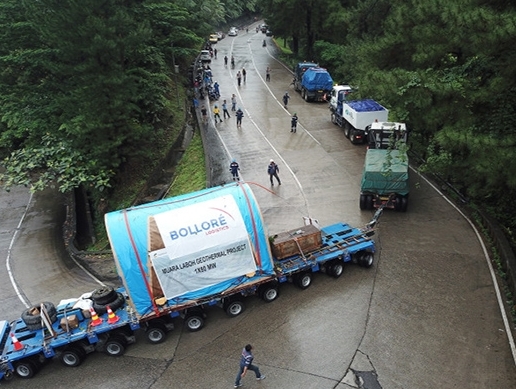 June 10, 2019: Bollore Logistics has handled the logistics operations, including the challenging inland transportation, for the Sumitomo Corporation's Muara Laboh project from various global ports (Japan, China, Korea, Malaysia, Europe, USA, etc.) to Indonesia.
The company has coordinated 50 shipments for the geothermal power plant project located in West Sumatra, Indonesia. The project started at the beginning of 2018 and completed in March 2019.
The cargo consisted of 15,000 freight tonnes, including 95 tonnes Generator Stator and 65 tonnes Turbine Rotor.
Bollore Logistics Transportation Engineer performed the first road surveys in 2016 and right until when the project started in 2018. Located in mountainous area, the project site is 150 km away from Padang port, hence, Bollore Logistics faced lengthy, steep, uphill and winding roads to access the final destination.
The most critical equipment was shipped from the port of Yokohama, Japan to the discharging port of Padang, Indonesia.
The generator stator and turbine rotor required the mobilisation of three prime movers to ensure enough traction and guarantee safety of the cargo along the way.
"The cooperation between Sumitomo Corporation, Bollore Logistics Industrial Projects teams located in Japan, Indonesia, and the regional office in Singapore, is the cornerstone of safe and timely execution of such an important project for Sumitomo Corporation and PT. Supreme Energy Muara Laboh (SEML), the owner of the project," informed the company through a statement.